The 12 Best Loafers for Men
In a world of menswear dominated by sneakers, making the change to a simple but elegant pair of loafers can instantly set your outfits apart from the crowd. And even though they have a reputation for being classy business attire now, the loafer actually comes with a history of casual wear—all the way back to the earliest of leather moccasins.
So when you're ready to slip into something casual cool, take a look through our baker's dozen of the best loafers for men. They run the gamut from professional-grade and polishable to 'round the house cruisers, and everything in between.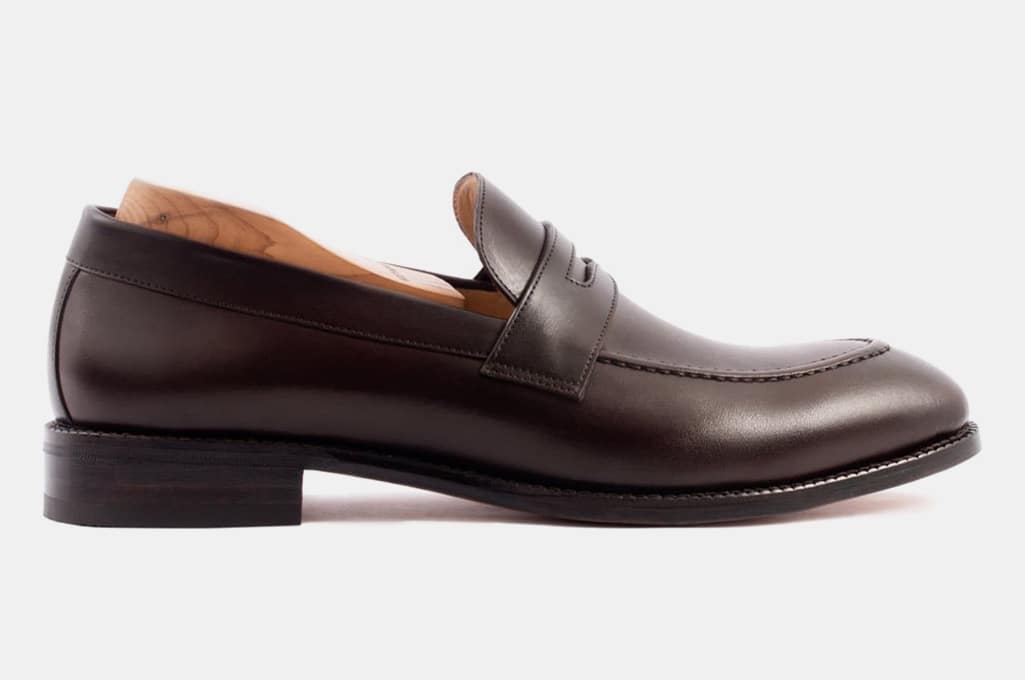 Beckett Simonon Cohen Loafers
For top quality shoes at reasonable prices, Beckett Simonon is often my first stop. They're one of the best direct-to-consumer footwear brands out there, and their handcrafted shoes and boots feel like pure luxury at a fraction of the cost you'd expect. The Cohen Loafers are built entirely from a beautiful full-grain calfskin leather, available in five natural colors that will develop a gorgeous patina as you break them in. Ideal for professional wear, they're also both handsome and durable enough to be worn year-round for just about any occasion.
Material: Full-grain leather
COO: Leather from Italy, made in Colombia
Best For: Year-round wear
Price: $209
Key Features/Takeaway: Since they're handmade to order, Beckett Simonon's loafers offer top notch quality at an accessible price.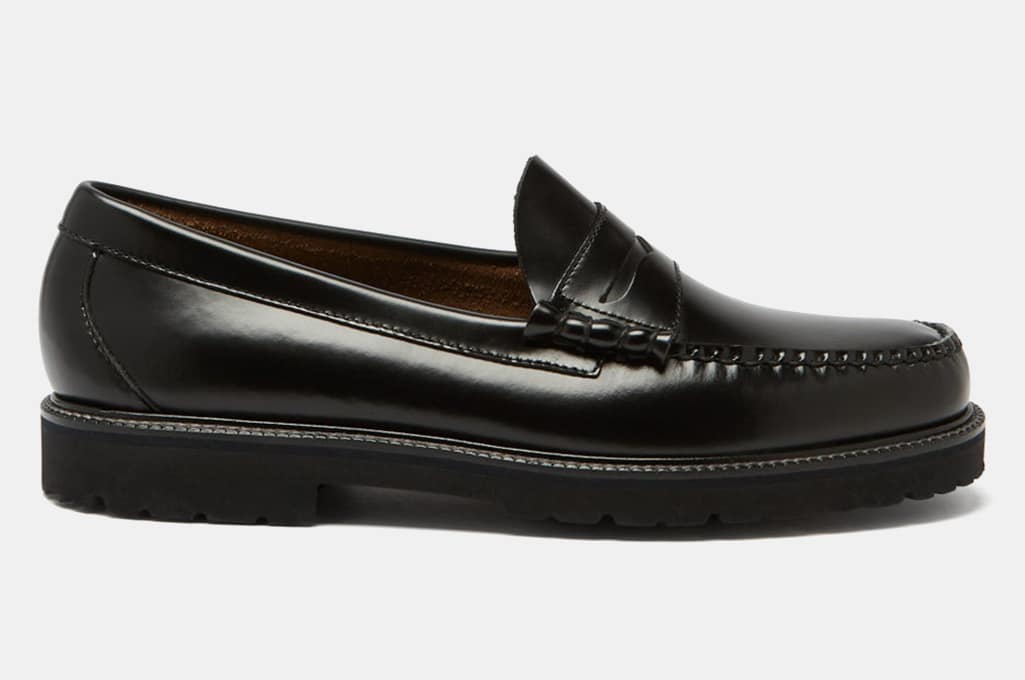 G.H. Bass Larson Weejuns
G.H. Bass has been killing the classy/comfortable look with their Weejuns loafers since 1936, so you know they're here to stay. Each pair is still handmade with standout moccasin-style stitching and the "beefroll" styling (so named because it looks like a cut of beef tied up with butcher's twine). Available in sensible tan, high-polish black, and eye-catching burgundy colorways, they're a classic addition to any guy's wardrobe that will look as good around the office as they will around the house.
Material: Genuine leather
COO: Hand sewn in El Salvador
Best For: Bridging the dressy/casual gap
Price: $135
Key Features/Takeaway: Classic moccasin-style loafers that have been a hit with classy guys since 1936.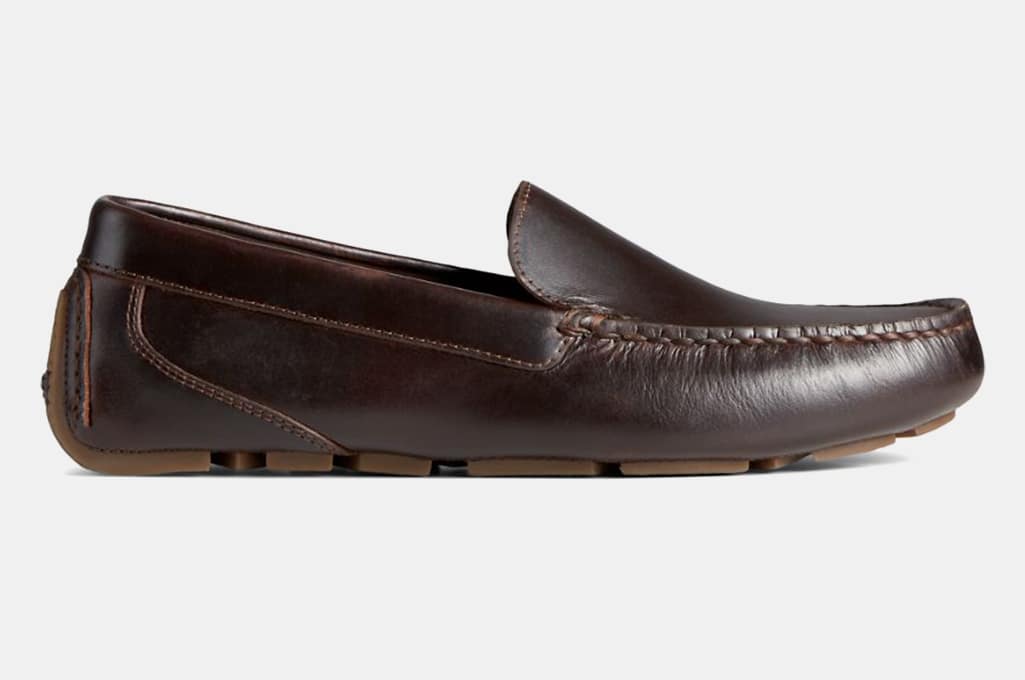 Sperry Davenport Venetian Loafer
Sperry's ever-popular lineup of boat shoes has been keeping the preppy aesthetic going since 1935. And while they've come a long way from their original Top Sider, each pair of Sperry's shoes is still imbued with that seafaring look and feel that made the brand a hit in the first place. The full grain leather uppers on these loafers are paired with a non-marking rubber outsole for added traction, then topped off with anti-shock padding to make walking and standing easier on your feet, knees, and ankles. They're remarkably affordable too, making the Davenport Venetian Loafers one of the best buys on this list.
Material: Full-grain leather uppers, rubber outsole
COO: Made in Vietnam, Indonesia, and/or China
Best For: Taking out for a Sunday drive
Price: $99.95
Key Features/Takeaway: The anti-slip soles on Sperry's Davenport loafers make them a favorite for driving, and darn comfortable for walking in too.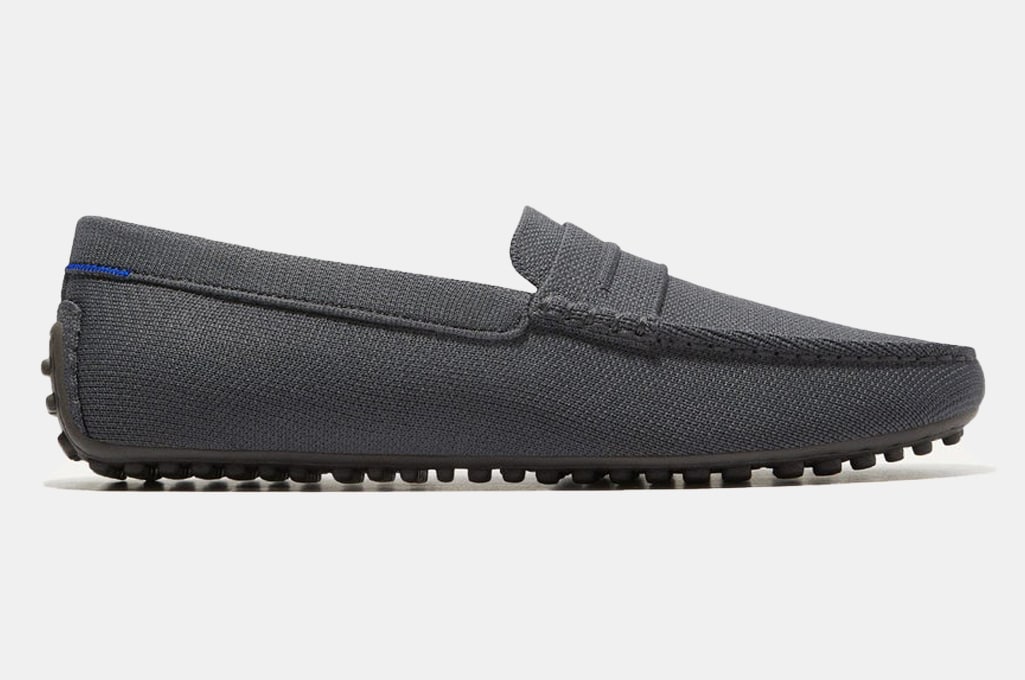 Rothy's The Driving Loafer
Forget the leather for a moment and consider Rothy's alternative: A unique thread spun from recycled plastic water bottles doubles these shoes' eco-friendly impact by avoiding animal products and repurposing waste. This gives the Driving Loafers a unique look and feel that's nicely complemented by double dense (and double comfortable) insoles for all-day ease of use. Round that out with graphite outsoles that have raised nubs for added traction, and you get a wonderfully atypical pair of loafers perfect for a day out on the town.
Material: Recycled water bottles
COO: A sustainable factory in Dongguan, China
Best For: Saving the planet, even if you still have to drive to work.
Price: $185
Key Features/Takeaway: As eco-friendly as they are durable, Rothy's Driving Loafer is also 100% machine washable.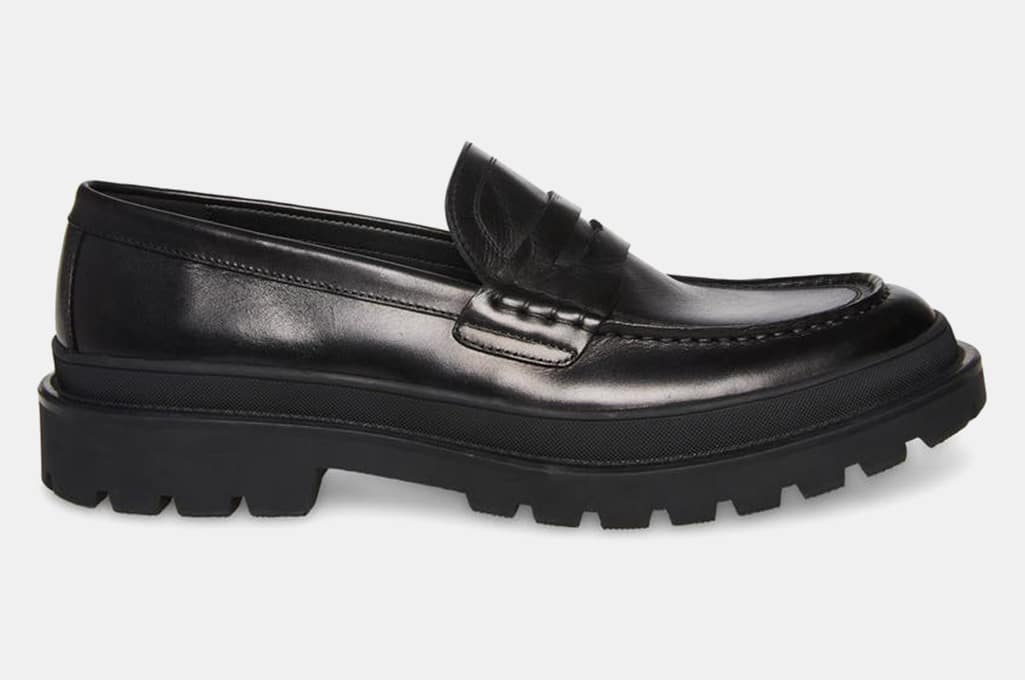 Steve Madden Carloz Loafer
Low profile loafers are easy to pair with just about any standard outfit. But if you're looking to complement a more developed look with bigger, bolder colors, you'll want a shoe to match. Steve Madden's Carloz Loafers are the right choice here, with their high-polish black facade and extra chunky lugs. Equal parts classy and edgy, they're as close as an all-black slip-on shoe can get to a statement piece—and they're all the better for it. When you're ready to rock your most stylish outfits, these are the shoes to wear.
Material: Leather upper and lining, synthetic sole
COO: Mexico, Brazil, and/or Vietnam
Best For: Stepping out in style
Price: $160
Key Features/Takeaway: With their chunky soles and jet black leather, Steve Madden's Carloz Loafers are a real statement piece.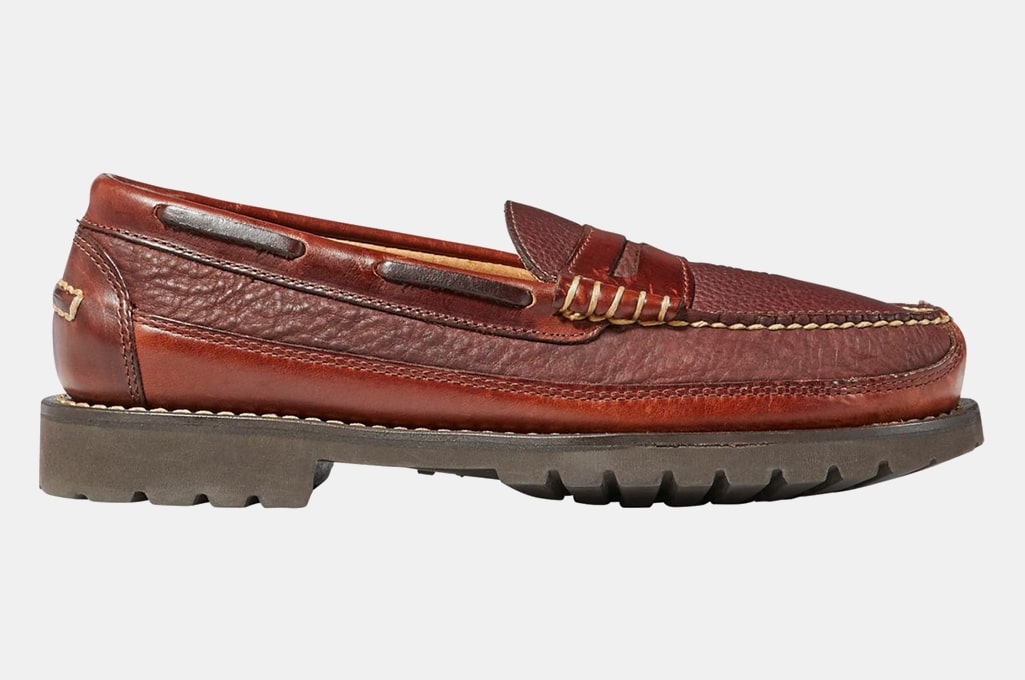 L.L. Bean Allagash Bison Handsewn Loafers
As the only shoe on this list to be made from bison hide, L.L. Bean's Allagash Handsewn Loafers are already plenty unique. But that's not the end of their classic good looks, either—full-grain cow leather trim adds subtle accents, and the big rubber lug outsoles give both traction and imposing looks. They're fully sealed up with a water and stain repellent finish over lock stitched seams too, meaning that they're built to last just as much as they are made to look good.
Material: American bison upper, full-grain cow leather trim, rubber outsole
COO: "Imported"
Best For: Casual, comfortable, everyday wear both indoors and outdoors
Price: $139
Key Features/Takeaway: The most unique loafers on our list are made of bison leather, and have a rugged style that's fit for the great outdoors.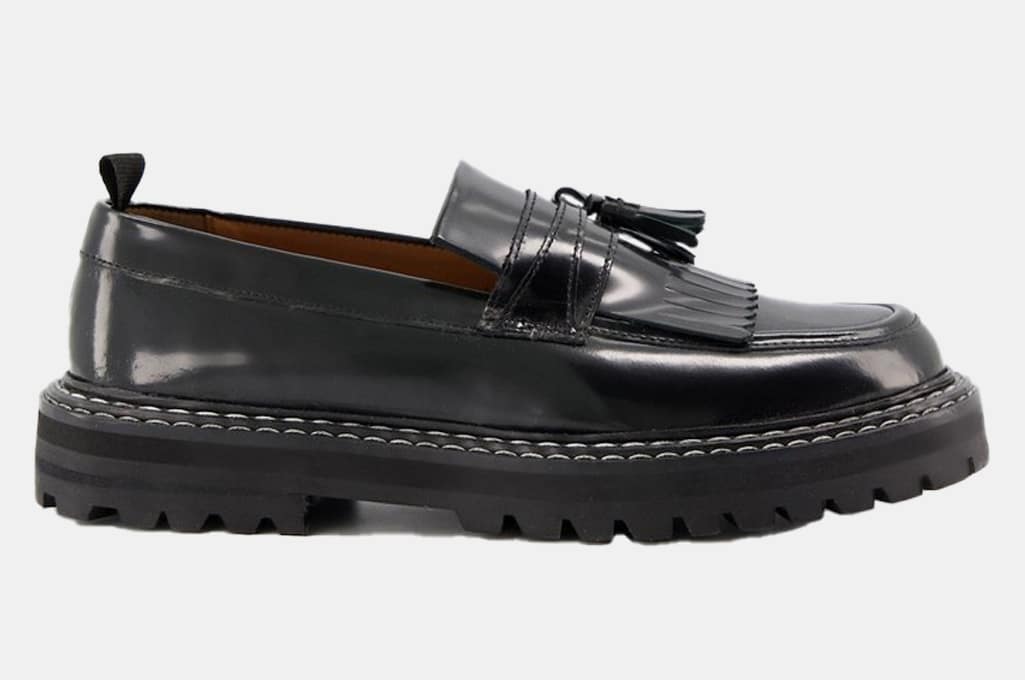 ASOS Design Black Leather Loafers
ASOS Design is an up-and-coming name in streetwear style, in much the same vein as H&M. They provide reasonably priced clothes and shoes with a trimmed-down style, and tend to cater towards the occasional wearer rather than heavy duty use. That's true of their Black Leather Loafers, too: They're as affordable as you'll find for this chunky, heavy lug style, especially seeing as their uppers are still 100 percent leather. Contrast stitching adds the final touches to let you know that these loafers are form first, function later.
Material: Leather upper, synthetic everything else
COO: China
Best For: Dressy style at an affordable price
Price: $85
Key Features/Takeaway: One of the most affordable pairs of loafers on this list, ASOS's shoes also have attractive detailing like contrast stitching.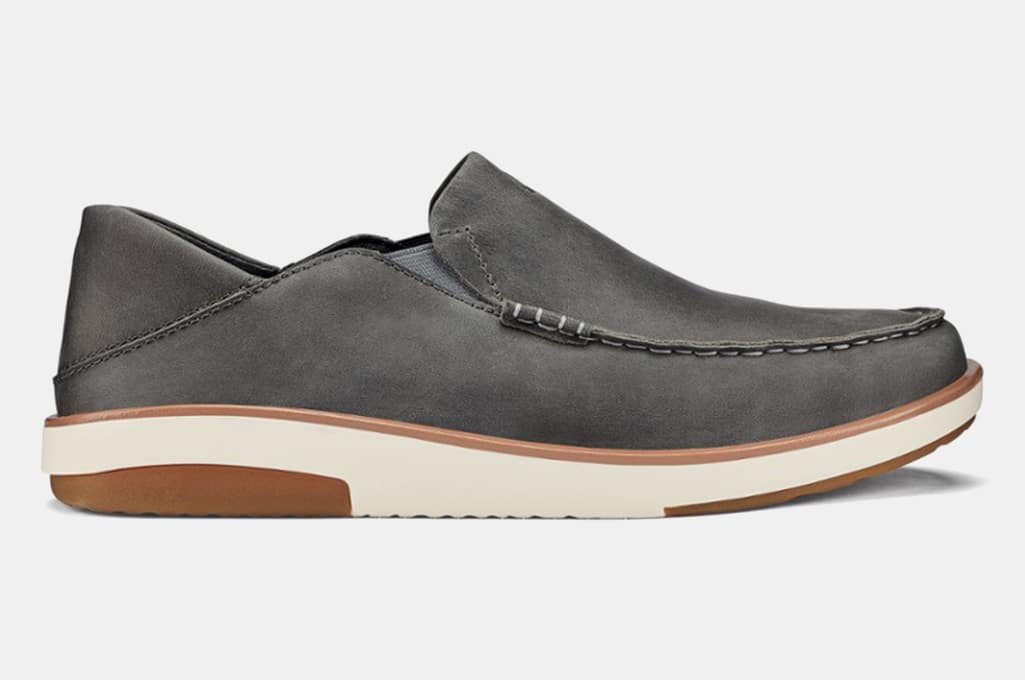 OluKai Kalia Slip-On Shoes
Are OluKai's Kalia Slip-On Shoes technically loafers? Shhh don't tell anyone, but basically any slip-on shoe that's made with a moccasin style is technically a loafer. The sportier soles make the Kalias somewhere on the far edge of the classic loafer look and feel, but they're well worth wearing—especially because of OluKai's patented drop-in heels that let them double as a slide or a shoe at a moment's notice. If you're looking for maximum comfort in your loafers, OluKai is the way to go; their anatomically-catered footbeds feel like walking on clouds, whether you're at the beach or pounding the pavement.
Material: Nubuck leather uppers, anti-slip rubber soles
COO: China
Best For: Long days at the beach followed by long nights at your favorite bar.
Price: $130
Key Features/Takeaway: The cool, casual style of OluKai's Kalia slip-ons is paired with excellent slip resistance and a comfortable midsole for all-day wear.
Nisolo Alejandro Slip Ons
On the far end of the slipper side of the spectrum, Nisolo's Alejandro Slip Ons are comfort incarnate. Their vegetable-tanned leather construction is naturally padded to begin with, then added cushioning in the insoles provides all the support you'll need for shuffling around the house on your days off. But because of their reinforced stitching and all-round high quality construction, you may just want to wear these everywhere and all year round; we don't blame you, they really are a nearly perfect combination of easy going good looks and top of the line comfort.
Material: Vegetable-tanned leather
COO: Sustainable factory in Peru
Best For: Becoming your new favorite pair of everyday, anywhere shoes.
Price: $160
Key Features/Takeaway: Minimalist design and top quality materials make Nisolo's Alejandro Slip Ons a hit both at home and at the office.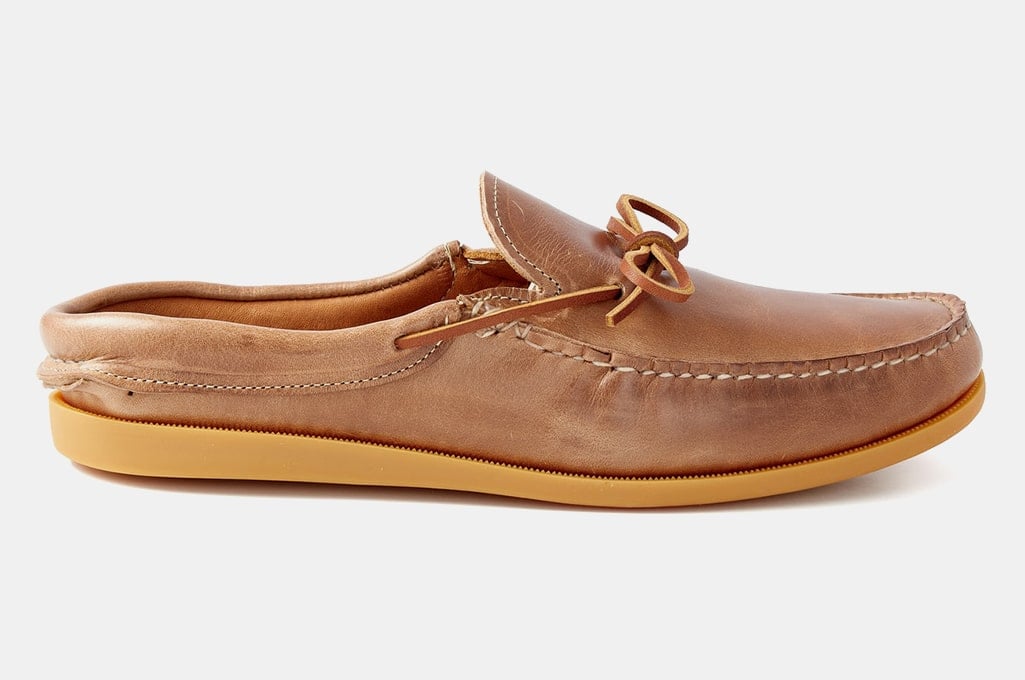 Easymoc Slip-On Moccasins
Moccasins were a staple of American life for decades, and we think it's about time they make a comeback—especially if they're anything like Easymoc's thoughtfully updated design on this age-old classic. Super soft leather from Chicago's legendary Horween tannery makes the uppers for these moccasins something to really write home about, while durable vibram outsoles give them a rough-and-ready profile perfect for outdoor wear. They're built by hand in Maine from start to finish, and pulled together with a heavily supportive recycled footbed that makes for all-day comfort.
Material: Chromexcel leather, Vibram sole
COO: Handmade in Maine
Best For: Casual wear for chores around the house, or heading out to a quick get-together.
Price: $250
Key Features/Takeaway: Handmade in the USA, Easymoc's Slip-On Moccasins are as durable as they are handsome.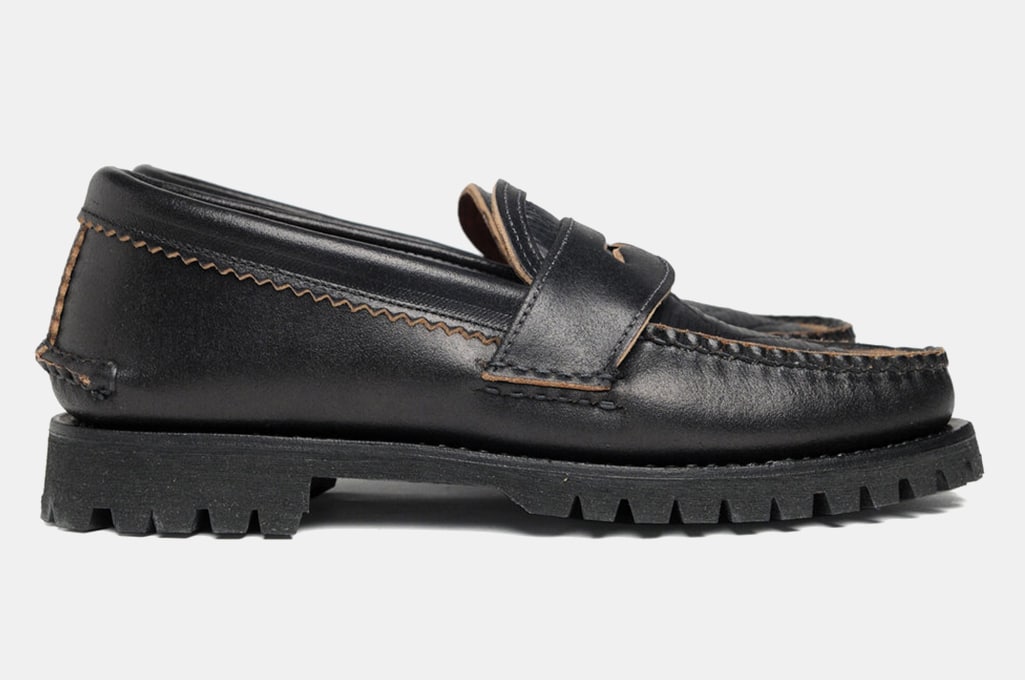 Yuketen Hi-Loft Quilt Loafer with Cortina Sole
This is the one: The heavily lugged, moccasin-style loafer to end all loafers. Everything about the design and construction is top notch, from the waxed Horween leather uppers to the Italian-made heavy duty lug soles to the hand-crafted details painstakingly added to every step of the process. These loafers are as gorgeous as they are durable, and ready for seemingly anything from a day out on city trails to an afternoon at the office to an evening around the campfire.
Material: Horween waxed leather upper, Italian-made lug sole
COO: Handcrafted in the USA
Best For: Wearing to the office (and looking great doing it).
Price: $550
Key Features/Takeaway: Yuketen's leather artisans cut no corners, making some of the finest shoes you'll ever wear. They're pricey, but well worth the investment if you'll be wearing them to the office.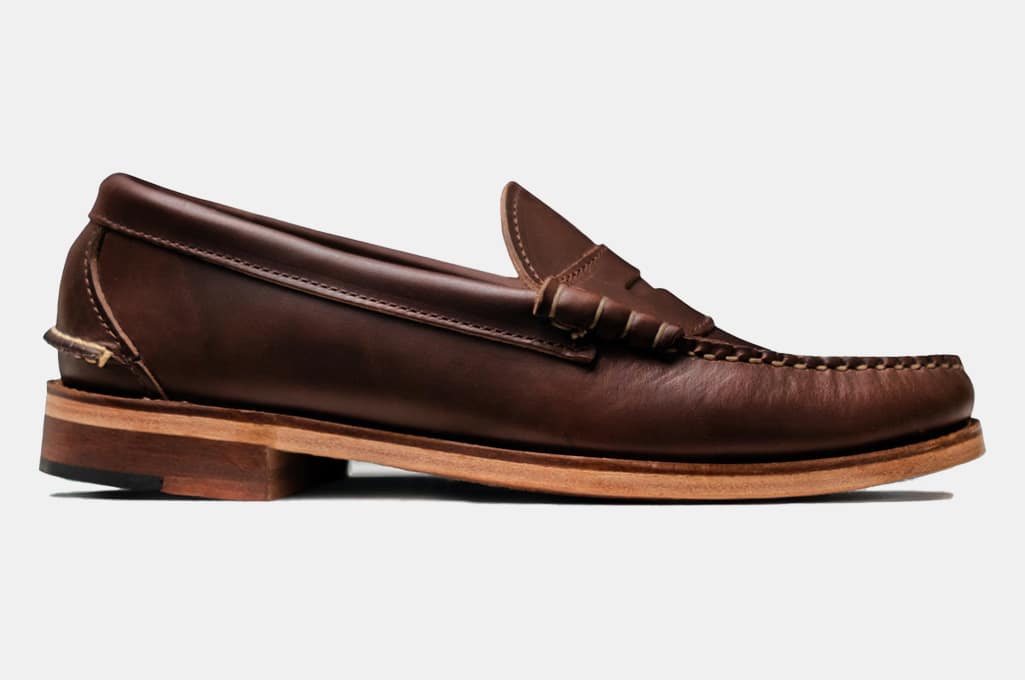 Rancourt & Co. Beefroll Penny Loafers
You can't go wrong with any leather from Chicago's Horween tannery, but ask any leather nerd and their Chromexcel really seems to take the cake. Without getting too much into the nitty gritty of it, this leather takes a full 28 days and 89 processing steps to achieve its signature "self-polishing" shine and unbeatable softness. Rancourt & Co.'s Beefroll Penny Loafers put Chromexcel to excellent use, hand-crafting a shoe that's as comfortable and durable as it is good looking. Any man should be proud to have a pair of these loafers in his closet.
Material: Horween Chromexcel Leather
COO: Handmade in Maine
Best For: Wearing everywhere you go for the next 10 years.
Price: $315
Key Features/Takeaway: The all-leather construction of these beefroll penny loafers makes them exceptionally comfortable, and the added oiling makes them waterproof, too.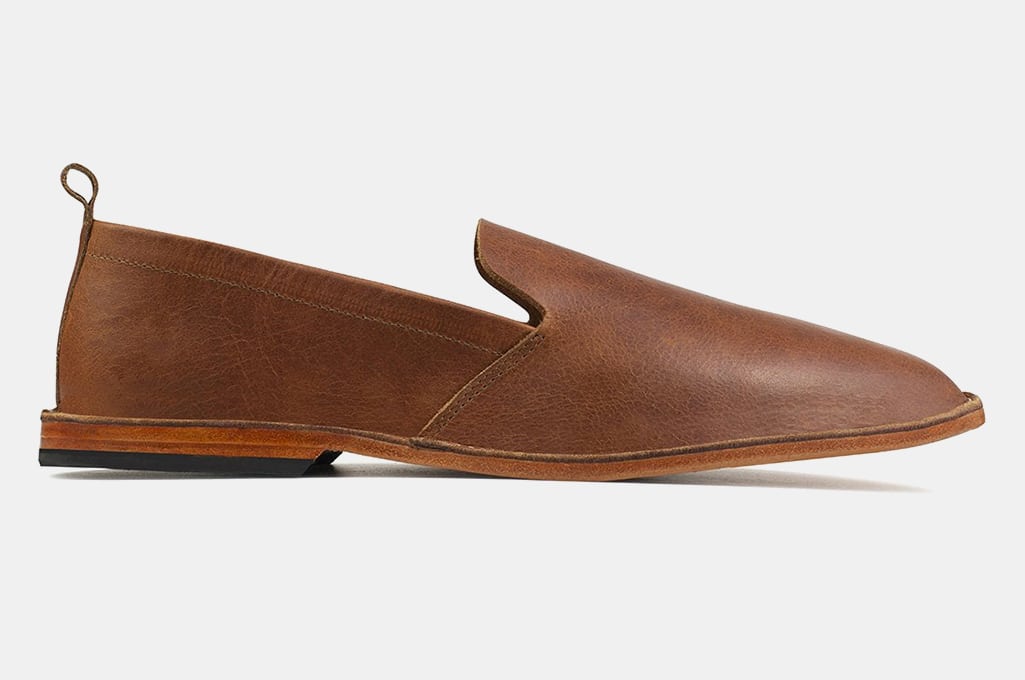 Adelante The Viento
Loafers and moccasins are far from being a category known for their minimalism—which makes Adelante's The Viento all the more special. These ultralight, minimalist slip-ons challenge the very definition of a loafer, retaining only the moccasin styling and leather build that truly defines the style. But even with their trimmed-back aesthetic, Adelante still found room for a high density memory foam insole to make The Vientos as comfortable as possible. They're easily the best loafers you'll find for summertime wear.
Material: Leather with memory foam insoles
COO: Guatemala
Best For: Wearing all summer long
Price: $185
Key Features/Takeaway: The Viento is the epitome of comfortable lounging with a refined look and feel.
Disclosure: Clicking on these links and making a purchase may earn us a small referral fee, at no extra cost to you. Learn more here.
freestar.config.enabled_slots.push({ placementName: "gearmoose_leaderboard_btf", slotId: "gearmoose_leaderboard_btf" });