The 15 Best Solar Watches For Men
In the world of wristwatches, solar-powered devices are often the unfortunate black sheep of the family. Critics say that they don't have the purity that makes mechanical watches attractive, or the price tag that makes quartz watches a good choice for beginners.
But you know what they do have? The power of the sun, for goodness' sake. Connected with their hard-wearing designs and long-life batteries, that makes solar watches the wristwear of choice for outdoorsmen, survivalists, and anyone who demands that their gear can last even longer than they do.
If you're looking for a watch that will keep on ticking long past the point that mechanical, quartz crystal, and battery-powered smart watches have kicked the bucket, one of these 15 best solar watches for men is sure to tickle your fancy.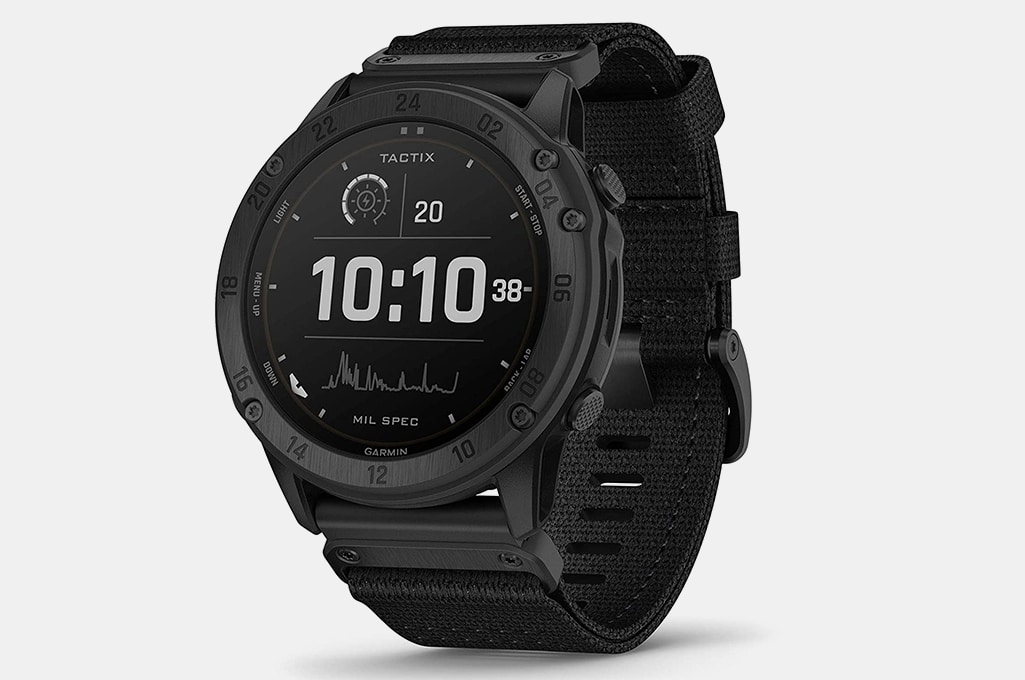 Garmin Tactix Delta Watch – Solar Edition
If you're on the hunt for any type of watch for exercise, outdoor, or professional military and law enforcement use, Garmin should be your first stop. Their deep and versatile lineup of watches covers the entire range of uses. But the one that stands out most of all as being a Rambo-level "jack of all trades" watch is definitely the Tactix Delta Watch—a solar-powered wonder that's built to military standard MIL-STD-810. A whopping 24-day battery life (in smartwatch mode) can be continuously topped up with solar power, giving you unparalleled access to the battle ready features like stealth mode, jumpmaster mode, and built-in topographic maps. In short, the Tactix Delta Watch is like a fully-fledged battle buddy on your wrist.
Case Size: 51 mm
Battery Life: 16 hours to 56 days, depending on functions used
Smartwatch: Yes
GPS: Yes
Case Material: Fiber-reinforced polymer with metal rear cover and knurled buttons
Strap Material: Nylon and silicone
Price: $1099.99
The Takeaway: Exceptional battery life and a huge array of functions make the Tactix Delta Watch a real force to be reckoned with, and a truly battle-ready piece of gear.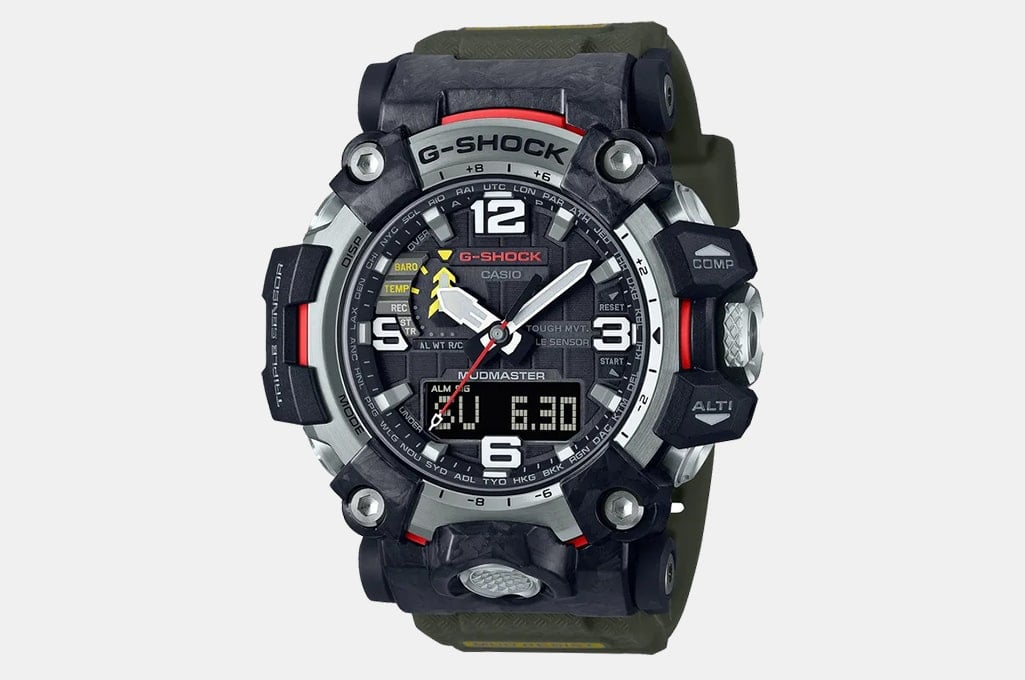 Casio G-Shock GWG2000-1A3 Mudmaster
Japanese electronics giant Casio made huge waves in the watch world when they released their original G-Shock in 1981. Short for gravitational shock, this family of watches has become well known for their unbeatable toughness. With their latest generation Mudmaster watches though, Casio has upped the ante even further for the G-Shock's durability—incorporating a carbon core guard case, stainless steel pipes, and silicone buffers that make this sealed-down watch completely dirt- and mud-resistant. And for good reason, too: All that protection covers finely tuned direction, altitude, barometric pressure, and temperature reading gauges.
Case Size: 54 mm
Battery Life: Not specified
Smartwatch: No
GPS: No
Case Material: Resin and stainless steel
Strap Material: Resin
Price: $800
The Takeaway: It's called the Mudmaster for a reason—this watch can stand up to a huge amount of dirt and grime and be no worse for wear.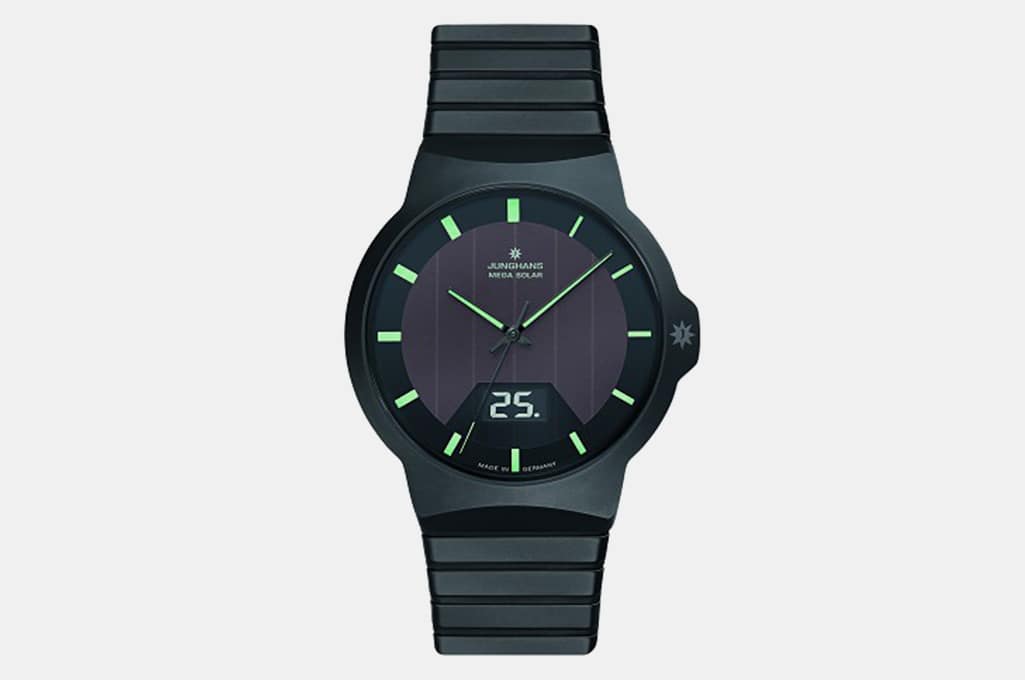 Junghans Force Mega Solar Watch
Right out of the box, you'll notice that Junghans' Force Mega Solar Watch is a totally different breed of timekeeping device. The gorgeous matte ceramic case gives it a classy but understated look and feel (with highly functional scratch resistance, too). Then, this ceramic build is extended into the strap and finished with a titanium folding clasp, creating a smooth and detailed form with a pronounced natural elegance. What you may not notice right away though is how technically detailed the Force Mega Solar is—with an enormous 21 month battery life that's topped up by solar charging, as well as radio-controlled time readouts with unbeatable accuracy and precision.
Case Size: 40.4 mm
Battery Life: Power reserve up to 21 months
Smartwatch: No
GPS: No
Case Material: Ceramic
Strap Material: Ceramic with titanium clasp
Price: $1495
The Takeaway: Junghans combines next-level minimalist design packaged in classy ceramic with ultra-precise radio controlled timekeeping.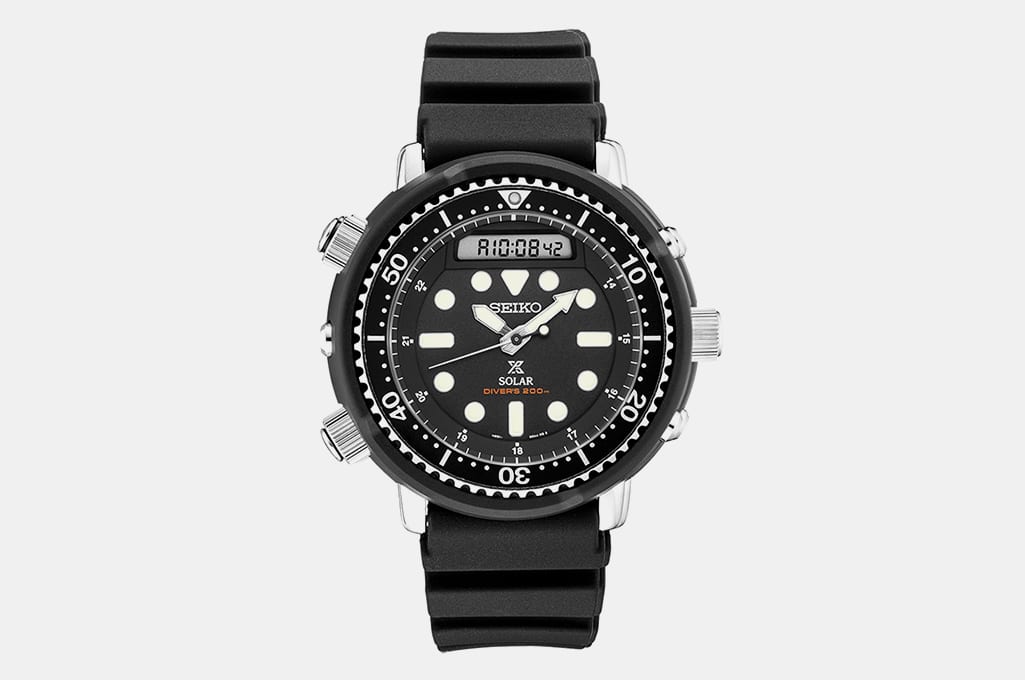 Seiko Prospex Arnie Watch
There are plenty of tough and rugged watches out there—but how many of them are "Arnold Schwarzenneger in Predator" tough? Seiko's Prospex Arnie Watch reboots one of the all-time greats of the watch world, the '80s era Hybrid Diver's Watch, and updates it with solar powered technology for a six-month power reserve that's very useful while combating technologically advanced alien stalkers. Like its predecessor, the Arnie Watch is suitable for scuba diving to depths of 200 meters (660 America units), and the silicone strap will keep it in place and in great shape no matter how many dives you take.
Case Size: 47.8 mm
Battery Life: 6 month power reserve
Smartwatch: No
GPS: No
Case Material: Stainless steel
Strap Material: Silicon
Price: $525
The Takeaway: Being water resistant to 200 meters makes the Arnie watch a genuine companion for scuba divers, and the waterproof silicon strap really seals the deal.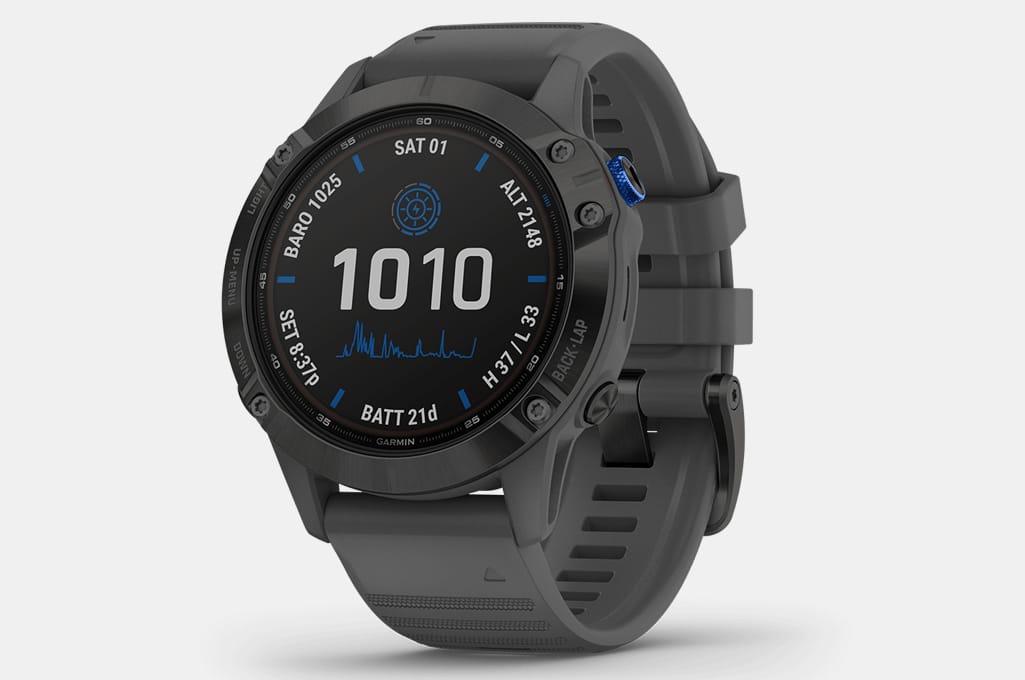 Garmin fēnix 6 Pro Solar Edition Watch
Where the Tactix Delta (above) is a battle-ready timepiece that's ready for a war zone, the fēnix 6 Pro (in its Solar Edition) specializes in a different arena: High performance outdoor sports. This starts with a wrist-based heart rate and pulse oximeter readout, giving you the raw data you need to track your progress over time. But when you add in the terrain-adjusted pacing guidance and topographical maps that are built into the watch, you get a partner that will keep you on track for the best workout gains of your life. All that with a 14-day, solar-assisted battery life, and you'll be ready to make the best of every run, ride, and hike.
Case Size: 42, 47, or 51 mm
Battery Life: Up to 14 days in smartwatch mode, 80 days in battery saver mode
Smartwatch: Yes
GPS: Yes
Case Material: Fiber-reinforced polymer with metal rear cover
Strap Material: Silicone or titanium
Price: $799.99
The Takeaway: Tough as nails and fully loaded with smart features, the Garmin fēnix 6 is perfect for high intensity athletes looking to get an edge in their training.
Casio G-Shock GBDH1000-1
For pure sport performance, Casio offers the GBDH1000-1 as their addition to the G-Shock lineup. It makes sense, too: The tough as nails base design of the G-Shock series is a natural fit for adding plenty of sport-ready features like heart rate monitoring, GPS, barometric pressure, and ambient temperature sensors. And if you're already going to be out all day for a workout, tracking your progress towards your goals, why not charge your watch while you're doing it? The passive solar charging will keep this watch topped up for months at a time, further streamlining your exercise routines.
Case Size: 55 mm
Battery Life: 12 months in basic timekeeping mode
Smartwatch: No
GPS: Yes
Case Material: Resin and stainless steel
Strap Material: Urethane
Price: $399
The Takeaway: Lying smack in the middle of pricing and features for solar watches, the GBDH1000-1 is a good choice for athletes who don't need the bells and whistles of a smart watch but still want to accurately track their workouts.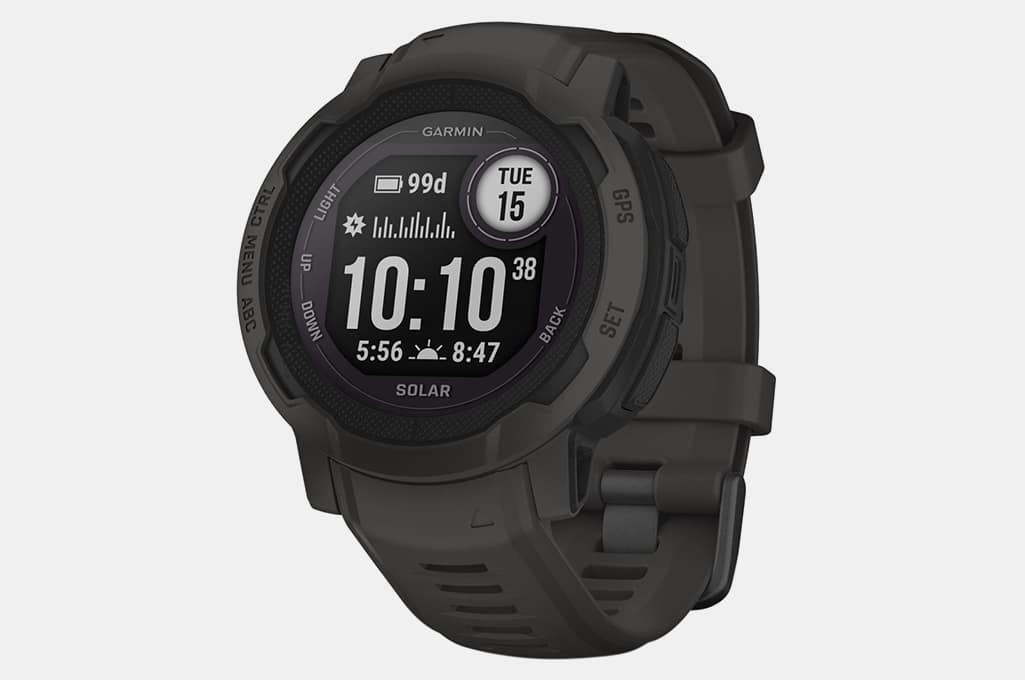 Garmin Instinct 2 Solar Watch
Even as one of the most affordable of Garmin's lineup of solar-powered watches, the Instinct 2 is still a significant investment. But if you're willing to put the extra cash into equipping yourself with one of Garmin's top-notch timepieces, you're not likely to regret it—especially when the Instinct 2 has essentially unlimited battery life thanks to its solar charging. The scratch-resistant glass face and polymer case make it ready for any outdoor activity you have in mind, including taking a quick dip in the lake; it's water resistant to a full 100 meter depth. Overall, this makes it one of the most endurance-focused watches you're likely to find today.
Case Size: 40 mm or 45 mm
Battery Life: Unlimited
Smartwatch: Yes
GPS: Yes
Case Material: Fiber-reinforced polymer
Strap Material: Silicone
Price: $449.99
The Takeaway: Unlimited battery life when in solar mode. Yes, you read that right: Garmin's Instinct 2 has an effectively unlimited battery life so long as there's even a little bit of sun.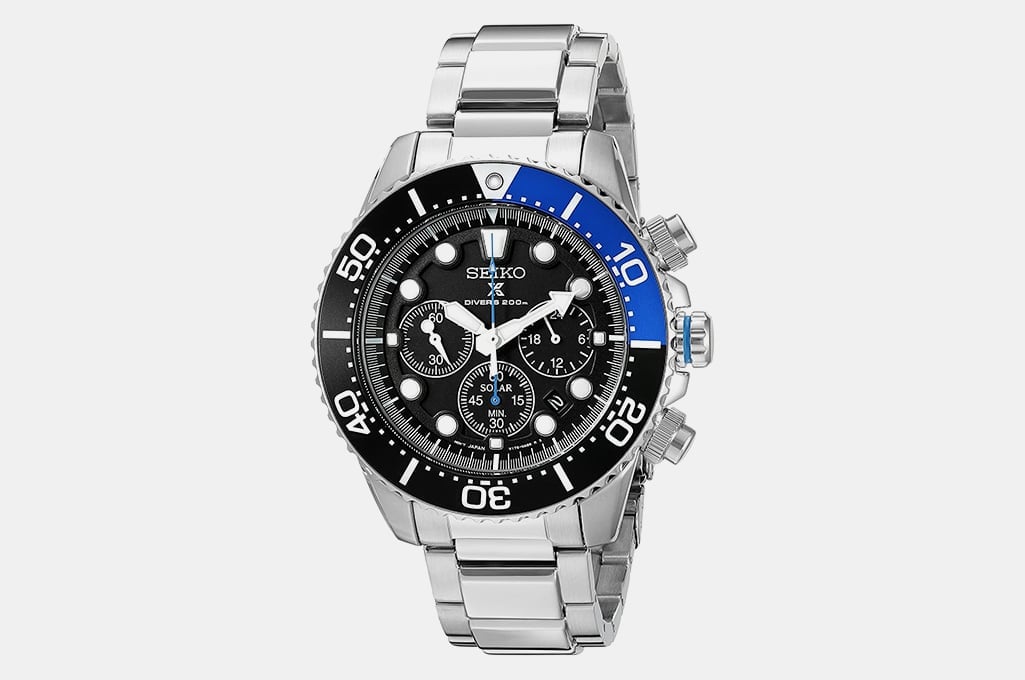 Seiko SSC017 Prospex Solar Dive Watch
Though it's described as a Solar Dive Watch, the Seiko SSC017 Prospex goes beyond even that—with a proprietary technology that allows it to be charged by any source of light. Paired with an energy efficient movement, that gives it a six-month battery life reserve that's continually topped up by every hour of daylight and nighttime illumination you can soak up. True to its name, the SSC017 Prospex is a fully fledged dive watch too, with water resistance up to 200 meters. And with its handsome blue and black bezel and stainless steel bracelet, this just might become your new favorite watch to pair with a boating hobby.
Case Size: 43 mm
Battery Life: 6 month power reserve
Smartwatch: No
GPS: No
Case Material: Stainless steel
Strap Material: Stainless steel
Price: $499.99
The Takeaway: Classic dive watch style, now with a greatly extended battery life courtesy of solar charging.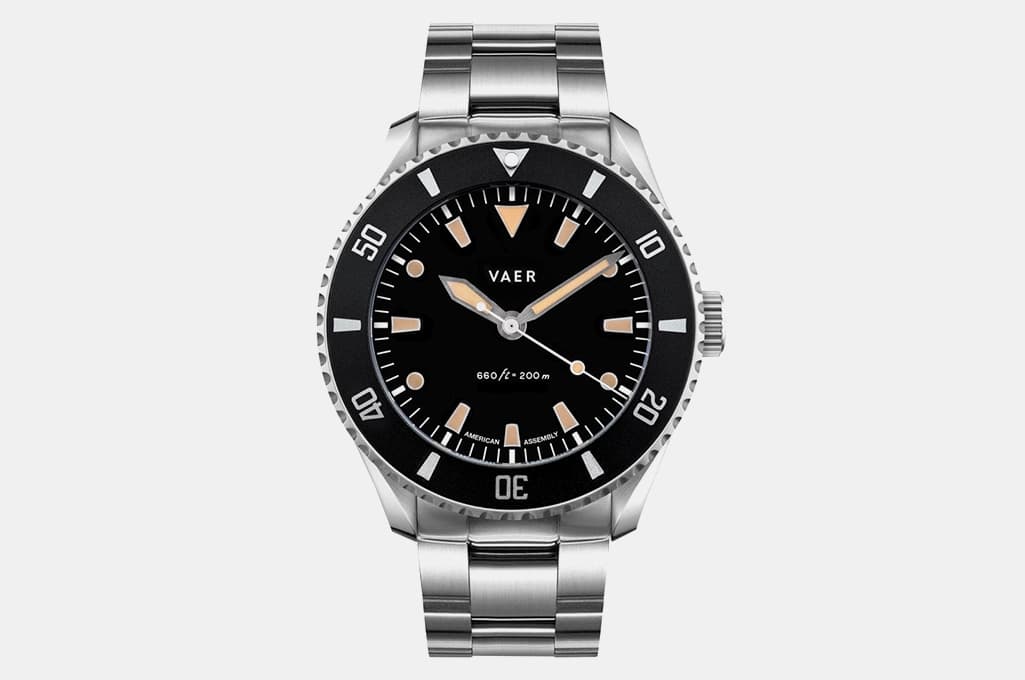 Vaer D4 Arctic USA Solar Dive Watch
Combining both solar- and quartz-powered technologies gives the Vaer D4 Solar Dive Watch an amazing duo of nearly infinite battery life and exceptionally accurate timekeeping. But that's just the tip of the iceberg for this USA-made outdoor watch, which is also made to 200-meter water resistance standards and has a locking crown for added dust and water resistance. The bold black face and contrasting aluminum bezel give it a signature look and feel, and the easy-change straps let you customize that look to suit your style. In short, the Vaer D4 does an excellent job of melding form and function into one beautiful wristwatch.
Case Size: 39 mm
Battery Life: 6 month power reserve
Smartwatch: No
GPS: No
Case Material: 316L steel
Strap Material: 316L steel
Price: $379
The Takeaway: Built in the USA from top quality components, Vaer's solar watch is a stylish option that's durable enough for extended outdoor wear.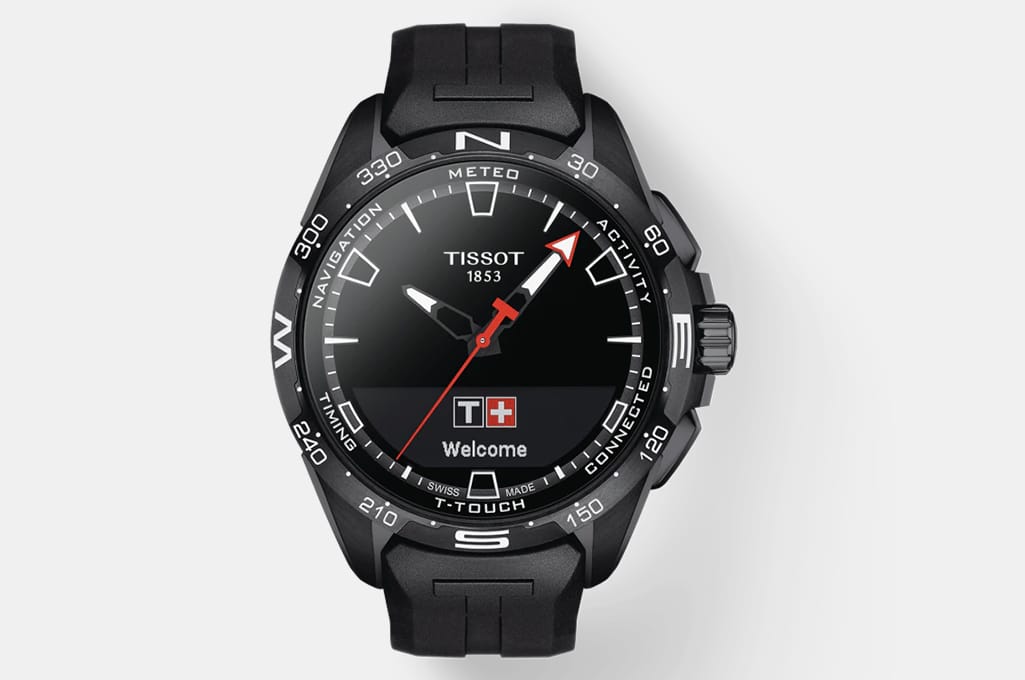 Tissot T-Touch Connect Solar Watch
Each of the Swiss-made watches from Tissot has a long and storied history that reaches back to the brand's first timepieces made in 1853, giving them a distinctive look and feel that's continued to evolve into the present day. Inspired by the sleek lines of race-ready bicycles and motorcycles, their T-Touch Connect series watches offer a bold and immediately recognizable appearance based on a scratch-resistant crystal ceramic bezel. That's paired with 100 meters of water resistance and a combination solar and quartz power mechanism that gives it essentially infinite battery life.
Case Size: 47.5 mm
Battery Life: Not specified ("several months")
Smartwatch: No
GPS: No
Case Material: Titanium
Strap Material: Rubber
Price: $1150
The Takeaway: The titanium case on Tissot's T-Touch watch makes it exceptionally lightweight and comfortable to wear.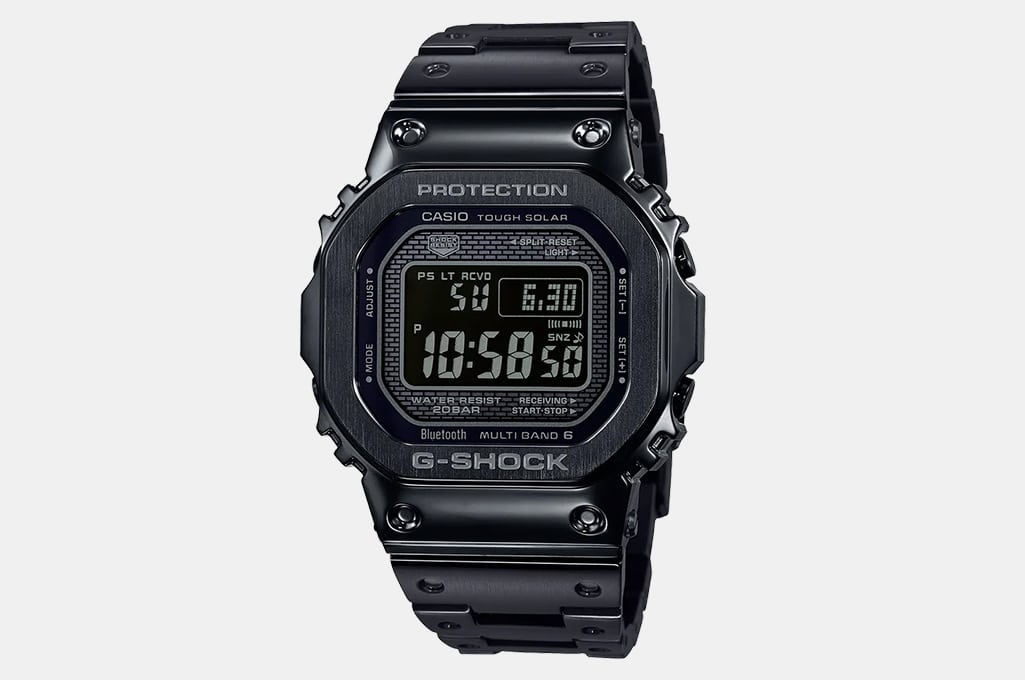 Casio G-Shock GMW-B5000GD
If you've been following along so far, you already know how rough and ready Casio's entire line of G-Shock watches is. But for their GMW-B5000GD, they're really pulling out all the stops—by making an all-metal watch that looks like it could easily survive a bomb blast. It boasts all vintage styling from face to strap to analog readout, then modernizes the function with solar charging and a super bright LED backlight. Grab it in black if you want a tough and dark look, or go for any of the gold, rose gold, or silver color schemes to really add a flashy accessory to your wardrobe.
Case Size: 49.3 mm
Battery Life: Approximately 10 months
Smartwatch: No
GPS: No
Case Material: Stainless steel
Strap Material: Resin
Price: $600
The Takeaway: Another edition of the exceptionally beefy and durable G-Shock lineup, this time with tons of cool color options.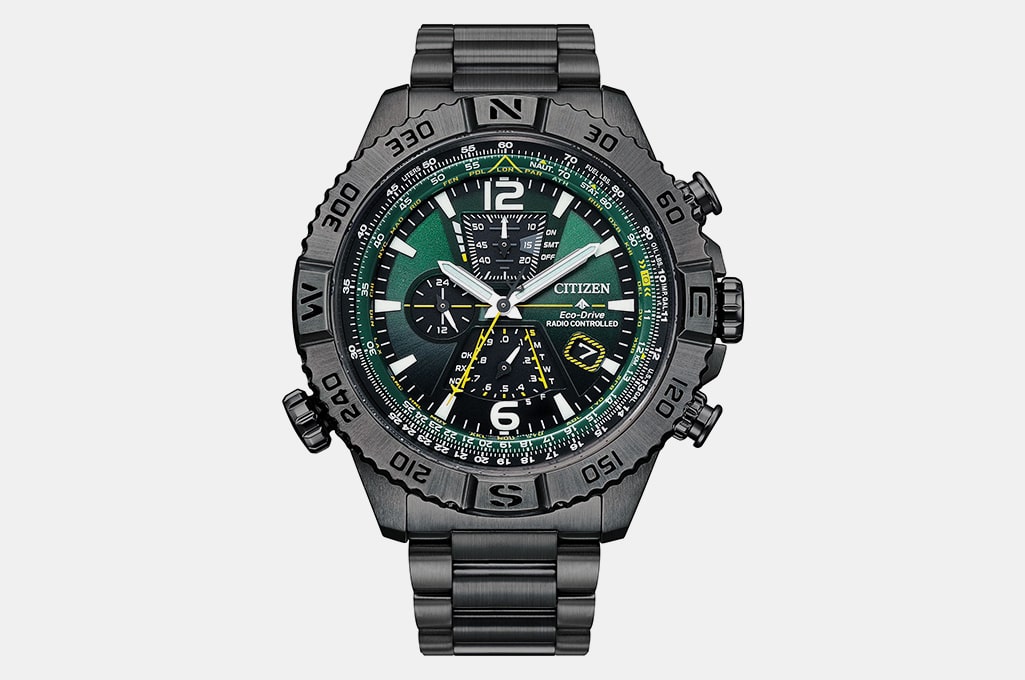 Citizen Promaster Navihawk A-T
As if being powered by the sun wasn't enough, Citizen Promaster's Navihawk A-T goes the extra mile and incorporates ultra-precise atomic timekeeping for good measure. Inspired by both the readouts in an airplane cockpit as well as the experience of flight itself, the color scheme and details here are unlike any other watch we've seen. A dark gray stainless steel case and band provide the base for gradient green, white, and yellow accents to create a truly unique timepiece that can be recharged by any light source for all day, every day wear.
Case Size: 48 mm
Battery Life: Unlimited
Smartwatch: No
GPS: No
Case Material: Stainless steel
Strap Material: Stainless steel
Price: $695
The Takeaway: The Eco-Drive solar powered movement in Citizen Promaster's Navihawk A-T gives it essentially unlimited battery life, and can be charged with any light source.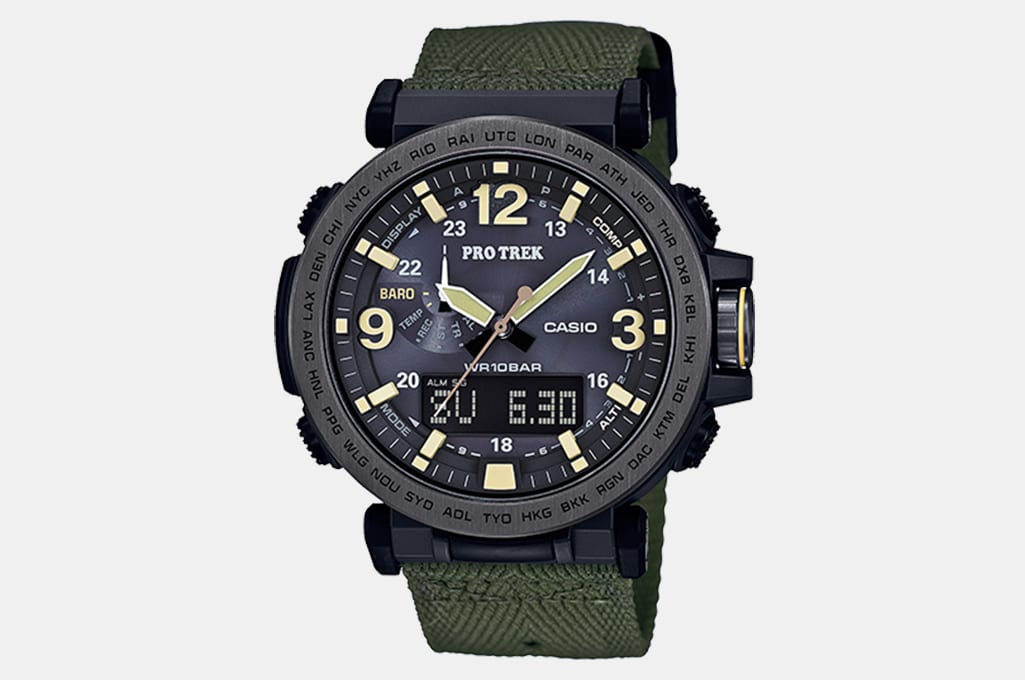 Casio Pro Trek PRG600YB
For any outdoor watch, you should always remember your ABCs: Altitude, barometer, and compass. Taken together with a pinch of orienteering experience, these three tools can keep you safe and on track no matter where you go. Casio's Pro Trek watch makes great use of all three in one durable and affordable package, powered by solar charging and sporting a seven-month lifespan when used regularly and worn for sunny hikes. The Dura-Soft bands and movable lugs finish out the functionality here, allowing for precision adjustments to make it as comfortable as possible to wear on long hikes.
Case Size: 51.6 mm
Battery Life: 7 month power reserve
Smartwatch: No
GPS: No
Case Material: Stainless steel and resin
Strap Material: Cloth
Price: $350
The Takeaway: The Pro Trek line from Casio is great for everyday wear in the great outdoors, thanks to a long battery life and altitude, barometer, and compass functions.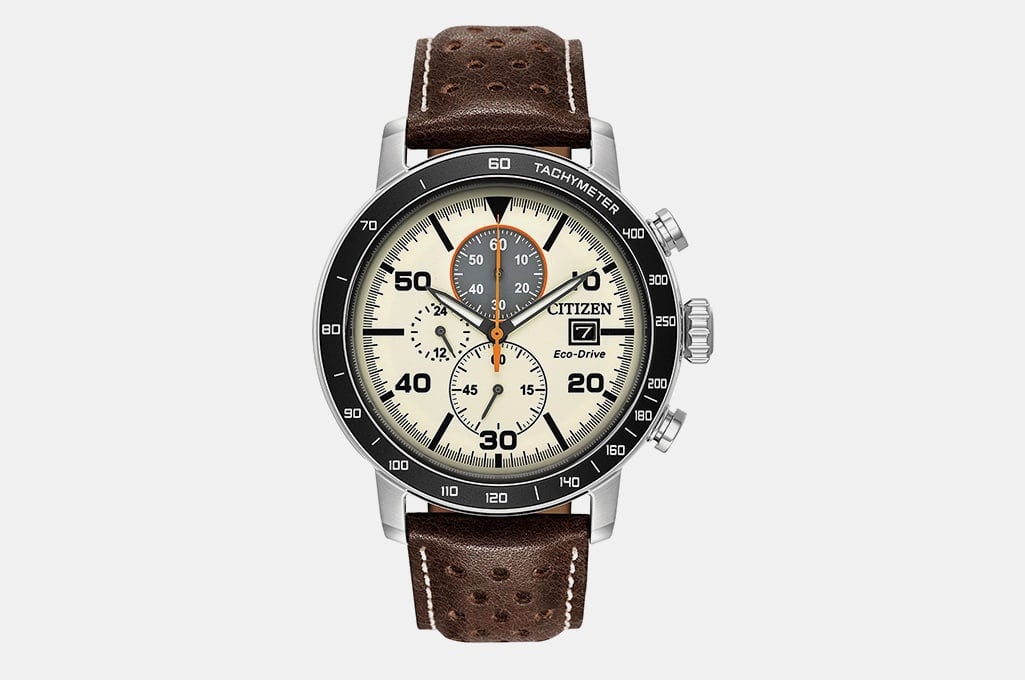 Citizen Eco-Drive CA0649-06X Brycen
Citizen is one of the biggest names in affordable solar watches, and for good reason: Their stripped-down style lends itself well to beginners and experienced timepiece enthusiasts alike. For the Eco-Drive-powered Brycen watch, that refined look and feel is on full display with a stainless steel case, black aluminum bezel, and rich hickory brown leather strap. It's definitely one of the most style-oriented watches on this list, but still offers the excellent battery life you'd expect from any solar powered watch. And because it's equipped with Eco-Drive charging, any light source will keep your Brycen ticking year after year.
Case Size: 44 mm
Battery Life: Unlimited
Smartwatch: No
GPS: No
Case Material: Stainless steel and aluminum
Strap Material: Leather
Price: $350
The Takeaway: Another unlimited battery power watch from Citizen, this time in a distinguished and workplace-ready style.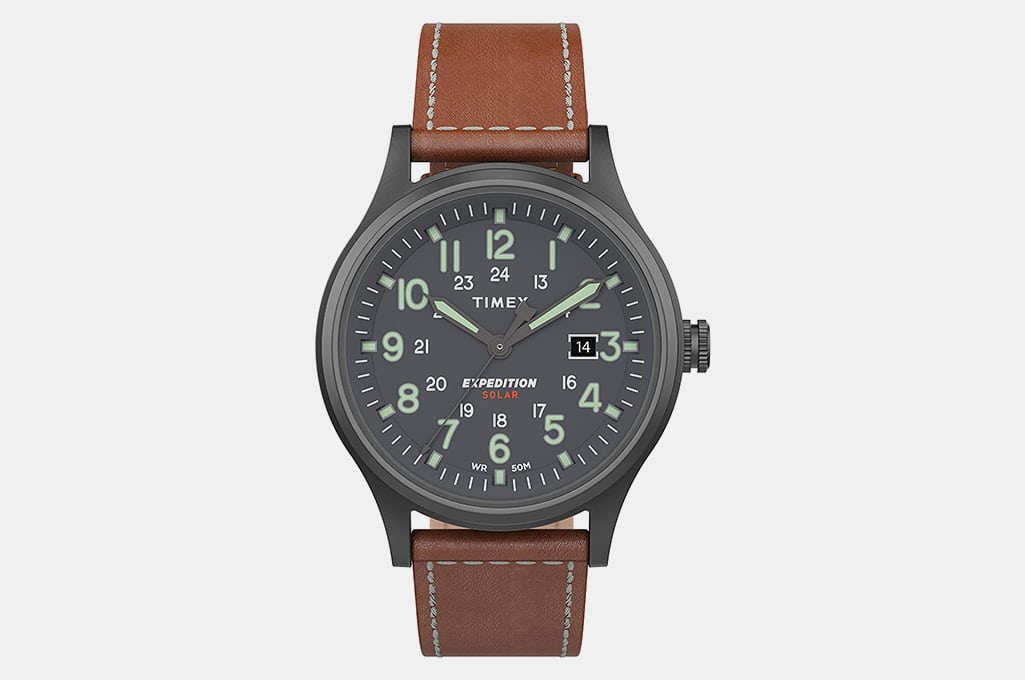 Timex Expedition Scout Solar-Powered Watch
A solar powered watch for under $100? It's true: Timex's Expedition Scout is the best affordable solar watch you'll find today. A gunmetal gray case and stitched brown leather strap give it a classic look and vintage feel, completed by luminous crystal hands and numerals for easy low-light readouts. Any light source will power this watch, giving it a four-month battery reserve that's continually topped up anytime you wear it outdoors. And while it's not suitable for deep diving, the 50-meter water resistance on this watch's case will keep it in good working order if you end up in a nearby pool or pond.
Case Size: 40 mm
Battery Life: 4 month power reserve
Smartwatch: No
GPS: No
Case Material: Brass
Strap Material: Leather
Price: $49.99
The Takeaway: The most affordable solar powered watch you're likely to find, and a great way to test whether this style of watch is right for you.
Disclosure: Clicking on these links and making a purchase may earn us a small referral fee, at no extra cost to you. Learn more here.
freestar.config.enabled_slots.push({ placementName: "gearmoose_leaderboard_btf", slotId: "gearmoose_leaderboard_btf" });