The 12 Best Men's Running Jackets
Even if you run less like Usain Bolt and more like Forrest Gump before he ditches the leg braces, you need proper running gear. Running jackets help marathoners optimize their performance. For intermediary runners or beginners, the right jacket ensures comfort and less distractions while running. A weather-resistant option will squash any potential to use cold or rain as an excuse not to hit the trail for the New Year's resolution crowd.
We rounded up twelve of the best men's running jackets. Go for a bright 360 reflective jacket if you're a night jogger or one with anti-cold technology if you live up north. Since not all runners are alike, each choice excels in different ways.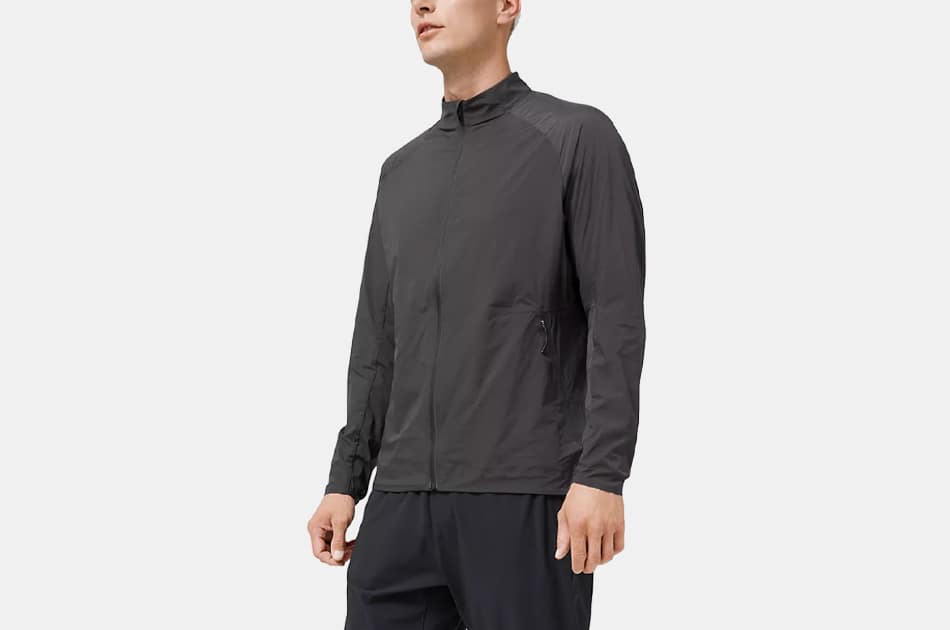 Lululemon Cold Terrain Jacket
Lululemon is famously design-focused. This jacket wins the championship ring for simplicity and lightweight insulation. Its thermal capabilities come from two qualities: A perforated fleece layer that shields from the cold without extra weight, and mesh fabric back panels that keep you warm without compromising breathability. Despite the jacket's delicate appearance, it's made mostly of durable polyester and nylon while its clean silhouette means that no part of the jacket can potentially hang out or flap in the wind. This second-skin design is great especially for endurance runners. 
On Weather Running Jacket
This is the strongman of the group, built with 100% polyamide protection, which is tough as nails and abrasion-resistant. The jacket features a tear-proof upper fabric across the chest and shoulders that acts as lightweight armor —it also gives the jacket a cool superhero look. As a four-way stretch, the fabric bends and recovers lengthwise and widthwise, helpful if you run in the woods or anywhere your jacket could get snagged on something. Another great feature is the hood, which stays put even on windy days and has a stiffened peak to keep rain off of your face.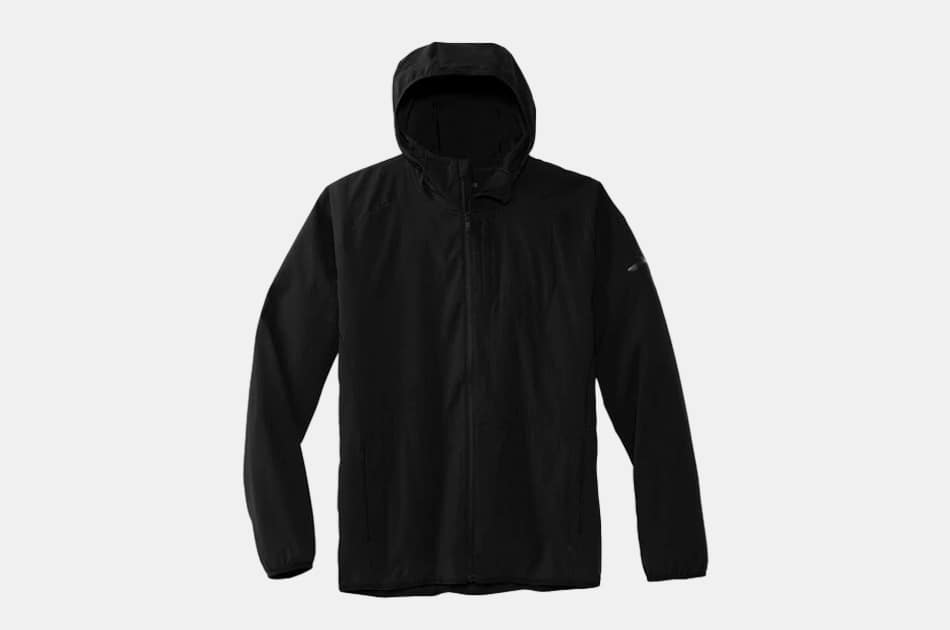 Brooks Canopy Jacket
The Canopy is one of the most breathable running jackets out there, keeping you comfortable from the start to the end of a run, even in warm weather. Brooks' company mission is to create innovative gear, and this jacket features their Drilayer technology. From the outside, Drilayer seals out elements while remaining well-ventilated. From the inside, it wicks sweat and lets excess heat out. Drilayer is also softer and more flexible than other jacket materials, and can be stuffed into a built-in mesh backpack. This jacket is good for those days in between seasons when the weather can switch up faster than John Ross's 40-yard dash.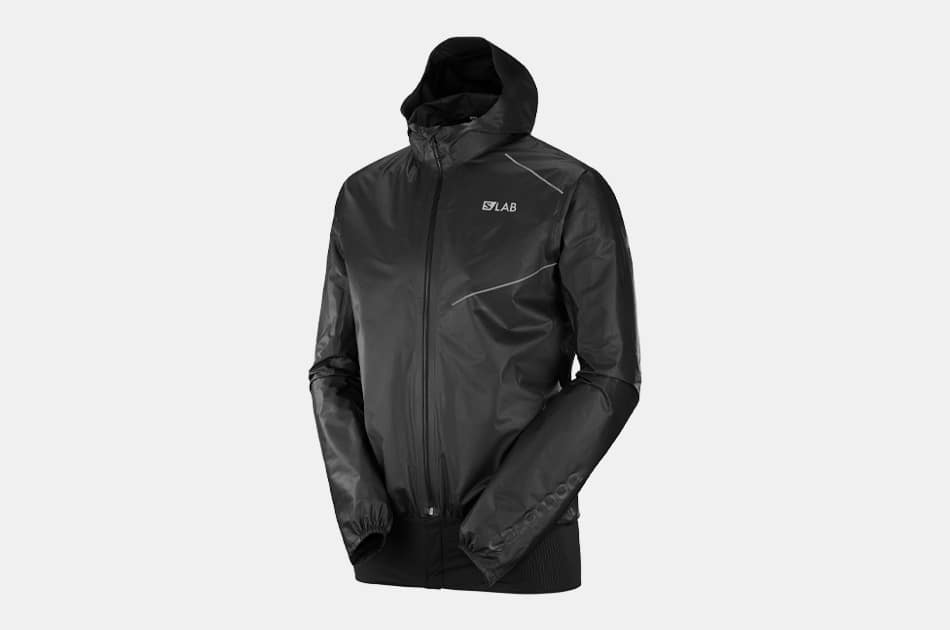 Salomon S/LAB MotionFit 360°Jacket
This S/LAB features Salomon's MotionFit technology, for terrain-versatility. It's effective for runners going uphill, downhill, or straight on. Salomon built this technology considering that every sport has specific movements. This jacket's architecture and pattern engineering offer complete mobility without affecting fit or comfort. When running on rocks or mud, you'll likely find yourself moving your body every which way to maintain balance and momentum. This jacket will completely move with you. The stretch waistband lets you hang it around your waist. This storage style is great for extra sweaty days when airing the jacket out is preferable to throwing it in a bag. Wear this on intense trails or if you're running a circuit race.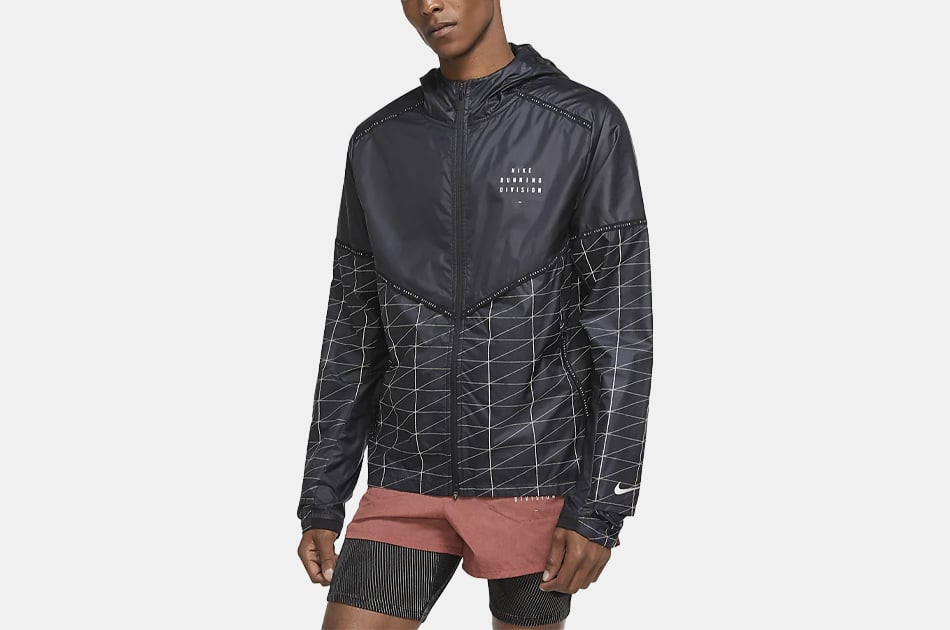 Nike Flash Run Division Jacket
This jacket is classic Nike, combining cool-guy style with athletic practicality. The top portion of the jacket is solid black, while the bottom portion is decked with the Running Division taping pattern, a utilitarian look. The brand is spelled out on the left-side chest for a members-only jacket aesthetic. Its performance features include weather-resistant guards, lightweight fabric for comfort, strategically placed vents to enhance airflow, and even hand mittens for extra warmth. If you need a practical running jacket that you also want to rock as casual wear, this Nike jacket is your guy.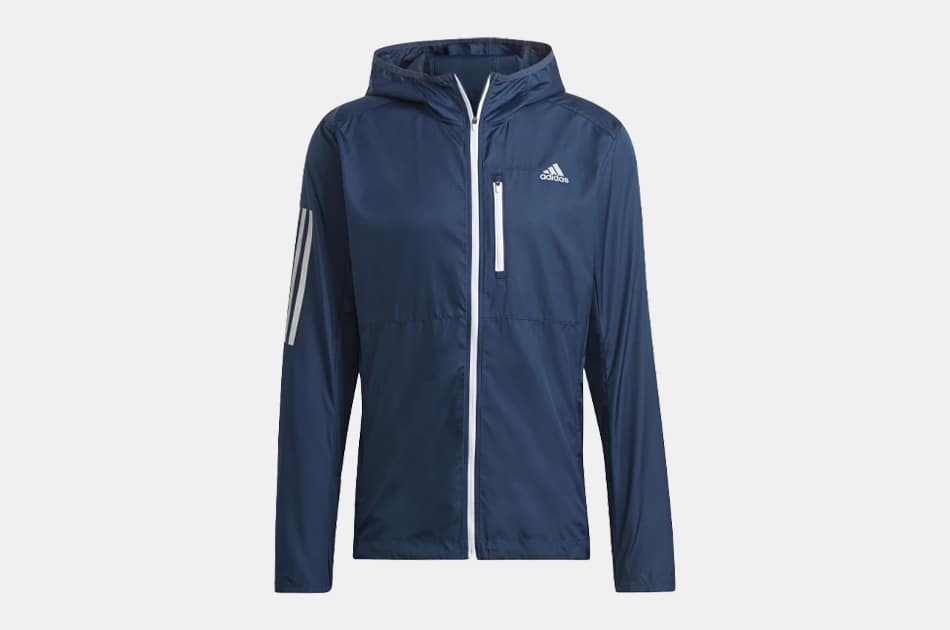 Adidas Own The Run Hooded Jacket
Reflectivity is an important safety feature in a running jacket, and this Adidas takes it to the next level. It features 360 degrees of reflectivity ensuring light will bounce right back at nearby drivers, especially in headlight weather. If you opt for the acid yellow version, even Stevie Wonder won't miss you during your late night run. It's made of polyester (part of which is recycled) for lightness in weight and wrinkle resistance. The Own The Run also features a hood and a toxic-free water repellent finish, good for light rain.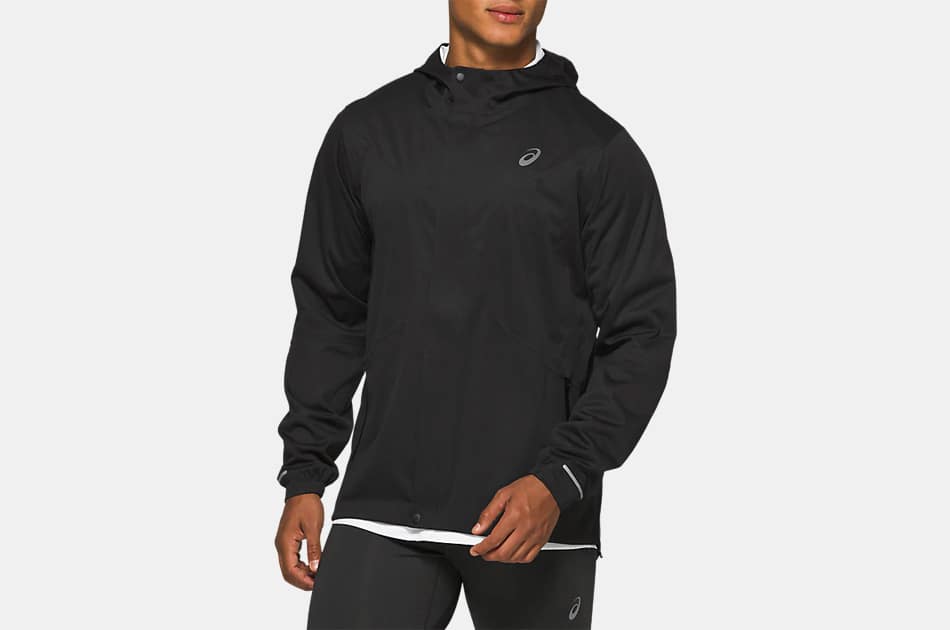 Asics ACCELERATE Jacket
Asics lists "persistence" as a company pillar, so it's no surprise that they're serving up a running jacket designed to endure. The Asics ACCELERATE Jacket is great for high winds. The windproof and waterproof polyester blocks aggressive air currents and the regular fit construction makes it so the jacket doesn't interfere with motion. The sleeves even have a thumb hook so they don't ride up from arm swinging. Other useful features include the flaps over the zippers and sealed seams which prevent wind and precipitation from getting into the jacket. Style-wise, the ACCELERATE comes in three different shades of blue and in black.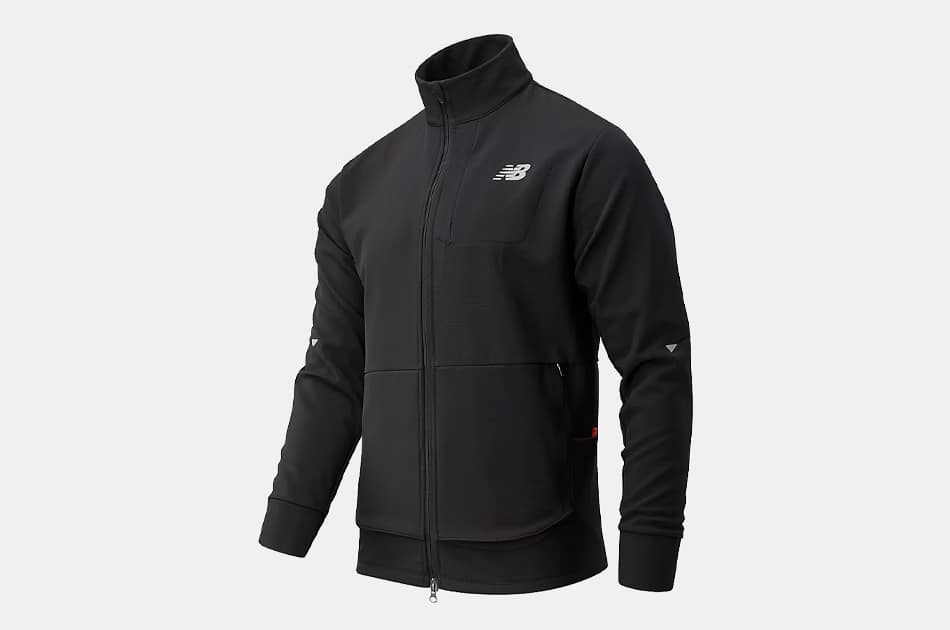 New Balance Impact Run Winter Jacket
This jacket keeps you cozy on cool days. It features NB HEAT, New Balance's in-house warming technology made from gridded fleece. It also wicks you dry and is light and comfortable. The top of the jacket is a double-knit stand collar for coverage and extra warmth. Additionally, its athletic cut skims your chest, waist, and hip for full coverage and a neat fit that doesn't compromise movement. Sport this jacket on cold morning runs, fall days, and in cool light rain.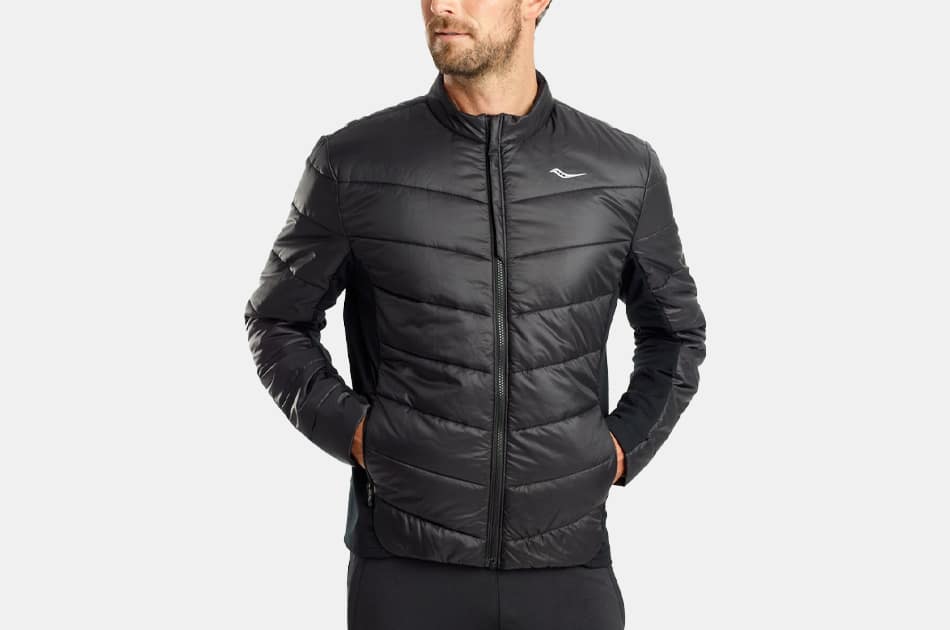 Saucony Snowdrift Jacket
This next-level winter runner's jacket is perfect if you ever find yourself jogging in the middle of a North Dakota February. The insulation material features 100gm of Primaloft thermal insulation, which is a patented microfiber developed for the US Army. Primaloft is a world leader in advanced material technology. If this insulation is good enough for what our soldiers are subjected to, it will certainly keep you warm during that winter run. It has just a little more bulk than the average running jacket, but is still lightweight.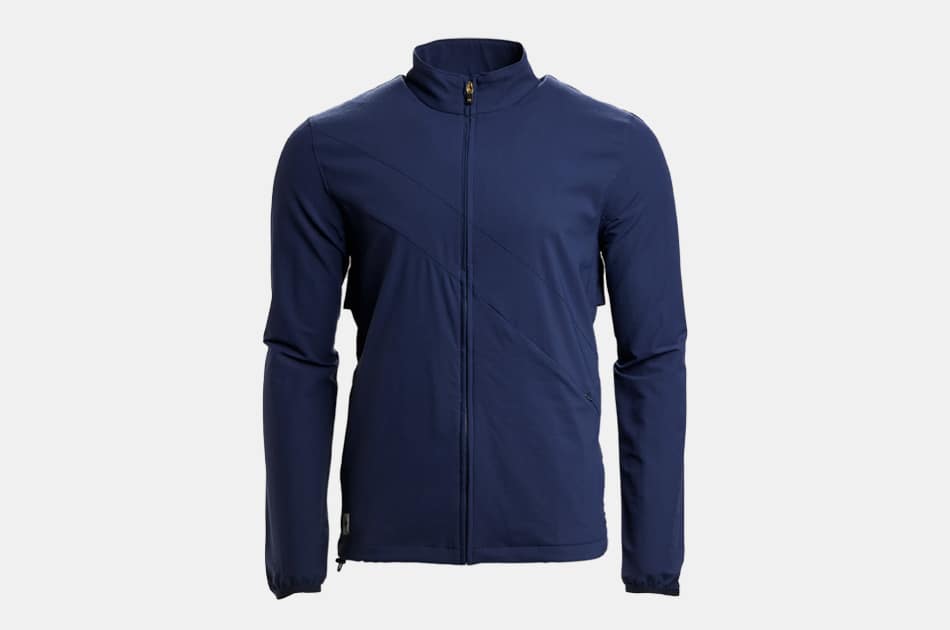 Tracksmith Run Commute Jacket
This on-the-go jacket is popular with city professionals who take light jogs during their breaks, or those who want to squeeze in runs between errands without changing. Tracksmith's custom stretch Merino wool has natural thermoregulation, breathability, and odor-resistance. The jacket has a tailored silhouette that doesn't look out of place in everyday situations. Moreover, its two hand pockets and invisible zip pocket equip you with errand-readiness. This hybrid has performance properties of a running jacket, but a look that can be taken from the gym to the bank —or the bar.
Under Armour Qualifier Outrun The Storm Jacket
This jacket boasts extra impressive weather resistance, especially in the rain (take note, Seattleites). It features UA Storm technology, an in-house chemical treatment that prevents water penetration without sacrificing breathability. In light to moderate rain, the water droplets roll right off while in harder rain, the treatment prevents it from getting heavy from wetness. The jacket also comes with a generous three-piece hood with flat seams for a smooth fit, and is durable, lightweight, and four-way stretchable.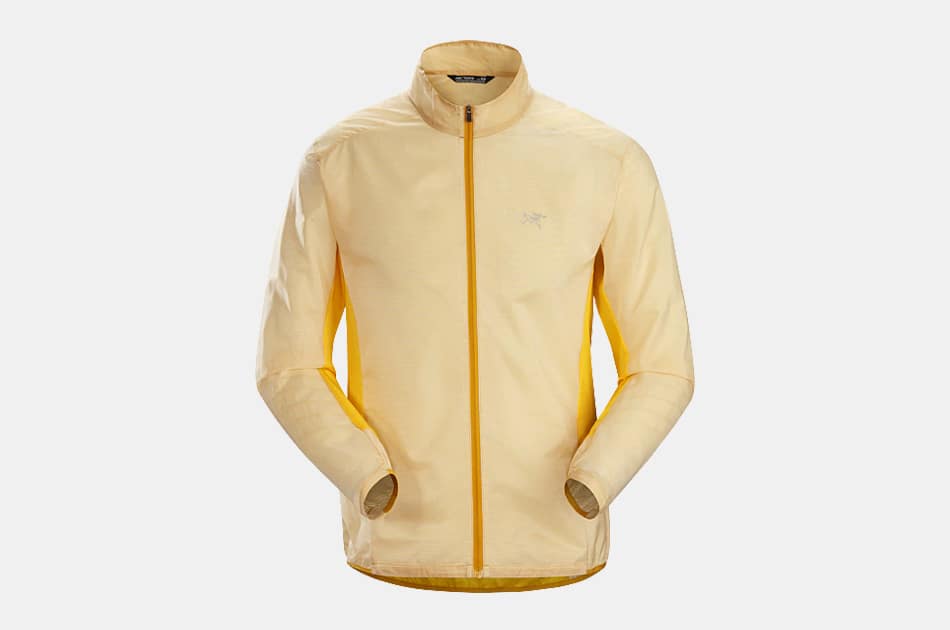 Arc'Teryx Incendo SL Jacket
The combination of movability and breathability make this jacket perfect for warm weather and high altitudes. The strategic mix-and-match construction includes ripstop nylon, which is ultralight and woven in a crosshatch that prevents tears. Wind-resistant treatment is applied specifically to the arms and core, while air permeable construction is applied to the back and underarms to provide ventilation. Finally, a strategic forearm stitch raises the sleeves to further minimize perspiration build-up. This cooling factory of a jacket is perfect for runs in the summer, especially in mountainous terrain, or for those going uphill.
Disclosure: Clicking on these links and making a purchase may earn us a small referral fee, at no extra cost to you. Learn more here.
freestar.config.enabled_slots.push({ placementName: "gearmoose_leaderboard_btf", slotId: "gearmoose_leaderboard_btf" });