The 15 Best Coolers With Wheels
To many of us, Spring and Summer mean grilled burgers and dogs alongside freshly cracked beers, consumed in backyards, at campsites, and down by the lake.  
For doing any of that, you need the right cooler. And while everyone is impressed you can deadlift a fully-loaded seventy-five quart cooler, it doesn't mean you have to. A cooler with wheels will make everything a bit easier as you stake out your small corner of the world and prepare to grill and imbibe your way to warm weather greatness.
Our list of the 15 best coolers with wheels is here for you. We've dug up premium, ten-day, bear-proof rolling coolers, as well as a few ice chests that won't sack your wallet. Some have ingenious accessories, some are no-frills cold boxes, one of them will even hook up to your bike so you can roll right up to the party. All 15 are coolers worth checking out before you head outside this summer to take things easy. Oh yeah, and all 15 coolers come with wheels.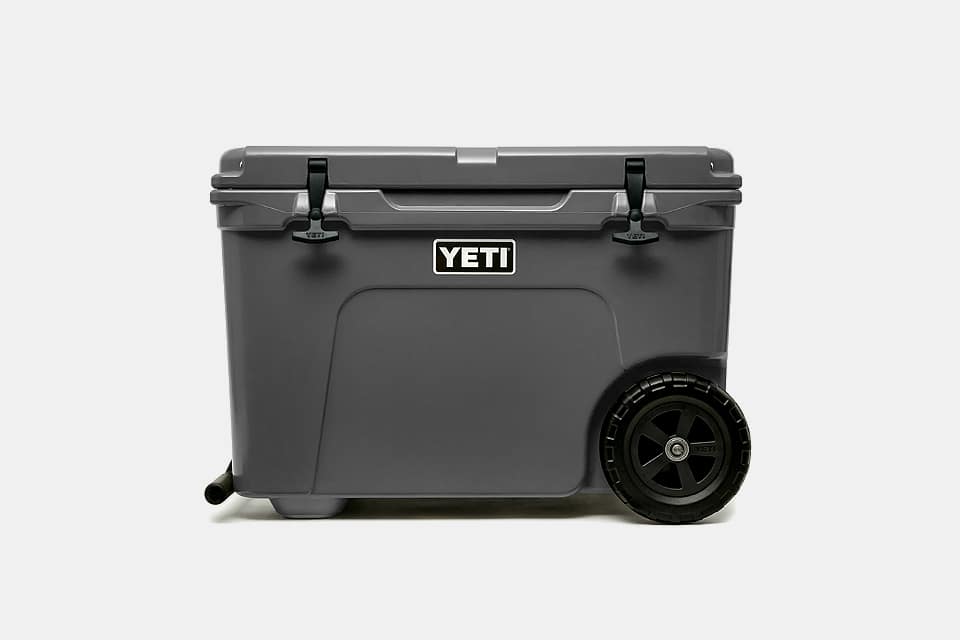 Yeti Tundra Haul
Tundra is Yeti's line of nigh-on-indestructible coolers. And finally, they've made one with wheels. The HaulRolling Cooler will fit fifty-five pounds of ice, or forty-five cans of beer (with a two-to-one ice-to-beer ratio) and has a welded aluminum arm that's designed to be pulled behind you without raking your ankles every time you take a step. The rotomolded outer is filled with pressure-injected polyurethane to keep things icy while remaining uncrushable.
Price: $400
Capacity: 55 qt
Key Features: Single-piece tire construction, welded aluminum handle, commercial-grade polyurethane insulation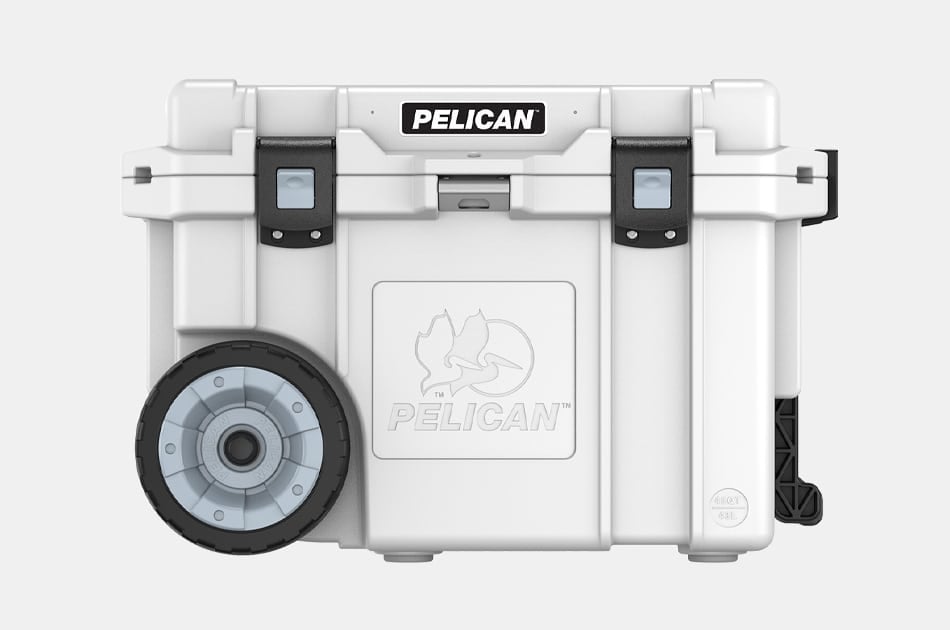 Pelican Elite Wheeled Cooler
Let us ask a question regarding your summer plans: Are you expecting bears? If yes: this. If no: still this. The Elite comes from Pelican, a company that makes protective cases used by the military, emergency responders and the aerospace industry — so yes, it'll keep your beer safe. And two inches of polyurethane insulation and a freezer-grade gasket means it'll also keep that beer cold for ten days. And about those bears? This rolling cooler is certified bear-resistant by the Interagency Grizzly Bear Committee.
Price: $389.95
Capacity: 45 qt
Key Features: Built-in trolley handle, built-in bottle opener, press and pull latches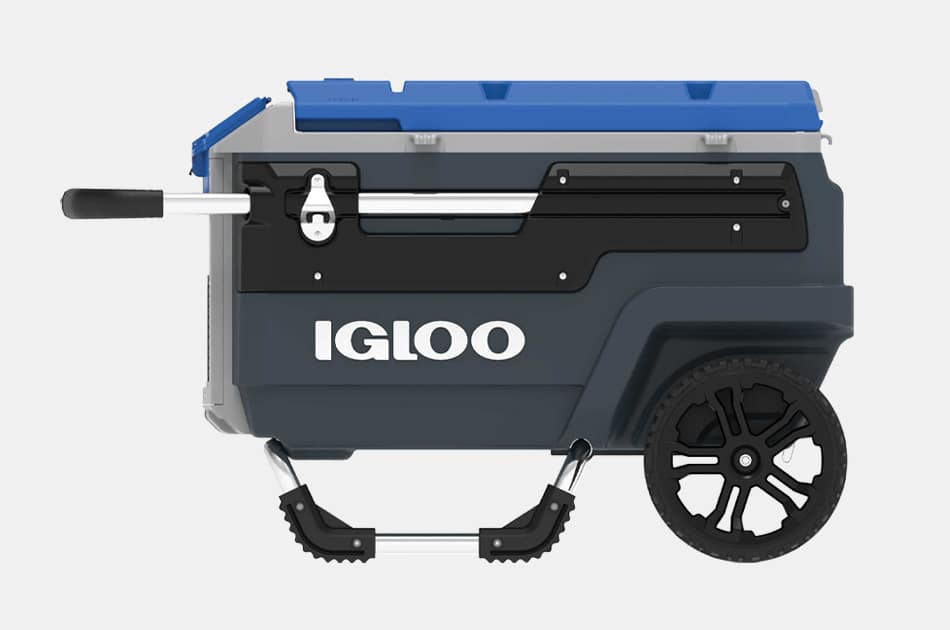 Igloo Trialmate Rolling Cooler
Like Kleenex and Xerox, there was a time when you referred to that thing keeping your stuff cold as the "Igloo." The wheeled collection from the brand synonymous with cooler is the Trailmate and it's all about the extras — cup holders, a slide out tray table, a storage pocket, bottle openers, and both an internal stay-dry food basket and an internal lockable dry box for your phone, wallet and keys. Add that to the four day ice retention and hundred-plus can capacity and you see how the eponym came about.
Price: $299.99
Capacity: 70 qt (112 cans)
Key Features: Four day ice retention, telescoping handle with butler tray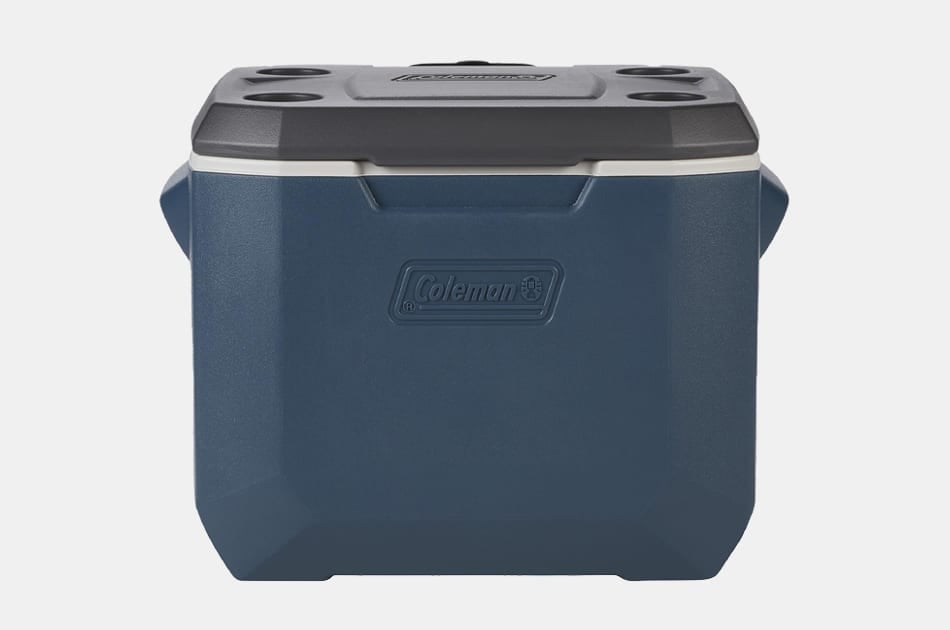 Coleman Xtreme Wheeled Cooler
Ever tried to take a load off atop an unsturdy cooler and ended up with a cracked lid, or worse, an iced butt? Coleman understands the tendency to consider the cooler the unofficial extra chair at the tailgating party, so they made their lid able to withstand two-hundred-fifty pounds of cookout enthusiast. Holding up to eighty-four cans and keeping them cold for up to five days, the Xtreme also has a telescoping handle that locks so you can push or pull your cooler to the heart of the action.
Price: $49.98
Capacity: 50 qt
Key Features: Built-in cupholders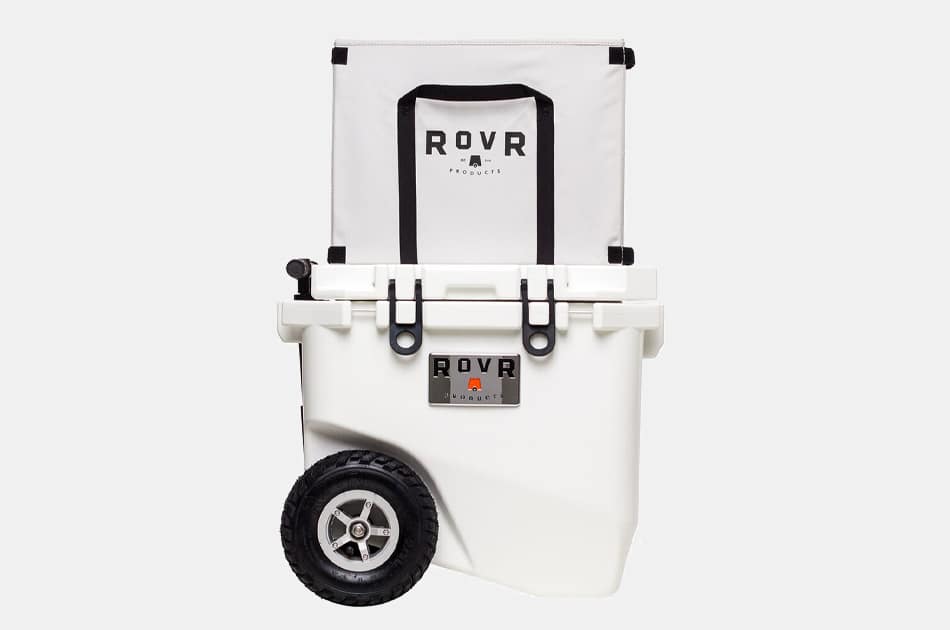 RovR RollR Rolling Cooler
A lot of thought went into the design of RovR's coolers. Far more than an insulated plastic box, the RollR coolers come in a forty-five, sixty or eighty-quart capacity and have a ton of features that seriously put the "cool" in cooler. The dry bin acts like a fridge keeping stuff dry and between 35º and 40º. A built-in Wagon Bin on top pops up to hold whatever else you're bringing to the party and the six anchor points let you add accessories like the optional cutting board and dual cup holders. Plus with the BikR tow arm you can haul the wheeled cooler with your bike.
Price: $399.99
Capacity: 45 qt
Key Features: Removable two compartment dry bin, high density foam insulation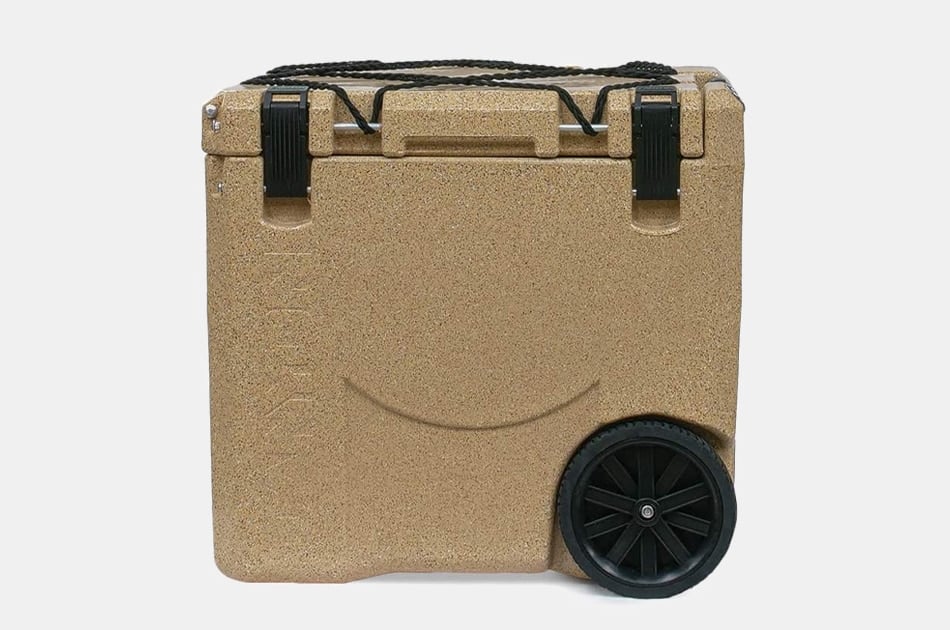 Canyon Cooler Mule Rolling Cooler
In answer to some of the price premiums certain premium coolers were asking, Canyon Coolers decided to make premium coolers that ranked at the top of the class for ice retention and towards the bottom for price. Their wheeled rolling cooler offering is a thirty-quart ice chest built with more insulation than other coolers in its range. The bungee net up top helps you haul extra stuff on game day and Canyon also offers a no-hassle, lifetime warranty.
Price: $290
Capacity: 30 qt
Key Features: Jungle cord bungee, integrated cup holders and bottle opener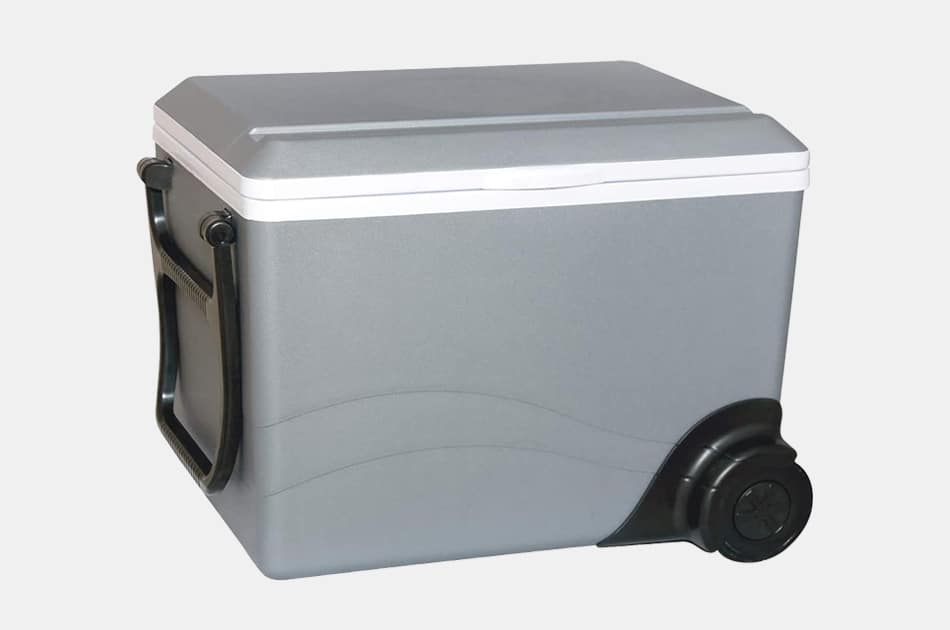 Koolatron KargoWheeler Cooler With Wheels
You're car camping, not exploring the Dry Tortugas. Chances are there's an open 12V you can plug into. So if you want to rely on more than just ice and insulation to keep your beer and brats chilly, go for the Koolatron. This one has a thirty-three quart capacity and comes with two shelves for organization. The coolers draw less power than your car's parking lights and there won't be any need to stop at the gas station for ice before you head out.
Price: $189.99
Capacity: 36 qt
Key Features: Electric cooling (or heating) via 12V power cord
Kong Cruiser Cooler
Kong's family of American-made coolers has been a big hit with backyard barbecuers for over 20 years now, but they've really outdone themselves with the Cruiser Cooler. It's the first ever wheeled cooler from the company, and they attended to every detail. Fully packed it can hold a frost 40 beverages (with 30 pounds of ice to keep them chilled). And with its heavy duty insulation, tight locking lid, and perfectly integrated bottle opener, those brewskis will be cool and drinkable for up to a week.
Price: $459
Capacity: 50 qt
Key Features: Up to one week of ice retention, optional divider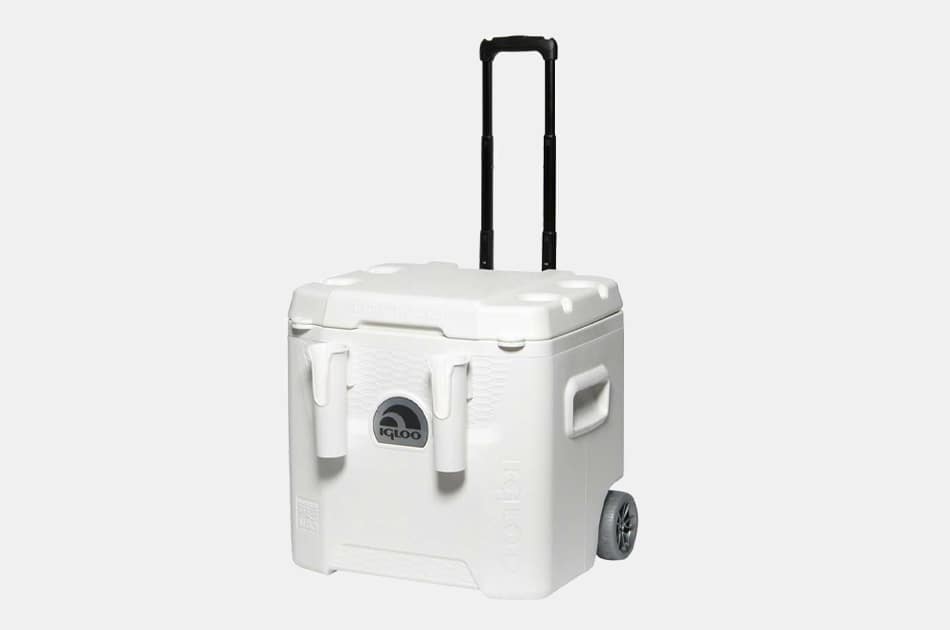 Igloo Marine Quantum 52 Wheeled Cooler
Why is this this one the best? It has the word quantum in the name. Quantum Leap, quantum entanglement, Nuka Cola Quantum — examples of awesomeness, all of them. Also Maxcold Quantum has things like a telescoping handle with gear notches at the top so you can hang bags and packs, an internal shelf ledge for better organization, integrated tie-down loops, plus cup holders on the lid and a five-day ice-retaining insulation — all while staying firmly on the economical end of the spectrum.
Price: $84.99
Capacity: 52 qt
Key Features: Cool Riser Technology, locking telescoping handle with gear hangers, two removable fishing rod holders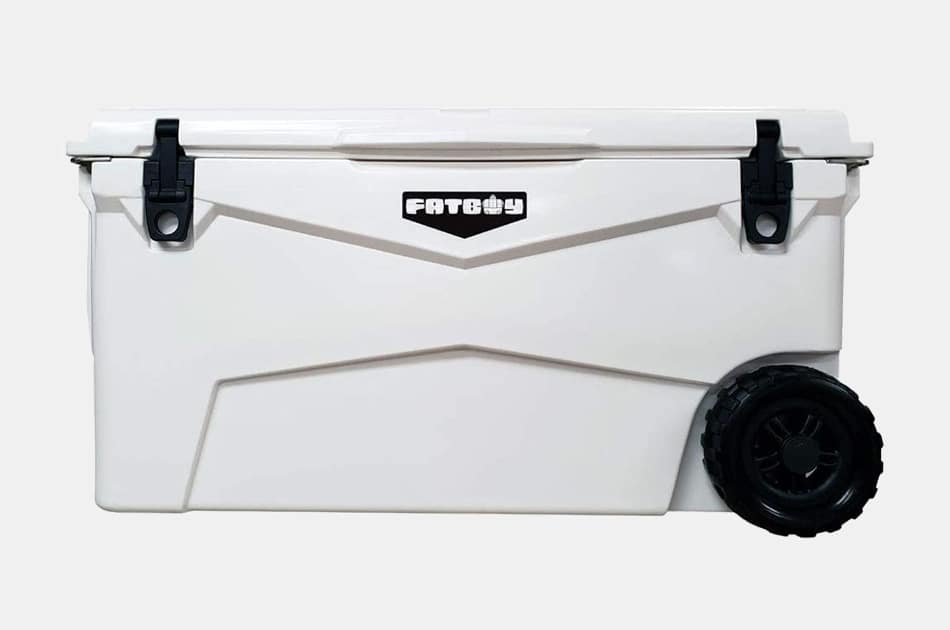 FatBoy Roto Molded Wheeled Cooler
There's ice cold and there's cryo cold. FatBoy coolers uses an exclusive polyurethane insulation called Cryo-Foam and that, along with the freezer-grade gasket will keep your ice icy for nine days. The outside is rotomolded low-density polyethylene with t-handle latches and stainless steel corner locks (and bottle openers). The tires are rubber and nearly two inches thick and the lid has a molded twenty-seven inch scale for measuring your fish — or perhaps more likely when grilling, the diameter of your burger patty.
Price: $300-$400
Capacity: 70 qt
Key Features: An integrated scale on the lid for easily measuring fish, a freezer-grade rubber gasket, and 2 inches of polyurethane Cryo-Foam insulation provides ice retention above and beyond traditional coolers.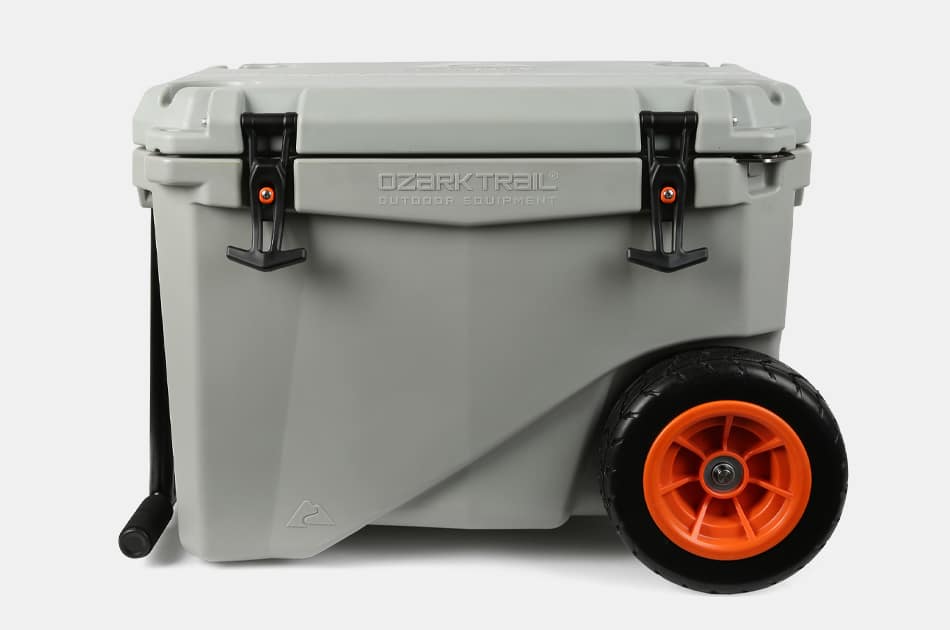 Ozark Trail 45QT High Performance Rolling Thermocooler
The pathless terrain from your car to that perfect off-grid camp spot can be dangerous for your beer. Just one unfortunate rock or divot can flip your rolling cooler like a Toyota Supra in a Fast & Furious movie. That is, unless you have this Ozark Trail 45QT Thermocooler. Its rugged wheels are flat-proof and built for all terrains, including dirt, rocks, and sand. It sports a roto-molded, one-piece construction that's certified bear-resistant. On top of that, its polyurethane insulation keeps ice for days. If you're looking for a tank of a cooler, Ozark has you covered.
Price: $158
Capacity: 45 qt
Key Features: Microban antimicrobial interior coating, stainless steel locking plate with built-in bottle opener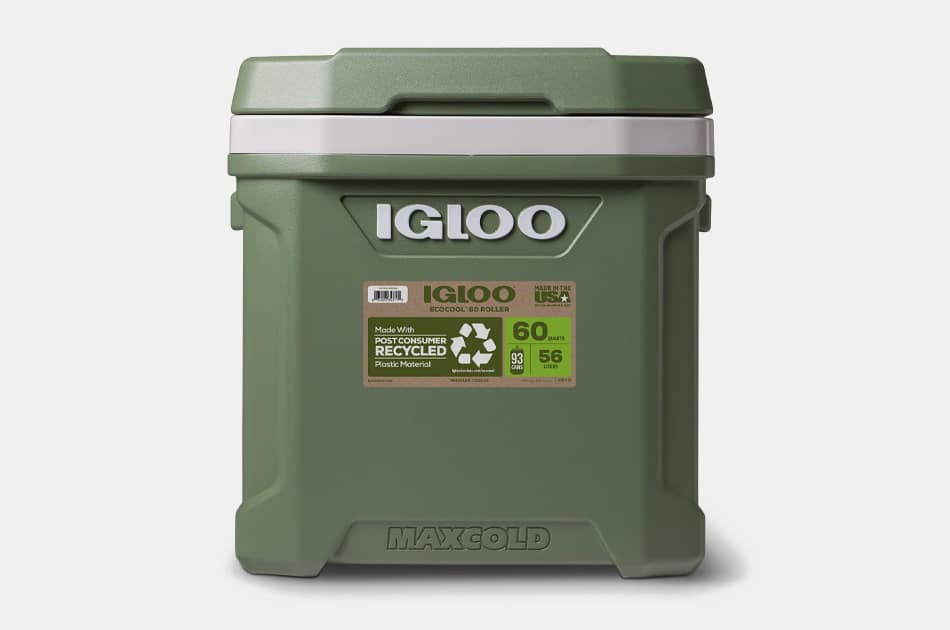 Igloo ECOCOOL Latitude 60 Qt Roller Cooler
How does one help the environment by drinking beer? With the ECOCOOL Latitude Roller Cooler, that's how. This 60-quart container is built from recycled resin made from discarded plastic, while the insulation is a special foam that lowers emissions from CO2 and volatile organic compounds. And this cooler works too—it keeps your drinks cold for five days, comes with all-terrain wheels, and a telescoping handle for convenience. The lid sports four self-draining cup holders, and the triple-snap drain plug is effectively leak resistant.
Price: $79.99
Capacity: 60 qt
Key Features: Made with resin from recycled plastics, Cool Riser Technology, molded-in side handles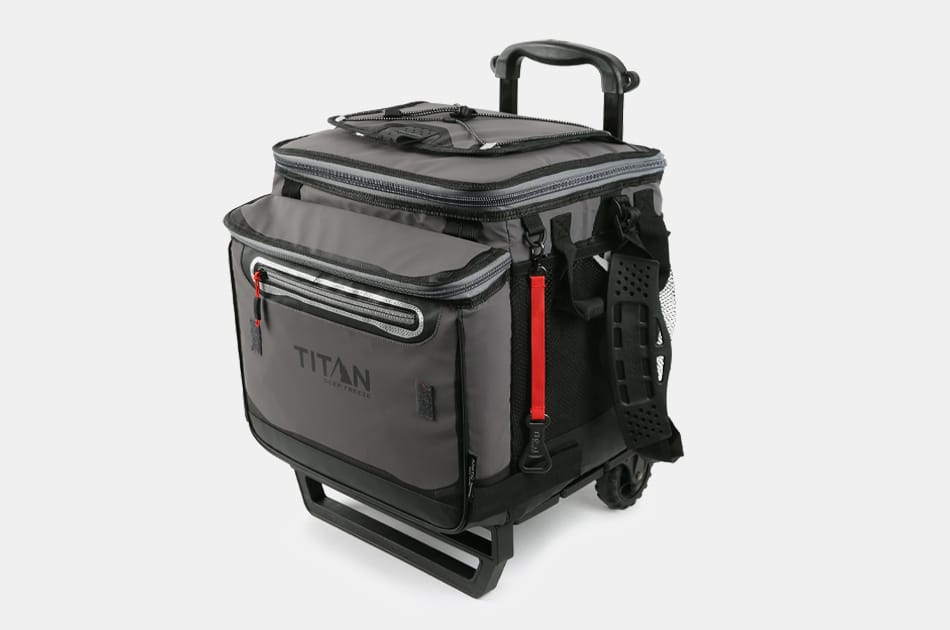 Titan Deep Freeze 60 Can Rolling Cooler
One of the best and most stylish soft coolers out there, the Titan Deep Freeze Cooler boasts three days of ice retention. It achieves this, despite its lightweight construction, with its proprietary insulation technology, which features a radiant heat barrier and triple layer cold-blocking base. Other cool features include its easy-access lid, removable bottle opener, and expandability. Style-wise, the exterior (which is water-resistant and stain-resistant) comes in fun colors like a turquoise-esque Pine variation, a summer-appropriate Blue Lagoon version, and a very neon Citrus model. The Moss variation is a quieter, but still snazzy, outdoorsy hue for you understated gents out there.
Price: $79.99
Capacity: 60 qt
Key Features: Microban antimicrobial coating, integrated drink holders, detachable bottle opener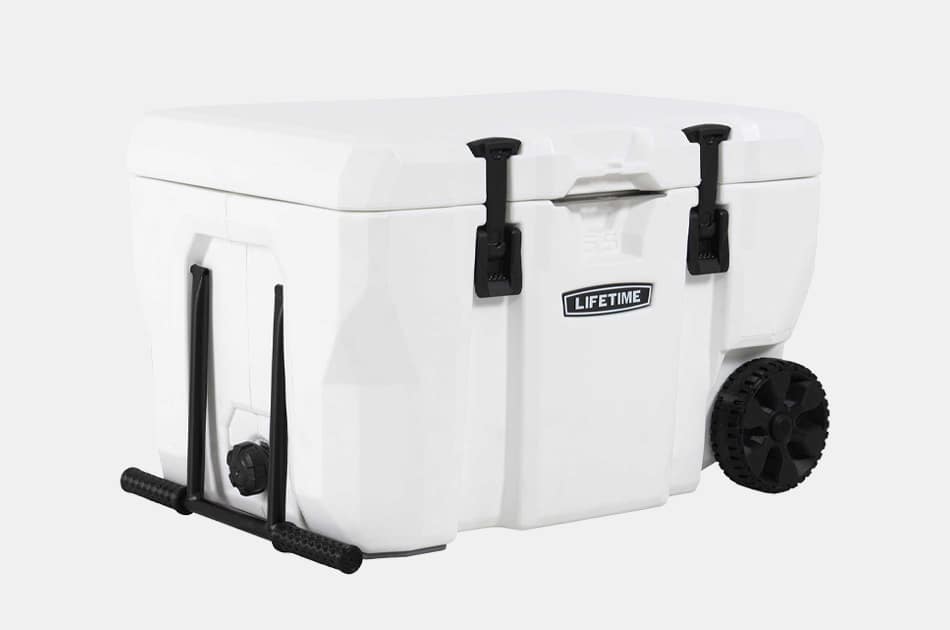 Lifetime Hard Sided Cooler With Wheels
With seven days of ice retention, the Lifetime Hard Sided Cooler is a step away from being a rolling mini-fridge. This makes it the best option for beach trips on the hottest summer days. It also gets bonus points for the mercy of not having to immediately unpack the cold stuff after a long day out. This cooler's durable construction is bear resistant, but the handles are made of a comfortable braided rope and plastic grips. And if a bear does manage to magically break through, this guy comes with a five-year warranty.
Price: $199.99
Capacity: 55 qt
Key Features: Certified to withstand a bear for up to one hour, stainless steel bottle opener with padlock compatibility.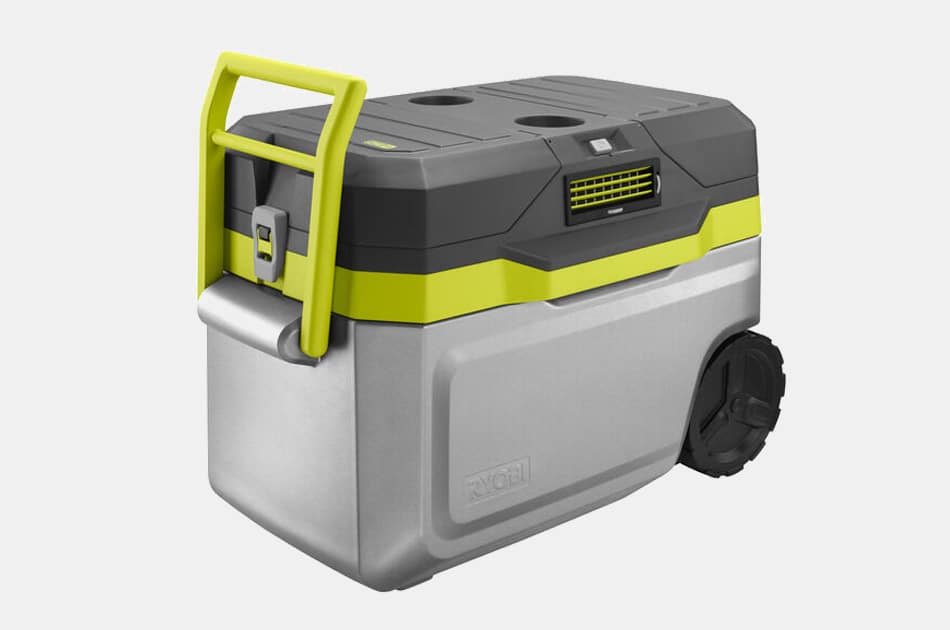 RYOBI 18V Rolling Cooler
The highly technological RYOBI 18V Roller just might represent the future of coolers. Yes it's a 50-quart rolling cooler, but it's also a cordless air cooling unit. It comes with a P102 battery and charger, and works with any 18-Volt ONE+ battery. Whether you're going to a music festival in the desert or your worksite in Louisiana's Gulf Coast, the cooling unit's four-hour runtime ensures that your sandwiches are fresh and that drinks get cold and stay cold for longer. Its matte gray lid, slick pearly body, and lime green accents throughout also give it a tough but distinctly cool look.
Price: $350
Capacity: 50 qt
Key Features: A battery-powered electric cooling system keeps your beer, sodas, and other sundries ice cold in the hat of summer, even if you've run out of ice.
Disclosure: Clicking on these links and making a purchase may earn us a small referral fee, at no extra cost to you. Learn more here.
freestar.config.enabled_slots.push({ placementName: "gearmoose_leaderboard_btf", slotId: "gearmoose_leaderboard_btf" });