The 16 Best Spring Jackets For Men
As the temperatures shift, as the wind races and the rain falls, you might be asking yourself: "What the heck am I going to wear to get through this?" Indeed, just because winter has run its course doesn't mean we're out of the woods when it comes to the demands of spring weather. In fact, we here at GearMoose would argue that spring style and functionality is more important than ever, and that's where our take on the best spring jackets for men is going to help you conquer what's ahead out there.
Lest you think spring jackets only encompass, say, lightweight windbreakers and ponchos, know that there's a whole host of durable, stylish and rugged outerwear that can help you meet the challenges of the season in style — seriously standout style, at that. The best spring jackets encompass silhouettes both bold and rugged, classic and modern, timeless and of-the-moment — yet, the dividing factor is that there's something for everyone on this list (we're biased, but that's our take, at least).
And you know what's even better about finding a quality spring jacket? Finding the right ensemble with which to pair it, be it a slub henley and light wash denim or a classic Oxford shirt, slim tan chinos and durable leather chukka boots. The possibilities are nearly limitless.
From the humble Harrington jacket to a tough and rugged bomber jacket, here are the best jackets for spring, ones that you certainly need in your virtual shopping cart right this instant.
Relwen Barrier Shell Jacket
Relwen's motto of "Be Lasting" isn't just talk—it's a mission statement that every piece of clothing they make is expected to live up to. In the case of their Barrier Shell Jacket that means a combination of lasting durability from a sturdy nylon construction, lasting utility thanks to its double-layered hood and drop tail, and lasting style with its classic cut and fit. It's an ideal layer to throw on over a t-shirt as the weather warms up, or to layer with a shirt jacket for cooler morning hikes at the start of spring.
Price: $198
Material: Nylon with a polyurethane coating
Color Options: Dark smoke, yellow sun
Made In: Imported
The Takeaway: Durable, versatile, and handsome, the Barrier Shell Jacket is what every guy needs when spring rains start to fall.
Vuori Venture Track Jacket
For under 100 bucks, Vuori's Venture Track Jacket is packing some seriously top quality features. Four-way stretch (courtesy of a generous portion of elastane in the fabric) makes it ultra comfortable for lounging, but just as ready to head out on your next adventure. And it's specially treated for anti-odor and water resistant properties too, making it an excellent travel jacket for multiple days worth of wear. Great for casual wear, it can also double as a workout top layer for runs on those chilly spring mornings.
Price: $98
Material: Polyester and elastane
Color Options: Navy, black, wheat, grey
Made In: Imported from ethical manufacturing factories
The Takeaway: The Venture Track Jacket is comfortable, affordable, and has a minimalist style that goes great with everything.
Outerknown Journey Jacket
The M-65 field jacket was the U.S. military's most immediately recognizable pieces of clothing—so much so that it continues to inspire fashion to this day, like Outerknown's Journey Jacket. The original four-pocket design comes complete with a pack-away hood, and hidden internal pockets add a nod to the jacket's military heritage. It's fully lined for warmth and comfort, but a medium weight four ounce cotton and hemp blend fabric keeps it nice and breathable. Plus, Outerknown is renowned for their responsible and eco-friendly approach to manufacturing—making this jacket as awesome for you as it is for the planet and the people making it.
Price: $298
Material: Organic cotton and hemp
Color Options: Marine, Olive Branch
Made In: Sustainable factories in Peru, China, and Mexico
The Takeaway: Military-inspired style meets sustainable manufacturing, and creates a handsome jacket that you'll want to wear year-round.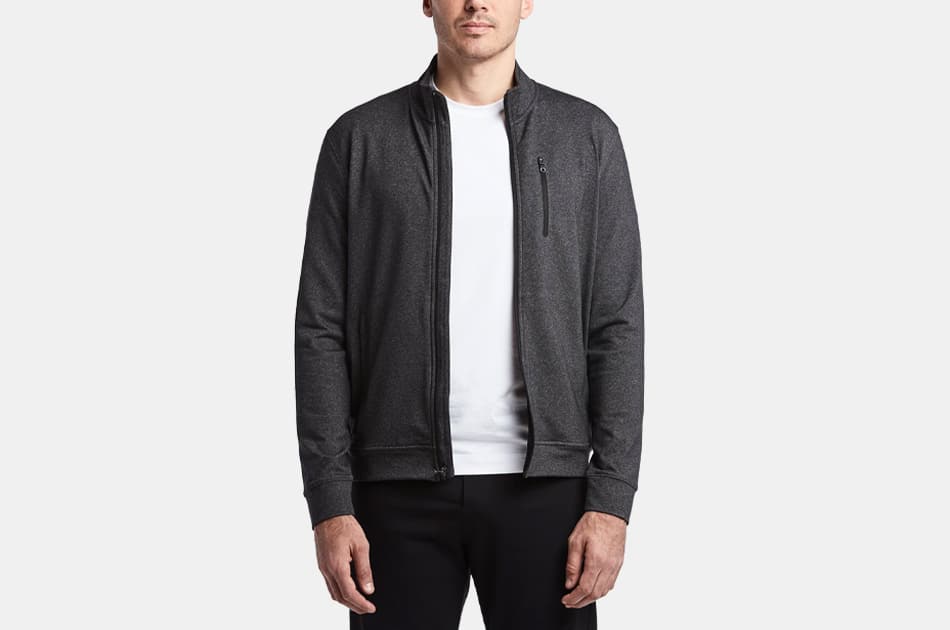 Public Rec All Day Every Day Jacket
Public Rec specializes in menswear that's made to move with you, not against you, all the while keeping you cool and put-together — no matter what. The brand's tees and pants accomplish this aim quite handily, while the All Day Every Day Jacket also pitches in admirably. It's made fromm the brand's signature moisture-wicking fabric and available in neutral, versatile colors like Charcoal — get it before your next spring trip.
Price: $128
Material: Nylon and spandex
Color Options: Heather navy, heather charcoal, black
Made In: Indonesia, Thailand, and/or Peru
The Takeaway: An easygoing fit and plenty of stretch make the All Day Every Day Jacket true to its name.
Myles Elements Jacket
Polartec NeoShell isn't the name of a sci-fi villain—it's the futuristic fabric that makes Myles Apparel's Elements Jacket exceptionally waterproof, breathable, and wrinkle resistant. Instead of sacrificing comfort and style for performance, the Myles team went the extra mile to use this pricey material, and the results are clearly outstanding. It's eye-catching without being intrusive, and ready to take you from the office to the trail in no time flat. All of that, and it can pack down into its own chest pocket for easy carry on those unpredictable days of springtime weather.
Price: $184
Material: Polartec NeoShell Lightweight Three-Layer Fabric
Color Options: Deep sea, coal, steel gray, olive
Made In: California
The Takeaway: As high class as it is functional, Myles' Elements Jacket uses a high-tech fabric to give you the best of all worlds.
Rhone Extra Mile Full Zip Jacket
The "Extra Mile" in Rhone's full-zip jacket doesn't just apply to setting a new personal best on your next run—though with its breathable and water repellent material it can certainly make that next cold morning run a lot easier. No, that extra mile also refers to the addition of reflective detailing that can be seen from every angle, keeping you highly visible even when you're up before the morning sun.
Price: $148
Material: Recycled polyester with DWR finish
Color Options: Nero Black
Made In: United States
The Takeaway: The Extra Mile Full Zip Jacket is warm but lightweight, with a water repellent coating and reflective details that make it suitable for anytime, anywhere, any weather use.
Faherty Spring Jump Jacket
Somewhere between a perfect outer layer and a comfortable shirt, Faherty's Spring Jump Jacket is a military-inspired outer layer that's as lightweight as your favorite button down shirt—but it's loaded with pockets that rest on a firm structure, making it an excellent choice for everyday travel. Equal parts stylish and functional, its 100 percent cotton construction makes it naturally breathable; layer it up when the mornings are cold, or throw it on over a t-shirt when the world warms up later in the day.
Price: $198
Material: Cotton
Color Options: Military khaki
Made In: Europe, South America, North America, and/or Asia
The Takeaway: Lightweight and as comfortable as your most broken-in button down, the Spring Jump Jacket is also decked out with sharp military styling details.
Todd Snyder Denim Chore Coat
If you don't already have a chore coat, let me warn you: After you buy one, you're going to find it hard not to keep adding more to your closet. Why? Because they're such a versatile layering piece, you can wear a chore coat with anything—t-shirt, hoodie, sweater, you name it. They're true to their namesake and tough enough to get some work done in, but examples like this Denim Chore Coat from Todd Snyder also use top quality materials and a modern fit to make them presentable around town, too.
Price: $268
Material: Cotton, polyester, and elastane
Color Options: Blacktop, ink wash
Made In: India
The Takeaway: Todd Snyder's Denim Chore Coat is one jacket that can do everything. Work in it, throw it on for a trip to the store, or layer it with your nicest shirts and hoodies for a unique look.
Eddie Bauer Sandstone Backbone Jacket
When you're heading out for a day in the peaks or among the trees, that last thing you want is to have your gear weighing you down and getting in the way. Eddie Bauer knows this, and their Sandstone Backbone Jacket takes it fully into account. By emphasizing a simple and streamlined design made with lightweight materials, it works as a remarkably efficient outer shell. And with four-way stretch thanks to the addition of spandex in the fabric, it's guaranteed to move with you no matter how adventurous your activities get.
Price: $99
Material: Polyester and spandex
Color Options: Black, curry green, med indigo, sprig, storm
Made In: Imported
The Takeaway: Simple and straightforward with clean lines and a lightweight construction, the Backbone Jacket is made for days outdoors.
Peter Millar Hyperlight Link 3-Layer Hooded Jacket
Forget minimalism here—the Peter Millar Hyperlight Jacket is all about maximum performance. From its specially formulated three-layer construction to complete wind and waterproofing to its generously sized rain hood, this jacket is made to handle anything the weather can throw at you. That's all wrapped up in a classic cut and fit though, meaning that it won't look out of place if you need to throw it on over a blazer and slacks before heading out to dinner.
Price: $248
Material: Polyester
Color Options: Navy, London/navy
Made In: Peru, USA, Italy, Canada and/or China
The Takeaway: High performance meets high style in the Hyperlight's classic fit and full wind and waterproofing.
Nobis Layton Tactical Hybrid Sweater
Look high and low, and you'll never find another transitional jacket quite like Nobis's Layton Tactical Hybrid Sweater. At a quick glance from the front, it looks like a military-inspired full zip sweater. But peek under the hood a little more, and you'll find a fine-tuned attention to detail: The sides and back are made with a breathable merino wool knit, as are the cuffs and collar. But the front is made with a durable rip-stop and water repellent fabric for maximum protection from the weather, and it's packed with four-way stretch Primaloft insulation. It'll take you anywhere you need to go, anytime of year, in the finest style possible—and that's an impressive feat of clothing engineering if we've ever seen one.
Price: $595
Material: Stretch ripstop with DWR coating, merino wool
Color Options: Clover, chalk, black
Made In: Imported
The Takeaway: It doesn't get much more finely tuned than the Layton Tactical Sweater's combination of ripstop nylon, merino wool, and Primaloft insulation.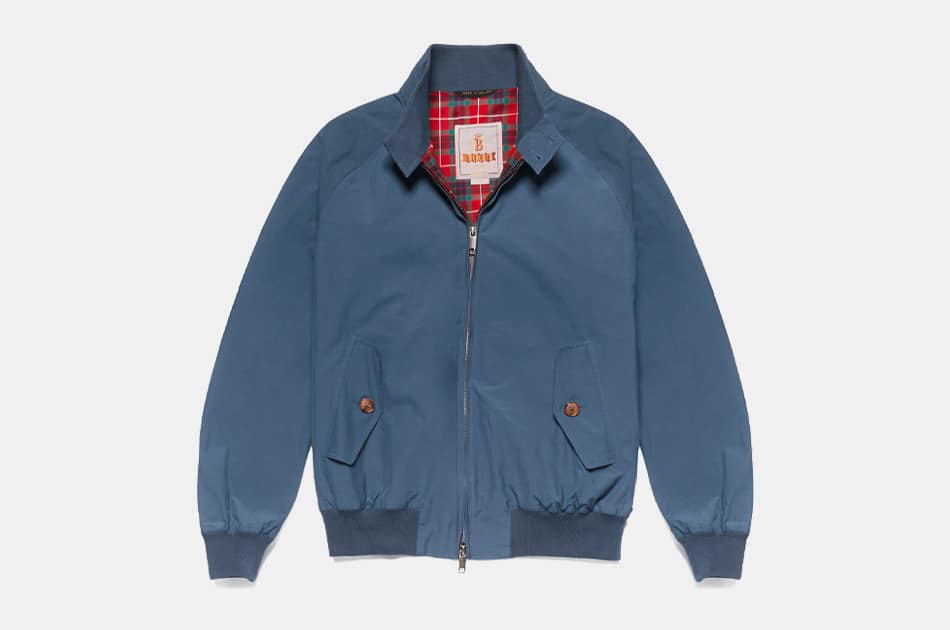 Baracuta G9 Harrington Jacket
Perhaps you think of the classic, durable and eternally cool Harrington jacket right off the bat when envisioning the best men's jackets for spring? The G9 Harrington Jacket is a pioneering style worn by guys like Steve McQueen and naturally, James Bond in Quantum of Solace. And in a fresh blue color with an iconic tartan lining, it's a natural choice paired with a navy polo or a crisp white tee in equal measure. When you want a classic, you best pick up the very best — right?
Price: $429
Material: Polyester and cotton
Color Options: 24 colorways, from classic black to ultramarine and tangerine
Made In: Manchester, England
The Takeaway: Truly iconic style comes courtesy of British manufacturing for Baracuta's G9 Harrington Jacket, available in a rainbow of colors.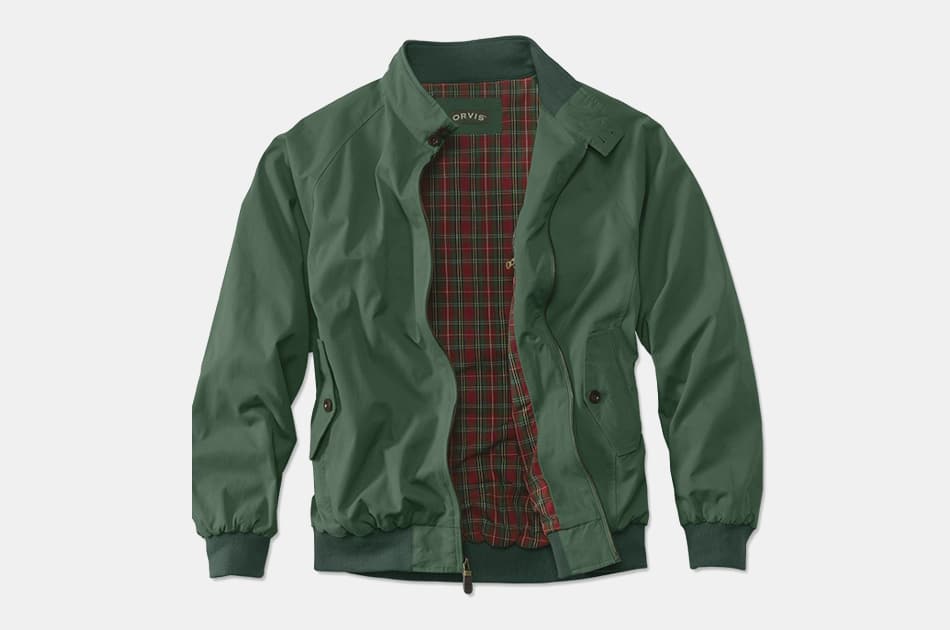 Orvis Weatherbreaker Jacket
The reliable gear that Orvis puts out into the world season after season is just about as good as it gets if you want functionality and classic appeal. Case in point: The Weatherbreaker Jacket from Orvis, an aptly named piece of outerwear that just so happens to be one of spring's best jackets. Crafted with water-repellent nylon and cotton, then lined with tartan a la your favorite Harrington jacket, it's an eternally cool and utilitarian piece of spring outerwear.
Price: $169
Material: Nylon and cotton with a DWR finish
Color Options: British Tan, Deep Navy
Made In: Imported
The Takeaway: A classic fit and handsome patterned lining make Orvis's Weatherbreaker Jacket ideal for looking good while you travel.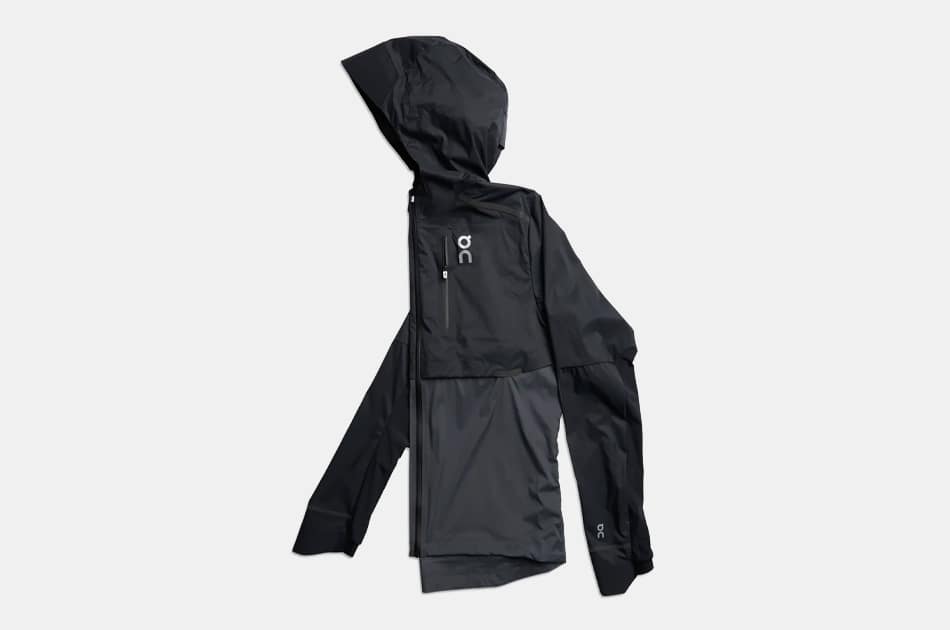 On Weather Jacket
It's still critical that you get your training sessions in when the weather takes a nasty turn for the worst, and that's where the On Weather Jacket comes into play. It's sleek, easy to throw on with your running gear, and made with water-repellent fabric. That being said, the lightweight design won't slow you down as you speed through streets, and the hood offers both protection from the elements and clear vision, thanks to its innovative design.
Price: $239.99
Material: Polyester and elastane with a DWR finish
Color Options: Cerulean/dark, black/shadow
Made In: China
The Takeaway: On's Weather Jacket is ideal for runners, with a breathable and stretchy material that's also tear-proof for good measure.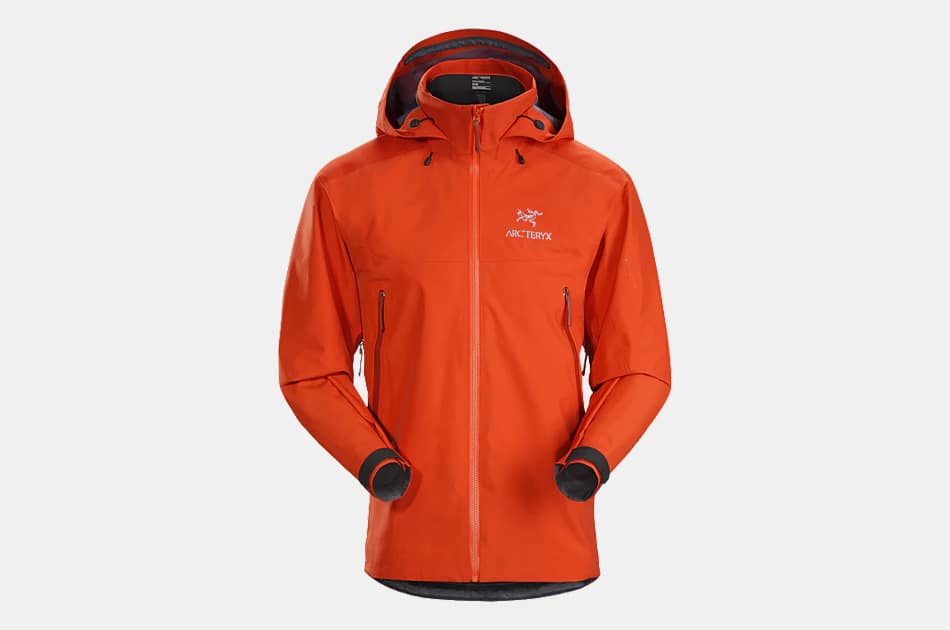 Arc'teryx Beta AR Jacket
If you want a spring jacket that absolutely refuses to quit no matter the elements, the Arc'Teryx Beta AR Jacket is absolutely one of the best spring jackets to buy at this very moment. Made to hit at the hip and featuring a large hood for added protection (you can even wear it when biking thanks to the helmet space built-in), this durable rain jacket just so happens to be lined with GORE-TEX for an upgraded dash of functionality.
Price: $599
Material: N40D Gore-Tex PRO
Color Options: Conifer, forcefield, black, fluidity, kingfisher, dark elysium, microchip
Made In: China
The Takeaway: Lightweight, breathable, waterproof, and windproof—the Beta AR Jacket offers a heck of a combination of attributes for all your outdoor activities.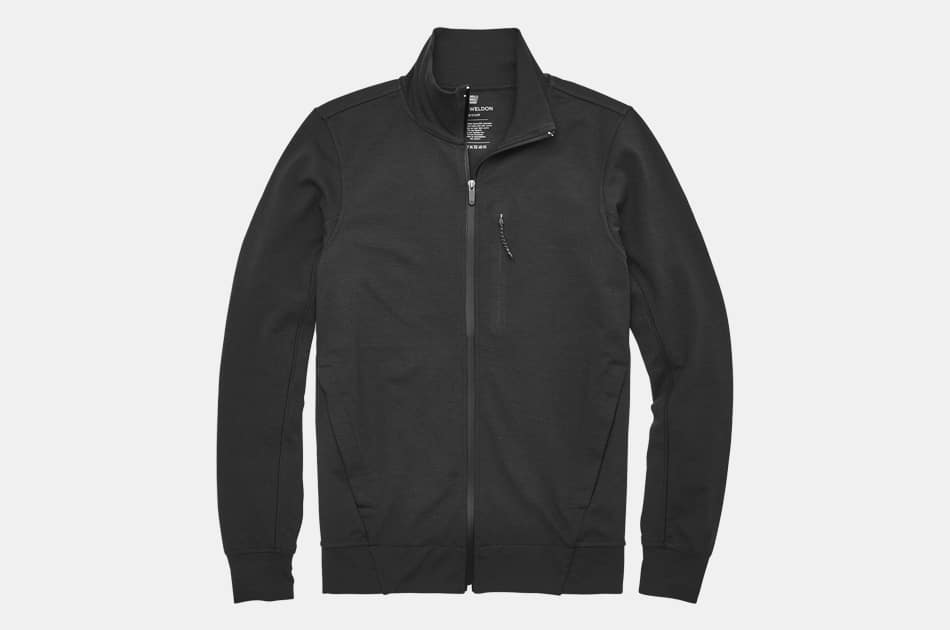 Mack Weldon Atlas Jacket
New York designer Mack Weldon adds a stylish spin on men's basics. The Atlas Jacket is a simple lightweight zip-up infused with the effortlessly cool qualities of a pilot jacket. It's made of 71 percent polyester, so it can take a beating and will retain its sleek shape for years. Zip up the mock neck on cooler days for an athletic look, or unzip it down to your collar bone for an aviator silhouette. The Atlas jacket comes in solid black, dark navy, and a textured charcoal. It's also low-maintenance and can be thrown in a cold machine wash.
Price: $128
Material: Recycled polyester, rayon, and spandex
Color Options: Charcoal heather, true black, total eclipse
Made In: Thailand, Peru, China, Egypt, and/or Vietnam
The Takeaway: Made from recycled plastic bottles, the Atlas Jacket is highly water and wrinkle resistant and perfect for casual everyday wear.
Disclosure: Clicking on these links and making a purchase may earn us a small referral fee, at no extra cost to you. Learn more here.
freestar.config.enabled_slots.push({ placementName: "gearmoose_leaderboard_btf", slotId: "gearmoose_leaderboard_btf" });