The 25 Best Men's Pocket Tees
When the weather starts warming up and you to start to shed layers, don't make the mistake of being left without an undershirt for daily wear. Yes indeed, even transitional spring style situations call for nothing but the best — that's especially true of the best men's pocket tees.
Much like the humble V-neck tee, a stylish pocket tee is just the way to upgrade your everyday T-shirt without trying too hard or spending too much money. In a variety of textures — from slub cotton to heavyweight blends and beyond — today's pocket tees look both subtly stylish and yet essential.
This crop of the men's pocket tees can be worn with your favorite denim jacket or underneath a rugged chambray shirt — or crucially, all their own. And that's as great as it gets in terms of a T-shirt. Again, it's tough to go wrong with one of these men's pocket tees. Here are the 25 best, just in time for summer.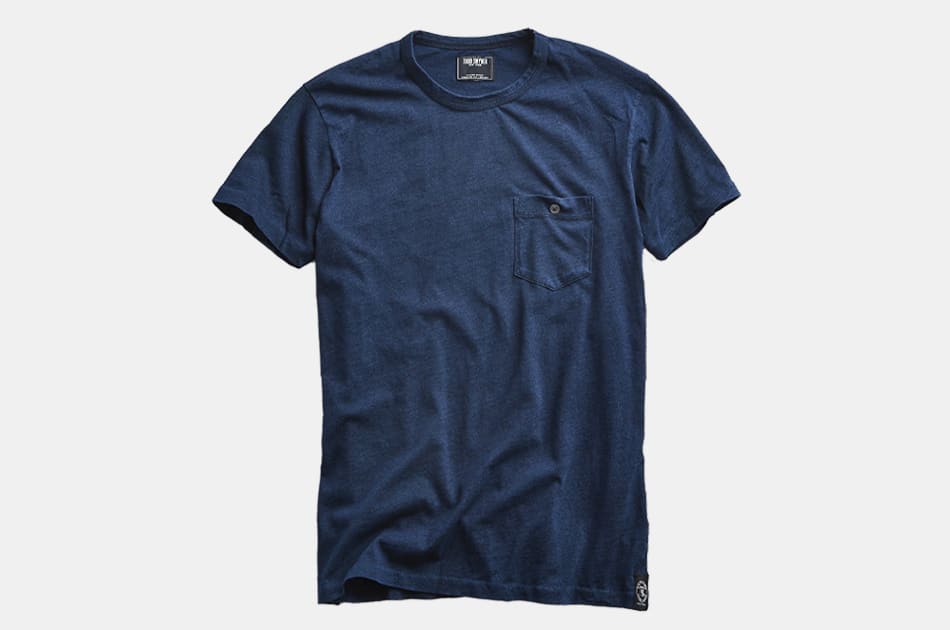 Todd Snyder Indigo Slub Jersey Pocket T-Shirt
When we want a T-shirt that's so much more than just a standard-issue pocket tee, we turn toward Todd Snyder, one of our favorite American menswear designers. In fact, we turn toward the designer for a heck of a lot of gear, including this handsome Indigo Slub Jersey Pocket T-shirt. It's the perfect pairing with everything from tan chinos and white leather sneakers to a dark denim jacket, black jeans and suede chukka boots. If you're feeling exceptionally cool, we'd recommend you wear it with a khaki blazer and grey chinos — there's no wrong way to go.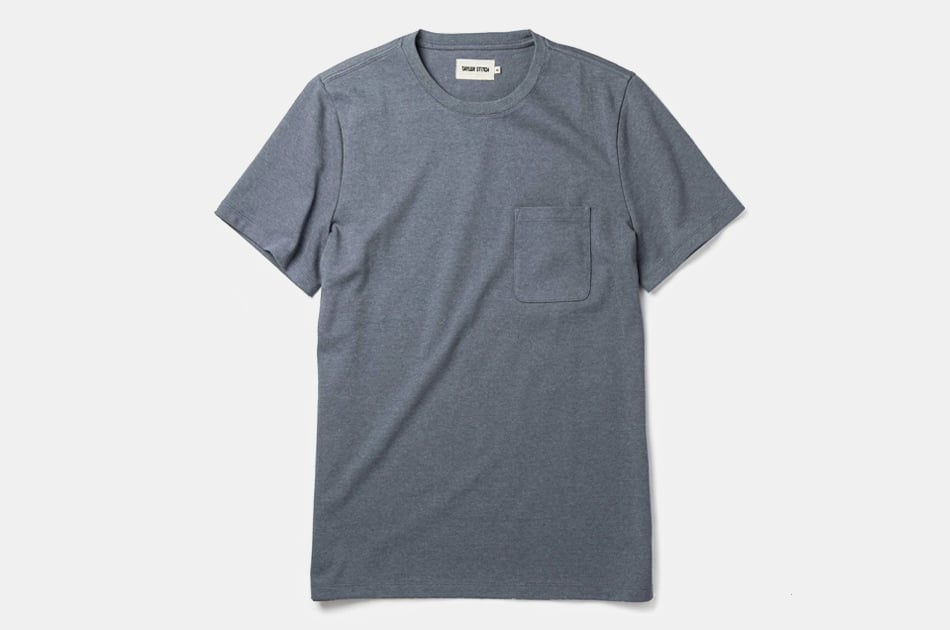 Taylor Stitch Heavy Bag Tee
In short, there's really no reason you shouldn't consider adding a stylish pocket tee from Taylor Stitch to your summer T-shirt rotation — particularly when it comes from the brand's lauded Heavy Bag line. Made in part with upcycled cotton and featuring (in some cases), limited-edition graphics, these pocket tees are substantial and stylish enough to more than stand on their own with rugged Cone Mills denim and leather chukka boots. The tailored fit is also applause-worthy — it's exactly the kind of cool tee to wear to the bar this summer.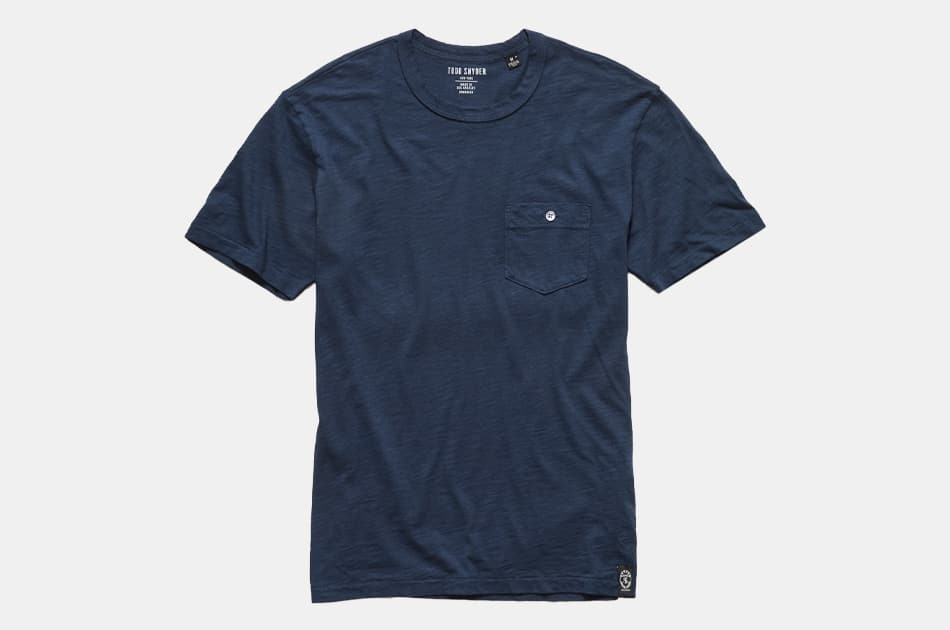 Todd Snyder Made In L.A. Slub Pocket T-Shirt
Gear from Todd Snyder simply exemplifies the best of the best when it comes to rugged, versatile and classic style — even with the lauded designer's T-shirts. Take the brand's Garment-Dyed Pocket Tee, made in L.A. featuring California fabric. This isn't just any normal T-shirt — it's well-crafted and thoughtfully constructed, featuring a slim fit that makes you look like you've been hitting the gym — even if you haven't. Yet, you can also team it with a light linen blazer and slim denim for easygoing office style. You can't ask for much more from a stylish tee.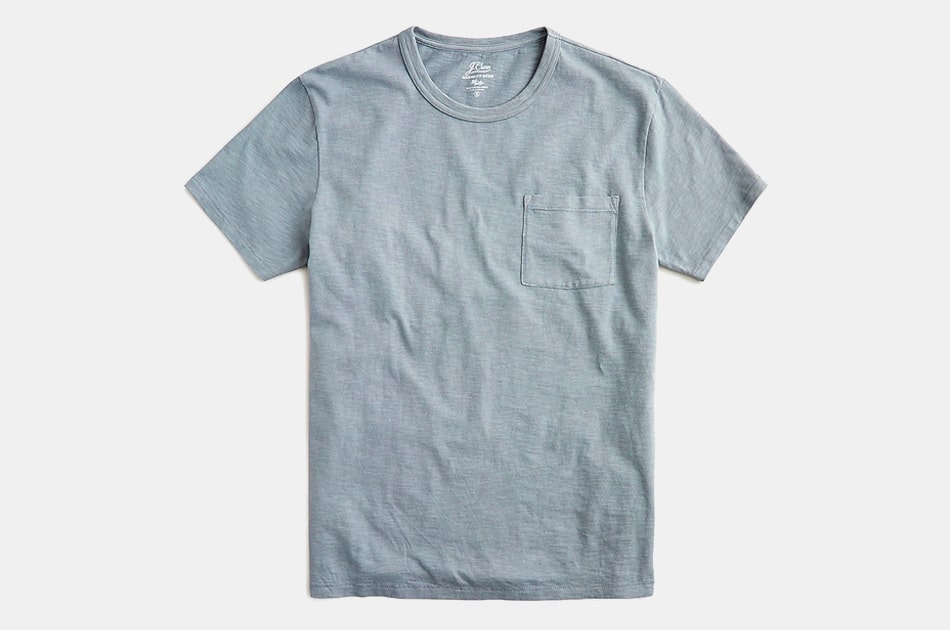 J.Crew Slub Cotton Pocket T-Shirt
If there's any brand that can make you want to effortlessly style a clean and simple pocket tee, it's J. Crew. Through a blend of fabric quality, stellar fits and agreeable pricing for style staples, the brand has the market cornered when it comes to guys who want to look good. And picking up a classic piece from the brand — the Broken-In Pocket T-Shirt — should help you achieve that aim nicely. Available in a huge array of colors, you should certainly stock up with more than a few of these cotton jersey tees.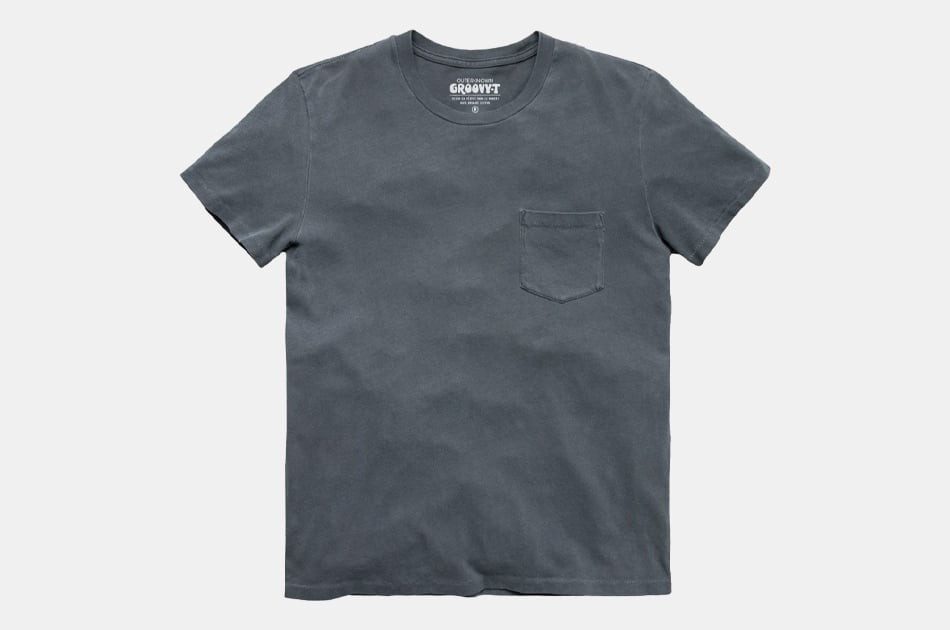 Outerknown Groovy Pocket Tee
Outerknown is known for sustainable style embodied in a loose, casual, super comfortable style. Their Groovy Pocket Tee is a perfect example of this "do good, look good, feel good" ethos. It's made of 100 percent organic cotton, effectively cutting out the fabric processing chemicals that are so harmful to the environment. That doesn't mean you'll be short on options for colors, though — this one comes in 10 muted tones that will work well with any type of outfit.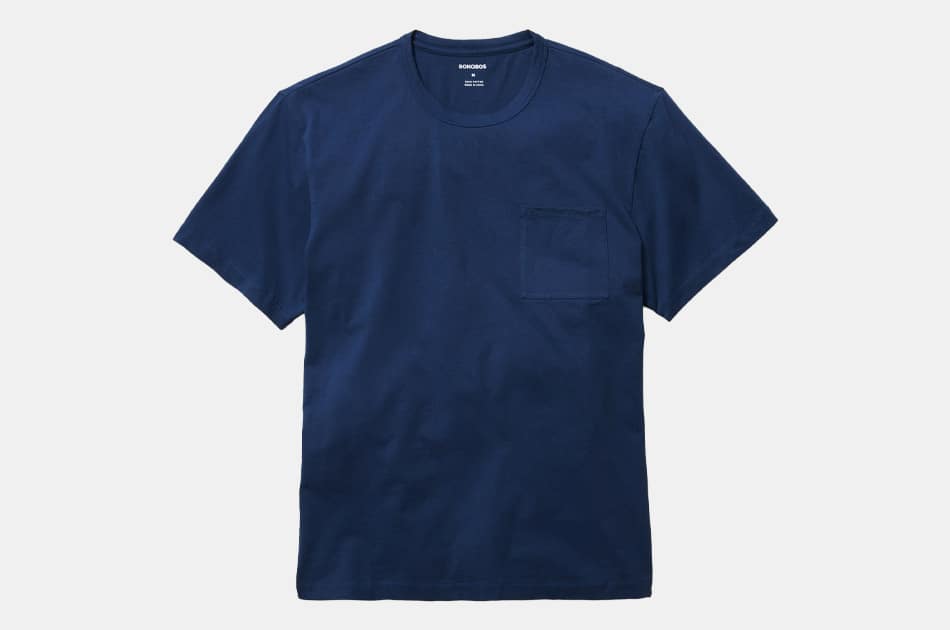 Bonobos Forever Tee
The Forever Tee from Bonobos lives up to its name, with a beefy middleweight cotton and reinforced stitching that give it serious longevity. It's great to throw on any time of day, with a relaxed fit that lends itself well to layering up with a sweater. Keep it classic with black, white, or navy colors, or show off your unique style with golden yellow, lagoon, or merlot. Just keep in mind that these shirts run on the big size. If you're in between sizes, it's probably best to order down a size.
RicherPoorer Men's Pima Pocket Tee
The type of cotton used for your t-shirts makes the difference between comfortable and durable clothes, or scratchy garments that are easily misshapen. RicherPoorer's pocket tee is made of a super durable and comfortable pima cotton, with longer fibers that give it a stay-fast shape. If you're tired of your collars and sleeves getting stretched out after a few wears, upgrade to one of these pima cotton tees for a better fit.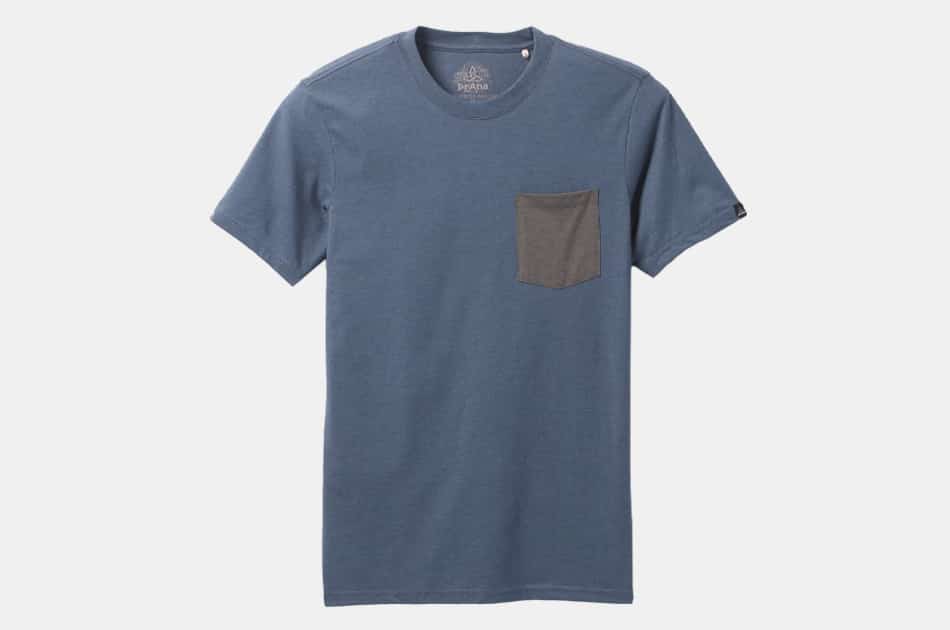 prAna Pocket T-Shirt
You don't have to be an accomplished yogi to wear prAna's athletic wear (though I'm sure it would help). And if you appreciate attention to small details that really elevate a design, you'll love their Pocket T-Shirt. First, it's made of organic cotton and recycled polyester — so you can feel good buying it and wearing it. Then, the base colors are accented with contrasting pocket colors for a pop of style. And to put it all together, they're about as affordable as eco-friendly tees get.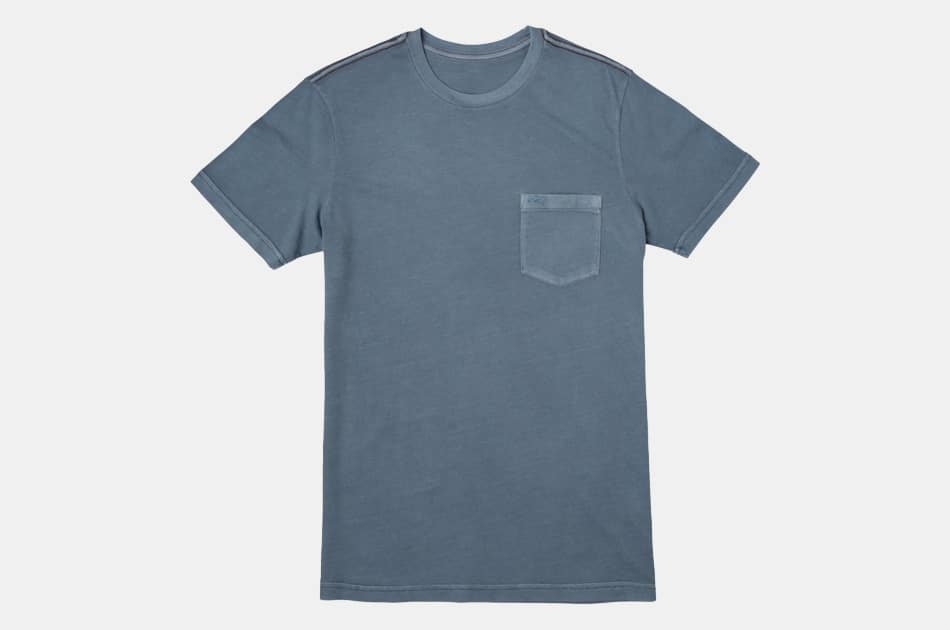 RVCA PTC II Pigment Short Sleeve Tee
You can get a piece of vintage style without having to rummage through the racks at your local thrift shop. Just pick up one of RVCA's Pigment Tees, and save yourself the trouble of searching through hand-me-downs. They're made of a premium cotton that's carefully distressed to give that old school look and lived-in feel. All 13 of their colors are pigment-dyed, too, meaning that they'll stay fast through tons of washes. And it's made with a particularly slim fit that really completes the vintage look and feel.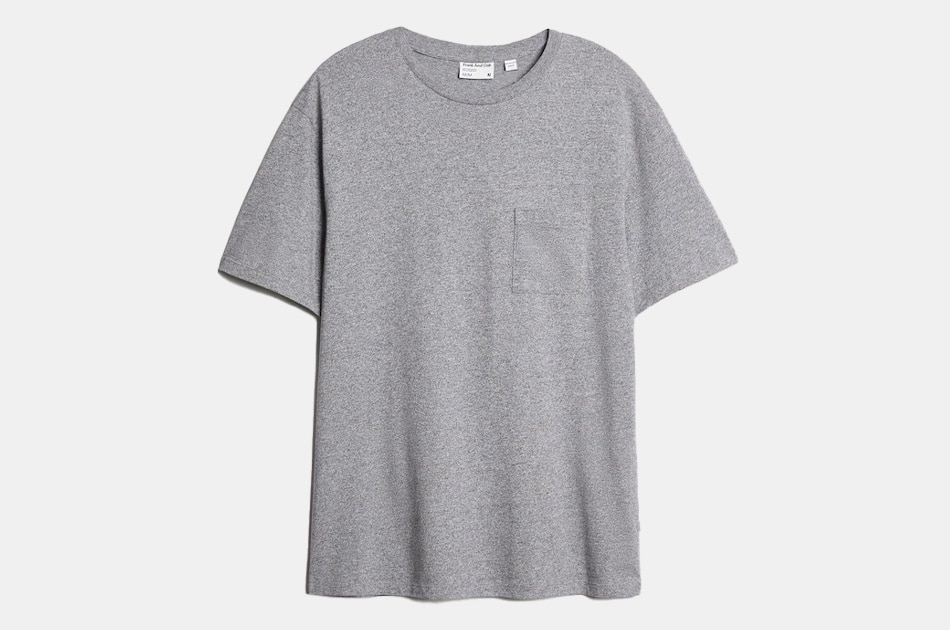 Frank and Oak The Relaxed Essential Tee in Concrete Gray
Jersey knit organic cotton gives Frank and Oak's Essential Tee serious durability and softness. It's made with a generous relaxed fit that gives you plenty of room to stretch and move, making it an ideal addition to your casual wardrobe. If you take good care of it — washing it on cold, hanging it out to dry — one of these pocket tees will last you for years. But once you get a feel for how comfortable they are, don't be surprised if you order one for every day of the week.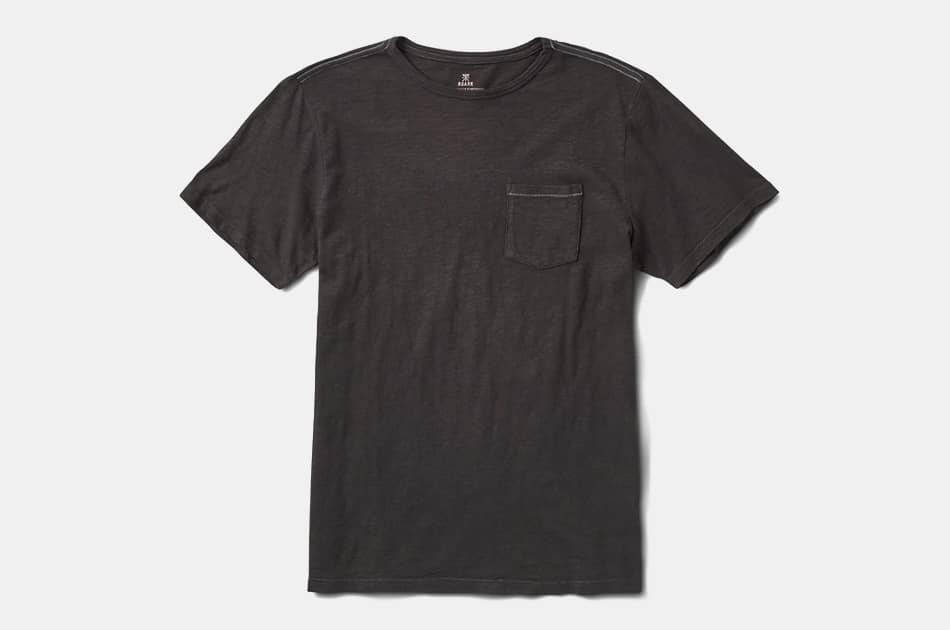 Roark Well Worn Midweight Organic Knit Tee
Remember that t-shirt that you could never get rid of, no matter how old and stretched out of shape it got? The one that was so perfectly faded and crazy soft, that you'd wear every day if you could? Well, that's what Roark's Well Worn Knit Tee is like. They use organic cotton and a jersey knit with a custom garment dye to get that worn-in color, and careful distressing to give it the softest feel possible. In short: Get this shirt. Heck, get two of them so you have one to wear while you wash the other one. They really are that awesome.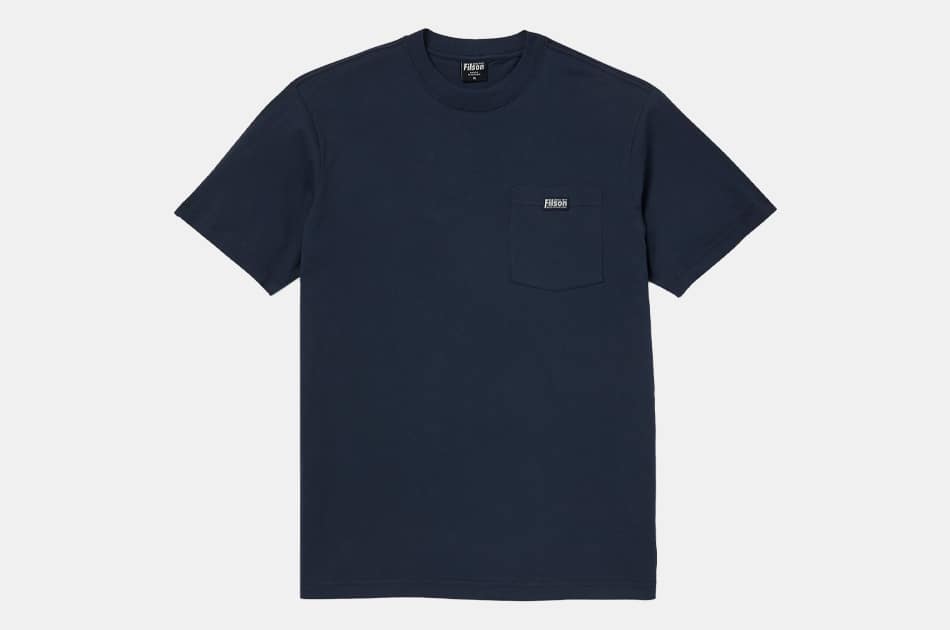 Filson Ranger Solid Pocket T-Shirt
Nailing just the right weight for a cotton shirt isn't as easy as it sounds. Too light, and you'll have a shirt that shows off your goods every time a slight breeze blows through. Too heavy, and you'll be sweating through every sunny day. Filson's Ranger Pocket Tee has that real Goldilocks fit, with a perfect 3.5 ounce cotton that's lightweight and breathable, but not too thin. It's an awesome t-shirt for year-round wear, either on its own or layered up with a shirt jacket.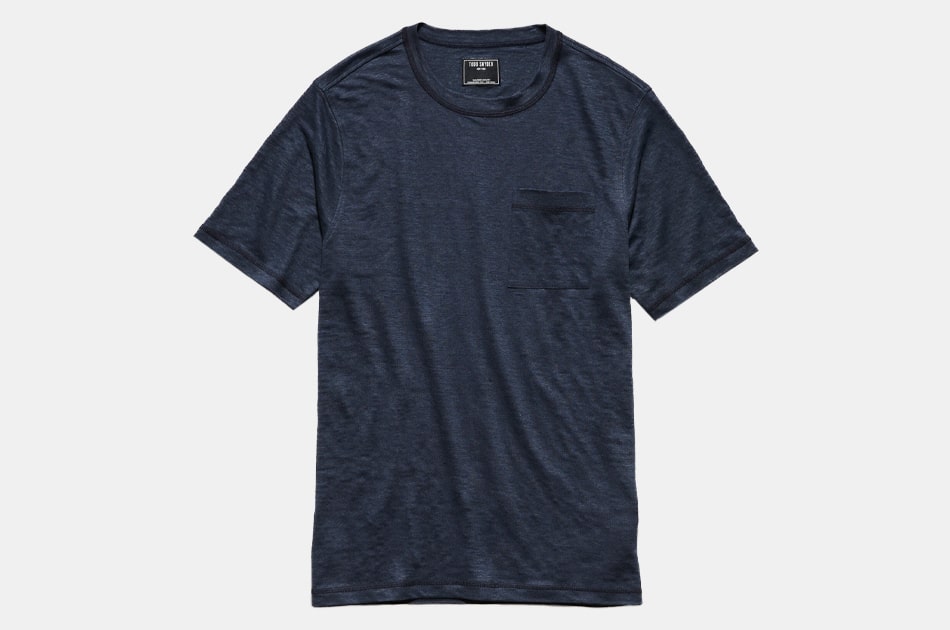 Todd Snyder Linen Jersey T-Shirt in Black
Let me tell you straight up: Todd Snyder's Jersey T-Shirt is pricey. That's because it's made of the Rolls Royce of t-shirt fabrics: Soft, smooth, naturally breathable linen. Wearing one of these tees is like never having to leave your super comfortable bed sheets. Guys who regularly soak through their cotton t-shirts in the summer will never be able to go back once they've tried linen. And even past being ultra comfortable, these shirts have refined detailing that makes them look great, too. Overall, the performance of Todd Snyder's linen shirts really lives up to the price tag.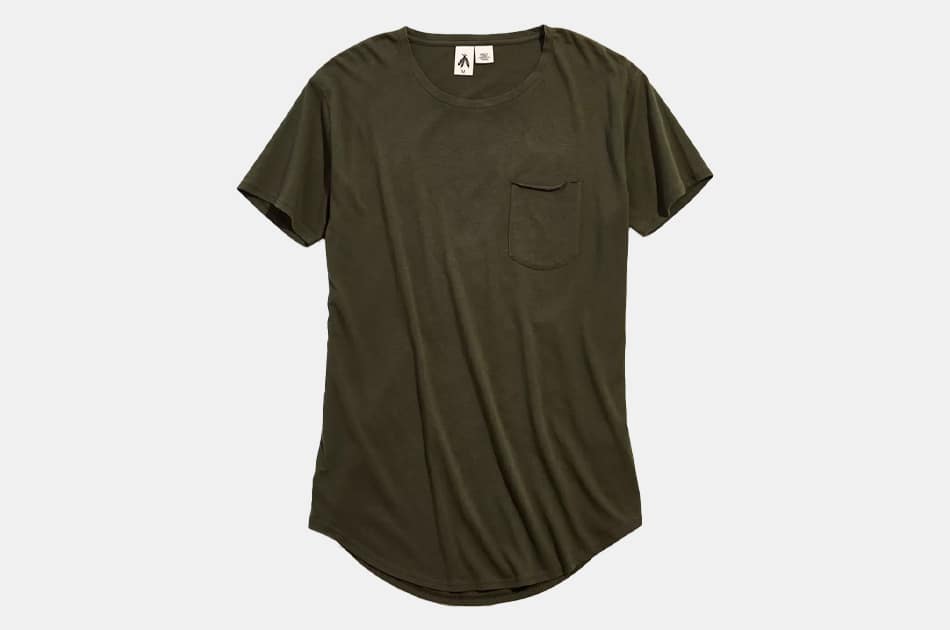 Urban Outfitters Standard Cloth Scoop Neck Curved Hem Tee
This Urban Outfitters exclusive tee from Standard Cloth is the ultimate in laid-back style. The big, loose scoop neck style, long tail, and relaxed fit make it perfect for all-day lounging. Even the pocket rocks this same style of studied messiness with its raw top edge. One of these would look great with chinos and an updated pair of vintage high tops.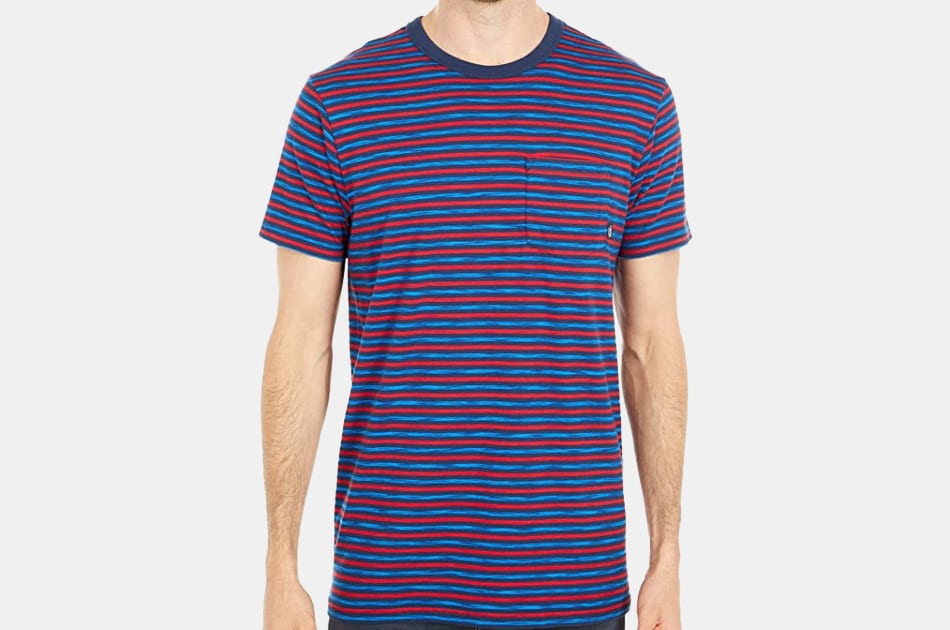 Vans Spacedye Short Sleeve Crew
Are plain white tees not really your thing? Want to show off a little more color and style with your fit? Vans' Spacedye crew has got you covered. The all-over striped patterns spice up the classic, comfortable fit and give you a lot more options for pairing shorts, slacks, and shoes in a full outfit. It's made with 100 percent cotton, too, making it both durable and breathable. Overall, it's an awesome upgrade to plain colored tees that looks great year-round.
Patagonia Men's Organic Cotton Midweight Pocket Tee
Organic cotton and fair trade? Yup, Patagonia's Pocket Tee covers all of its ethical and eco-friendly bases. It's soft and comfortable, with a classic fit that goes with just about any outfit. And with eight colors and patterns to choose from, you could easily have one of these tees in your wardrobe for every day of the week.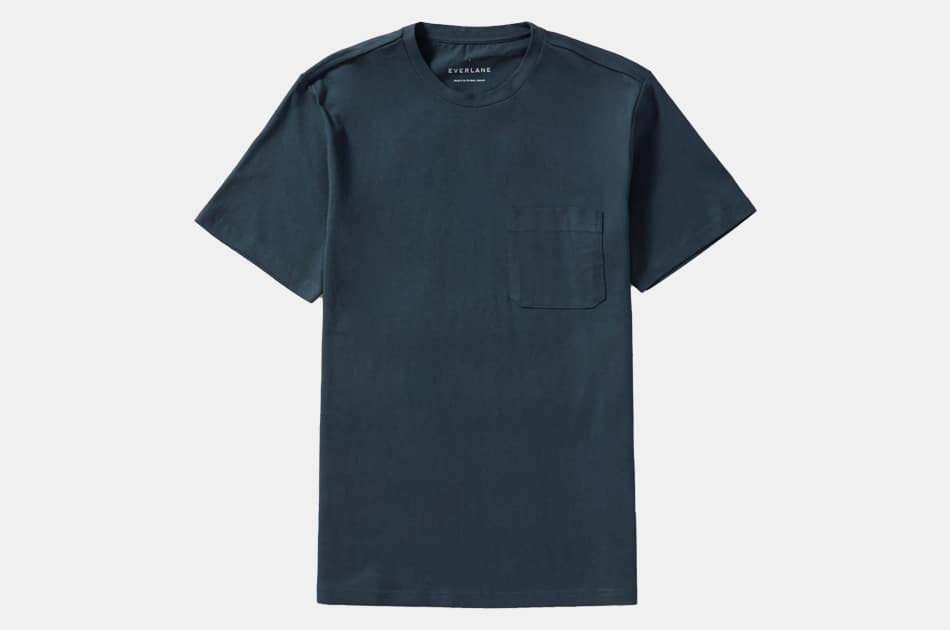 Everlane The Premium-Weight Pocket Tee Uniform
Everlane's Uniform collection is the perfect way for guys to find their signature style. Every one of the pieces, including this pocket tee, is covered by a 365 day guarantee — so you can wear them confidently and get them perfectly broken in. The Premium Pocket Tee is made with a beefy 6.2 ounce cotton, too, so it's great to wear solo rather than layering it up. Give it a few months of hard wear, and this t-shirt will become the softest piece you have in your closet.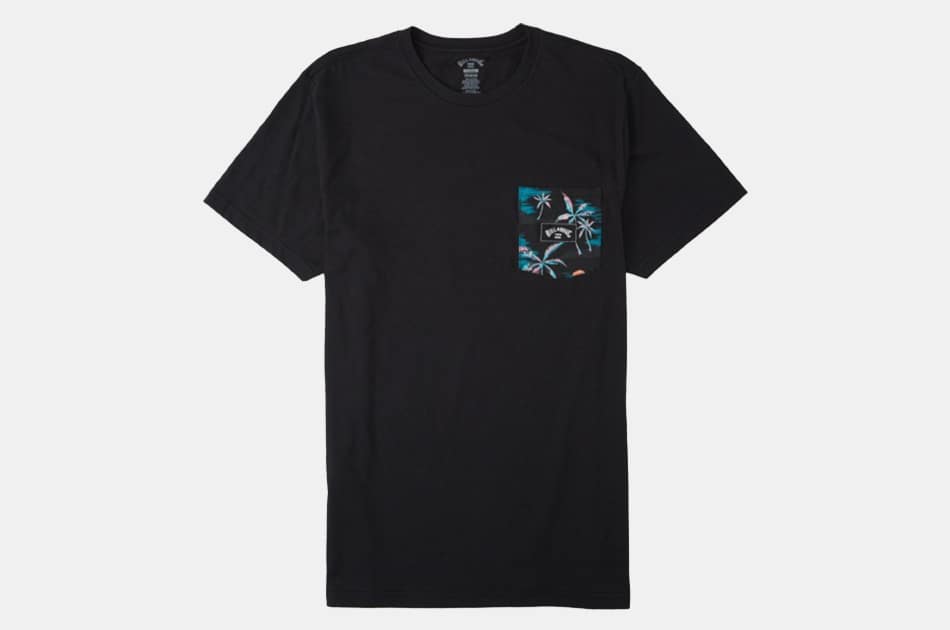 Billabong Team Pocket T-Shirt
Cool, comfortable, and tropical are the trio that make Billabong's Pocket T-Shirt shine. A simple black or navy background is accented with a tropical print pocket, giving this classic fit T a style all its own. It's made of 100 percent cotton with a printed label, meaning that you'll never have to deal with a scratchy tag on your back.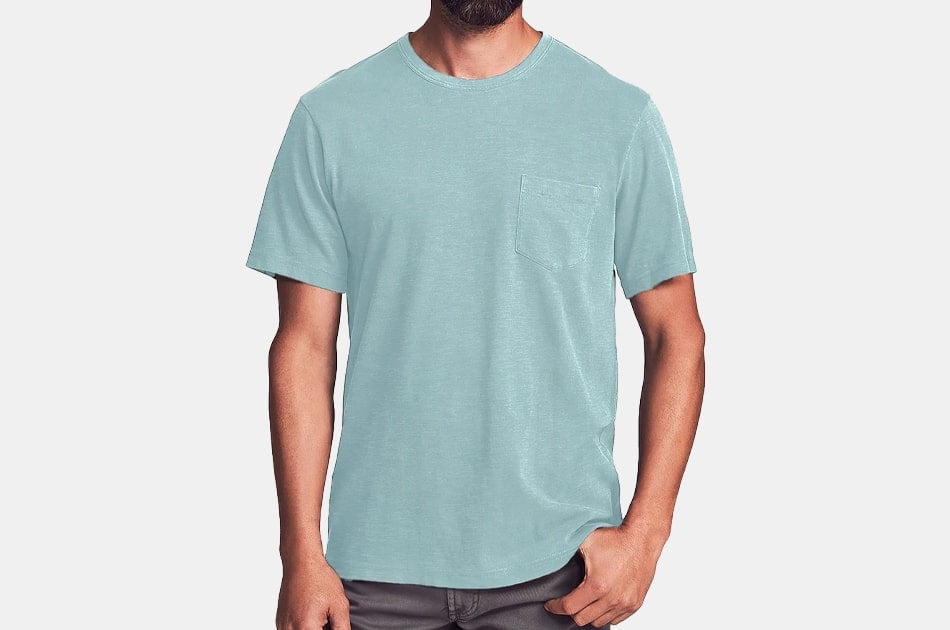 Faherty Sunwashed Pocket Tee
This pocket tee from Faherty is a masterclass in attention to small details. The fit is spot on, with a slim but not too slim cut that's flattering for most body types. The cotton is thin but not too thin, making it breathable but not see-through. And the weave is strong, but not bulky, letting the shirt move seamlessly with you. Top that all off with a printed label instead of a tag, and you have what might be the most comfortable pocket tee ever made.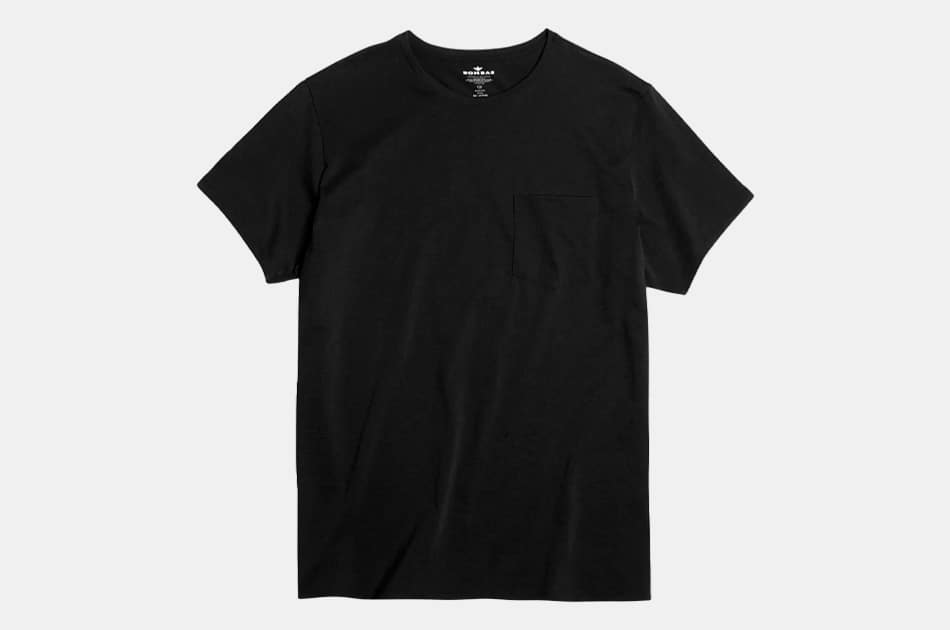 Bombas Pima Cotton Pocket Crew Neck T-Shirt
Wear and tear has taken my favorite t-shirts from me, with pilling being the main offender. When a shirt starts making those little balls of fabric, its days are numbered. That's why I'm stoked for Bombas' Pima Cotton T-Shirt: The high quality cotton is extra durable, and completely impervious to pilling. As if that's not enough, Bombas donates a t-shirt to someone in need every time you buy one of these. That's a win-win in my book.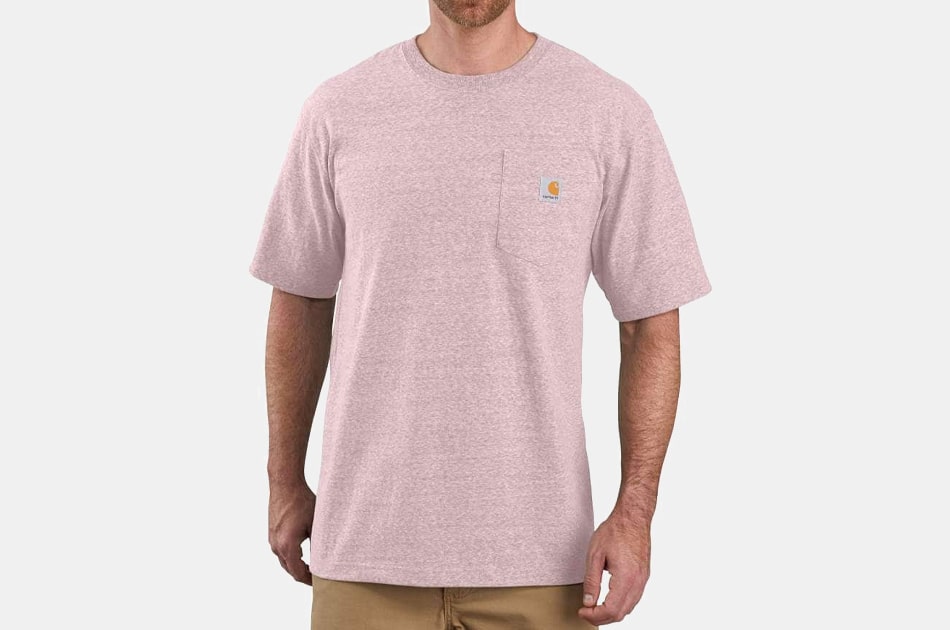 Carhartt Loose Fit Heavyweight Short-Sleeve Pocket T-Shirt
You're not going to find many places where 40-year-old construction workers and streetwear-obsessed teenagers agree — but Carhartt is the exception. All of their clothes are durable enough for heavy duty work and have roomy (but crisp) fits. Their pocket tee is a perfect example, made with tough 6.75 ounce cotton, a loose and relaxed fit, and a tagless finish for that final bit of comfort. And with 22 colors to choose from, you can find the perfect complement to whatever you have in your closet.
United by Blue Organic Pocket Tee
Some clothing companies are starting to step up and fight back against practices that harm people and the environment. United by Blue is one of these ethical producers, and their Organic Pocket Tee shows that you don't have to sacrifice style to get eco-friendly clothing. It's made of a heavyweight organic cotton with a supple jersey knit, making it soft and durable at the same time.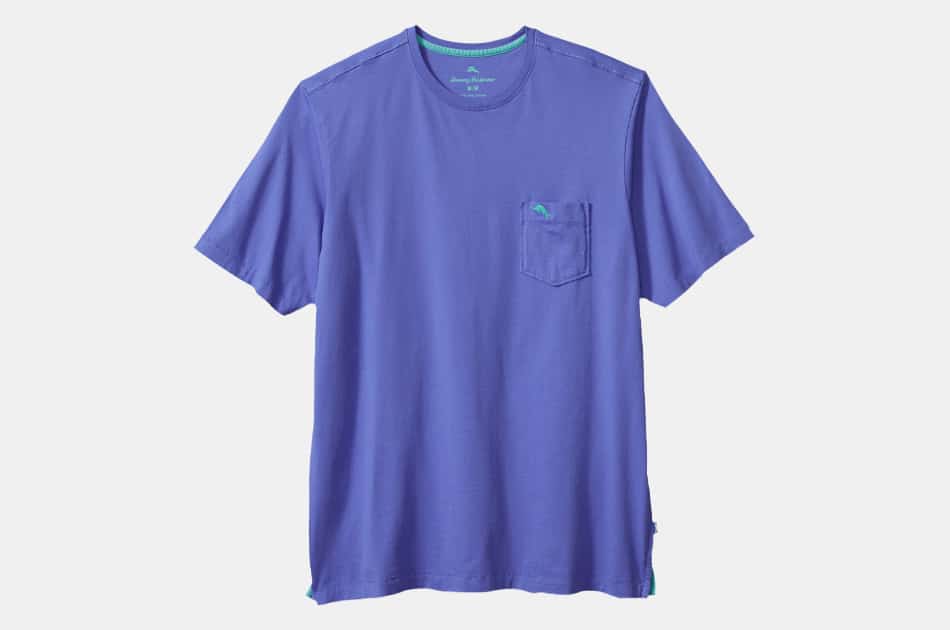 Tommy Bahama Bali Skyline T-Shirt
Tommy Bahama: Even the name conjures up long days on the beach with a cool, colorful drink in hand. Their Skyline T-Shirt would be the perfect addition to a tropical retreat, with its ultra-soft and breathable pima cotton construction and no-scratch tagless collar. And you can choose from 12 vibrant colors, each with a stitched sailfish in a contrasting color adorning the pocket.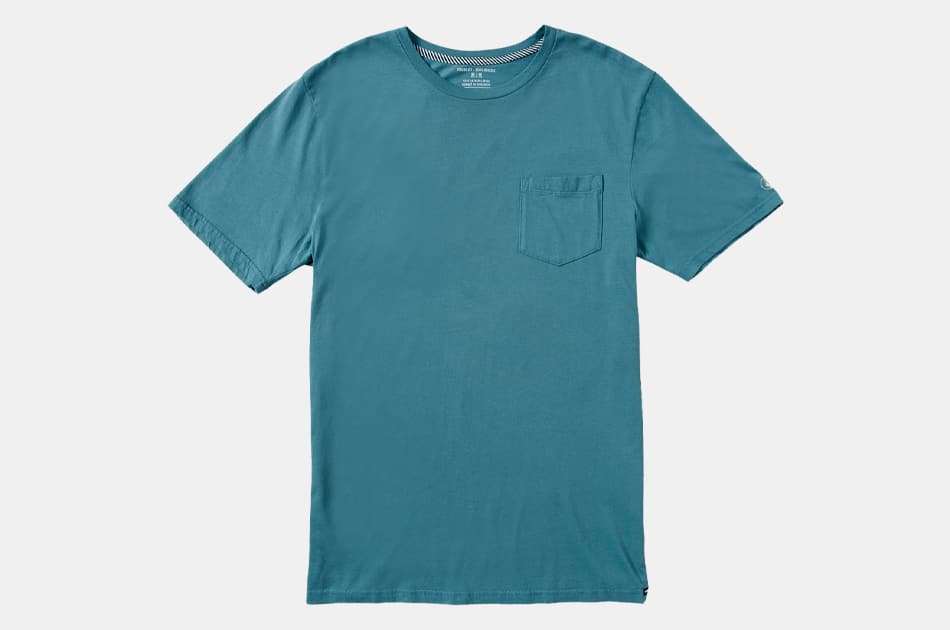 Volcom Solid Short Sleeve Pocket Tee
This pocket tee is the front runner for Volcom's "Farm to Yarn" project — a plan to be able to trace every bit of organic cotton from where it was grown, to where it's sold to you. Along the way, they uphold the highest ethical and environmental standards, making these clothes great looking and great for people and the planet.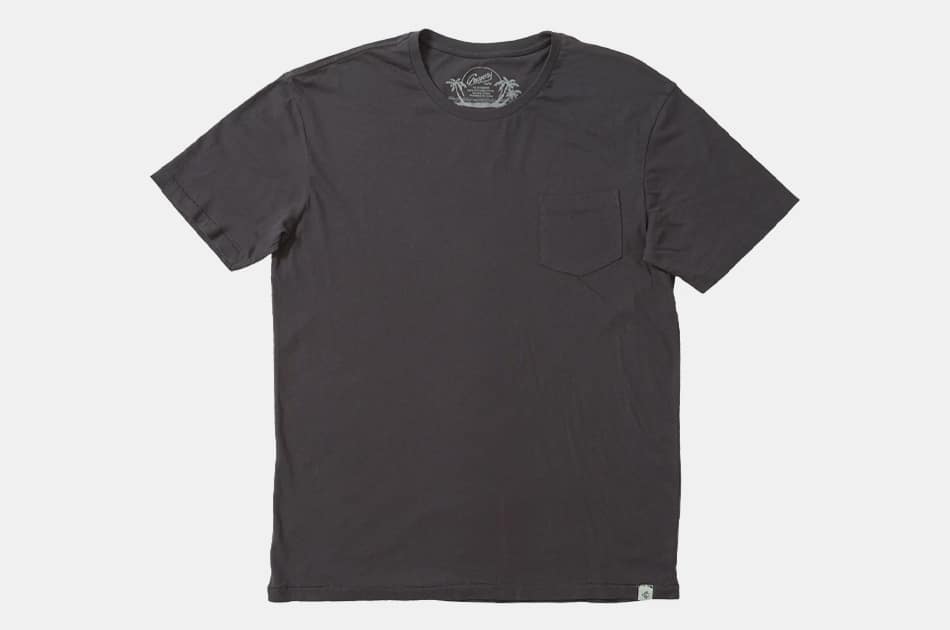 Grayers Acme High Twist Tee – Forged Iron
High Twist isn't just a way to describe that time you sprained your ankle — it's a special method of cotton production that makes the fabric more durable and softer at the same time. Grayers' High Twist Tee is exactly that: Super soft, and built to last for years. If you like breaking in your shirts to a perfect vintage look, Grayers is the way to go.
Disclosure: Clicking on these links and making a purchase may earn us a small referral fee, at no extra cost to you. Learn more here.
freestar.config.enabled_slots.push({ placementName: "gearmoose_leaderboard_btf", slotId: "gearmoose_leaderboard_btf" });